Payroll Software for Connecticut

Easy & Affordable Payroll Tax Solution for
Connecticut Small Businesses, Non-profits and Accountants

$99 only! Feature List 30-Day Free Trial Buy It Now

"We provide simple and affordable paycheck software that allows Connecticut small businesses to do their payroll jobs in house. Many small business owners don't know much about payroll taxes and don't have time to invest in training. They also don't need complicated features but still need to do things like paycheck processing and tax reporting,"said EzPaycheck Software Developing Team, "Our goal is to make ezPaycheck as hassle-free and easy-to-use as possible while still supplying the robust features our customers need."



---
IRS released the new
2018 tax tables
on Jan 11, 2018. Employers should implement the 2018 withholding tables as soon as possible, but not later than February 15, 2018.
Current
ezPaycheck software
clients and
ezAccounting software
clients can download the latest version for free to update 2018 tax tables.
#1. Company Tax Setup
ezPaycheck payroll software automatically calculates the CT state income tax. The image below shows the company Connecticut State Tax Setup inside ezPaycheck payroll software:

User can specify CT State Unemployment Tax Rate here

User can specify CT State Unemployment Tax Wage Limit here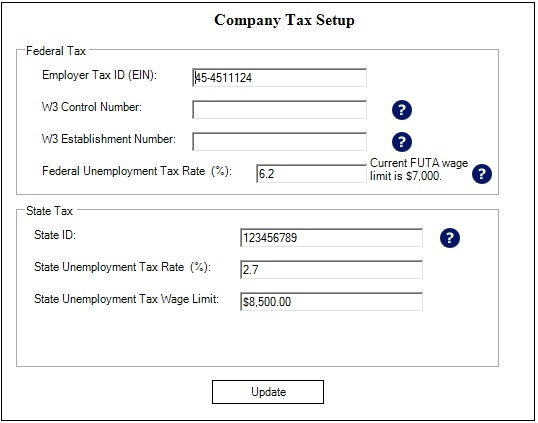 #2. Connecticut Employee Tax Setup
ezPaycheck calculates payroll taxes and deductions based on employee's address. When user set up employee profile,
User can specify federal tax options here

User can specify CT state tax options here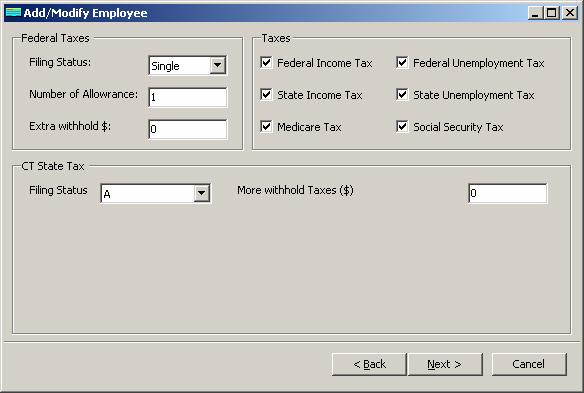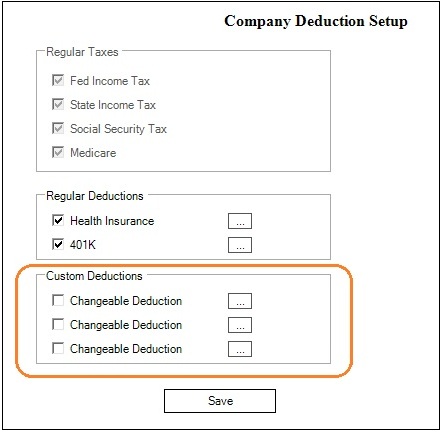 ---
Why should you try ezPaycheck payroll software? For a number of reasons, beginning with
VALUE
The best payroll tax software for any small- to mid-sized business or accountants with UNLIMITED FREE program support, all in a single affordable package.

EASY TO USE
User friendly interface design and Windows menus make our payroll software quick and easy to set up, use and understand.

EFFICIENT
Works within ezPaycheck payroll accounting software, so there's nothing new to learn and no double entry.
ezPaycheck payroll software help you save money by printing your checks on blank computer checks.

FLEXIBLE
Accommodates any combination of incomes, deductions, taxes and benefits. Also accommodates multiple companies, each with unique setup information.
Supports customized wages or deductions to handle commissions, tips in restaurants, the special local taxes, pay-by-piece or pay-by-stop.
Flexible tax options for unique needs of churches & non-profits

AFFORDABLE
Instead of paying $200 a month to some accounting company, you can only spend $99 a year for all your payroll needs.

30 DAYS FREE
Download and try this paycheck software free for 30 days. No registration needed. No obligation.
---
---