ezPaycheck: How to Generate a Bonus Check for Employee
Here are the steps to add a bonus:
Set up Bonus Payment Type
ezPaycheck payroll software comes with
BONUS
wage type by default. You can open the
Wage Setup
screen to make sure this field is checked. You can also rename it if needed (ie: "Annual Bonus" or "Monthly Bonus".)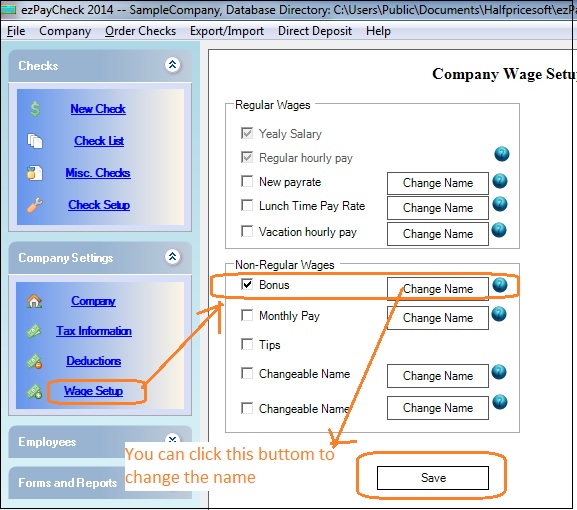 Option 1: Add bonus to regular paycheck
You can enter the bonus amount when you generate a paycheck.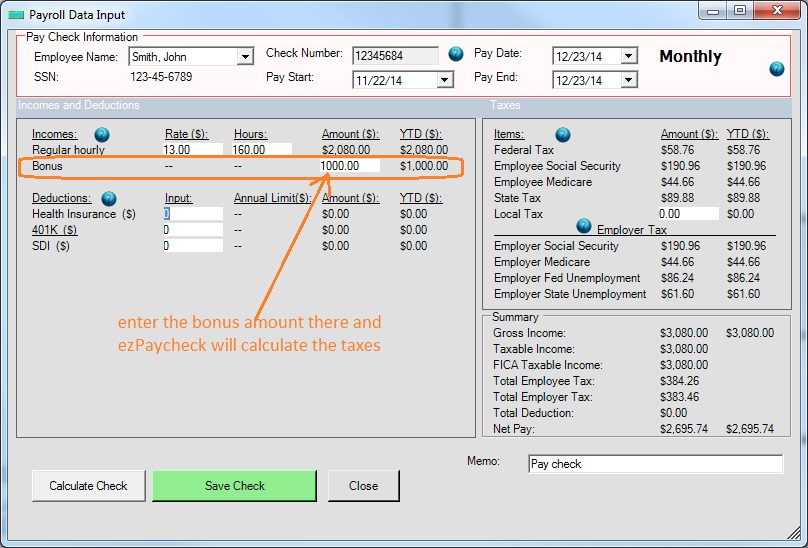 (Click image to enlarge)
Option 2: Generate a bonus only paycheck
If you need to generate a bonus only paycheck, please choose the "Pay Start" date, "Pay End" date carefully to avoid pay peroid overlapped error.
For example: You last pay period is 8/12/2013 to 8/23/2013. You next pay period is 8/25/2013 to 9/6/2013. You can generate a bonus only paycheck for 8/24/2013 to 8/24/2013
When you generate the paycheck, you can change the current pay rate to zero temporarily.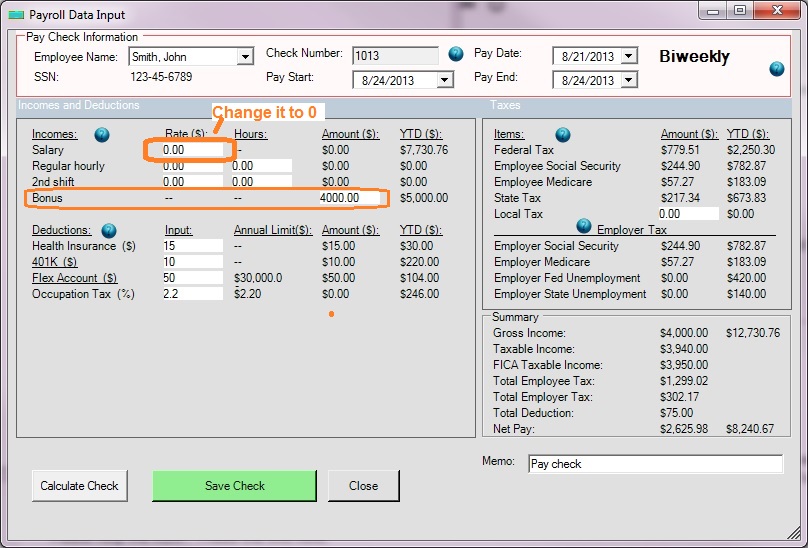 (Click image to enlarge)
---

ezPaycheck payroll software has been trusted by thousands of successful businesses for more than one decade. It helps you process payroll taxes, print paychecks and file tax forms easily and smoothly.

If you have not installed this software, you can download and try it free for 30 days with no obligation and no credit card needed. This paycheck software is compatible with Windows 10, 8.1, 8, 7, 2003 and Vista systems.

ezPaycheck 2018 & 2019 Bundle Special Offer $129 (Get 2019 version at $30 if you purchase ezPaycheck 2018 at regular price today)

No monthly fee. No hidden cost.


---
---
Related Links: