Installation
To install this product double click the .MSI file and follow the installation steps.
30 Day Trial License
The ezPayroll software comes with a 30 day trial license upon installation. A full license must be purchased from halfpricesoft.com after the 30 days.
License Installation
Method 1:
Input the license key when prompted.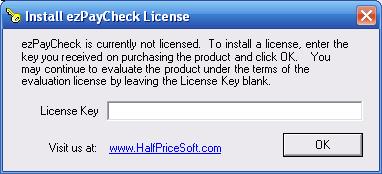 Method 2:
Copy the license file ezPayCheck.ezPayCheck.lic to the executable directory, the default directory is \Program Files\Halfpricesoft\ezPayCheck.

---
Copyright ©2006, halfpricesoft.com All Rights Reserved