Select Payee and Category Setup
     Click "Settings ->Setup Payee and Category" menu on the top menu.


Edit/Add/Delete a Payee
"Edit"You can edit an existing payee by selecting one from the list box on the right hand side. Click "Save" to save the changes.

"Add"Clicking "Reset" button will clean up the content in all fields. You can input a new payee to the system.

"Delete"Select a payee from the list box and click delete.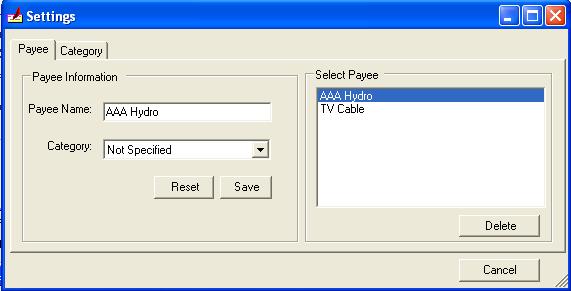 Add/Manage a Category
       Category is used to categorize different types of payees.
"Add"Enter a new category name in the "Category Name" input box and click Add.

"Remove Payee"You can remove payees from a category.
---
Copyright 2008, Halfpricesoft.com All Rights Reserved