ezPaycheck Payroll Software: Error in registering license keycode
ezPaycheck payroll software
trial version, you will see key code pop up screen. Once you enter the key code, this pop up screen will not display again. To deposit the checks, you need to register the license code to print checks without TRIAL watermarks.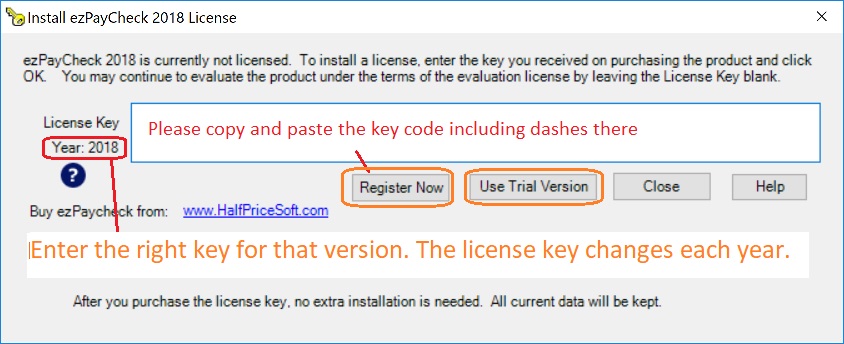 ---
Below are some reasons that you cannot register a license keycode: .
#1: Wrong version *****
The license codes of different version are different. For example: You need to enter 2014 key code for ezPaycheck 2014. ezPaycheck 2013 key code will not work with 2014 version.
You can click ezPaycheck top menu "help" then "about ezPaycheck" to check the current software name and current version.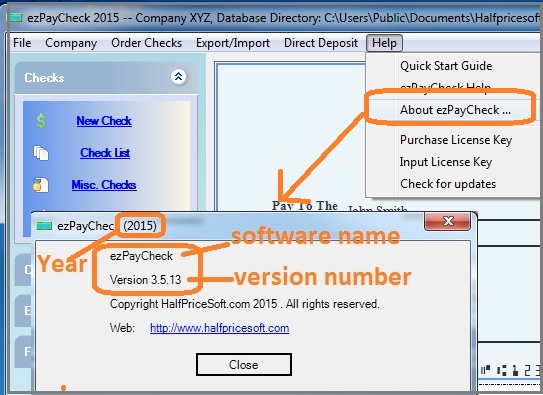 #2: You purchased the wrong license or you installed the wrong software
Please make sure you are using
ezPaycheck
software. You can check the current software name and version by clicking the ezPaycheck top menu "help" then "About xxxx".
Please also check the license message to make sure you ordered the right key code
#3: You need to copy and paste keycode including dashes("-")
Some mail server may also add extra hidden characters around key code. You can copy the key code to NotePad, then copy it to ezPayCheck application to solve this issue.
#4: Some email server may add hidden characters around key code.
Start Notepad by clicking the Start button. In the search box, type Notepad, and then, in the list of results, click Notepad.
Open Notepad application, copy the license key from email to the NotePad.
Copy the key code from NotePad to your application to register it.
This process will remove the unseen charaters added to the key code by your email server.
#5: Permission issue
You need to log in your machine as administrator or a user with enough persmission to register the key code. You may also check this article about how to
run a program as the administrator
.
---
How to purchase/retrieve the license
If you are a new customer or if you are a previous customer (ie: You purchased ezPaycheck 2016 and need the new license for current version), you can purchase license from our site.

If you lost your license (ie: You purchased ezPaycheck 2017 license and cannot find 2017 license):
-
Please search your email account for the license key message from "services@halfpricesoft.com"
.
- If you cannot find the license message from your email account, please
contact us to resend it.
.
---

ezPaycheck payroll software has been trusted by thousands of successful businesses for more than one decade. It helps you process payroll taxes, print paychecks and file tax forms easily and smoothly.

If you have not installed this software, you can download and try it free for 30 days with no obligation and no credit card needed. This paycheck software is compatible with Windows 10, 8.1, 8, 7, 2003 and Vista systems.

ezPaycheck 2018 & 2019 Bundle Special Offer $129 (Get 2019 version at $30 if you purchase ezPaycheck 2018 at regular price today)

No monthly fee. No hidden cost.


---
Related Links: