Question from customer:
I am unable to make ezPaycheck work any longer. I get the Microsoft error that "ezPayCheck has encountered a problem and needs to close" when I try to open it. How can I fix this error?
Solution:
Usually such error is caused by permission issue. Please make sure you log on your machine as administrator or a user with enough permission to run ezPaycheck.
Windows updates and company network policy updates may also change a user's permisisons by mistake. Please try the solutions below.
---
Reason 1: Desktop shortcut is broken
Solution 1: Start ezPaycheck from program folder
We noticed some customers could not run ezPaycheck because the desktop shortcut was broken. You can also start this payroll software from program folder
The default program folder is:
C:\Program Files (x86)\Halfpricesoft\ezPaycheck
You can double click ezPaycheck.exe file to run it. (If your system hides extension, you just double click ezPaycheck). If it works, you can delete the old desktop shortcut and follow this article to
create a new shortcut on desktop
.
Reason 2: Settings file is crashed
Solution 2: Create a new settings file
The default database folder is:
C:\Users\Public\Documents\Halfpricesoft\ezPaycheck
2.1 Copy settings.xml to other location as a backup

2.2 Remove settings.xml from this folder



2.3 start ezPaycheck to generate the default settings file. ezPaycheck will start in trial mode and you need to enter the key code again. (You can find the key code in your email account that you used for this order)


Reason 3: EzPaycheck application is crashed
Solution 3: Reinstall ezPaycheck
3.1 As a precaution, backup ezPaycheck data first


3.2 Uninstall ezPaycheck


3.3 Download ezPaycheck


Reason 4: Current user does not have enough permission to run ezPaycheck and access data
Solution 4: Give current user permission to run ezPaycheck and access data
Open ezPaycheck data folder and make sure you have enough permission to access data.
If not, we suggest full control permission (at least read, write and execute) on this folder.

The default application folder is:
C:\Program Files (x86)\Halfpricesoft\ezPaycheck

The default database folder is:
C:\Users\Public\Documents\Halfpricesoft\ezPaycheck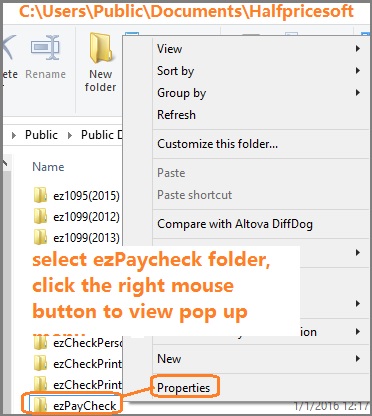 start ezPaycheck again. If it does not fix this issue, continue.


Still Need Assistance
If your company allows us to remotely access your machine to assist you, you can email us at services@halfpricesoft.com or submit support request from our support page. We will email you the guide to set up remote access support during normal business hours.

We provide this remote support via teamviewer and the service fee is $25 per 15 minutes


---

ezPaycheck payroll software has been trusted by thousands of successful businesses for more than one decade. It helps you process payroll taxes, print paychecks and file tax forms easily and smoothly.

If you have not installed this software, you can download and try it free for 30 days with no obligation and no credit card needed. This paycheck software is compatible with Windows 10, 8.1, 8, 7, XP, Me, 2003, 2000 and Vista systems.

**$89/calendar year - Unlimited check printing, No hidden cost**


---
---
Related Links:
Web site and all contents Copyright Halfpricesoft.com 2003 - 2017, All rights reserved.