What Permissions Are Needed to Run ezPaycheck Payroll Software
In house Payroll Softwware ezPaycheck automates and streamline payroll processing for small businesses. You have must have full permissions to access data and run ezPaycheck to print paychecks correctly.
---

ezPaycheck payroll software has been trusted by thousands of successful businesses for more than one decade. It helps you process payroll taxes, print paychecks and file tax forms easily and smoothly.

If you have not installed this software, you can download and try it free for 30 days with no obligation and no credit card needed. ezPaycheck is available for both Windows and Mac computers.

**LIMITED TIME SPECIAL OFFER** - ezPaycheck 2020 $30 Off!

No monthly fee. No hidden cost.


---
How can I know I have enough permission to access the database file
1. Open Windows Explore, navigate to the database folder
The default database folder path is:
C:\Users\Public\Documents\Halfpricesoft
the default folder name is "ezPayCheck"
2 Select the ezPaycheck folder by mouse, right click to view properties. You need to have read, write and execute permissons to access this folders and all files inside this folder.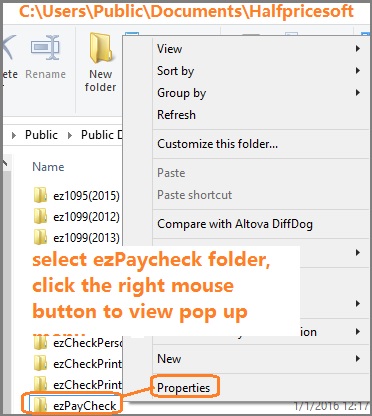 3. if you do not have enough permissions, you can click the
Edit
button to change the permissions. If you are not the admininstrator of this machine or you cannot change the permissions set up, please ask your IT for help.
---
Related Links: