California Small Businesses, Non-profits and Accountants
California has four State payroll taxes which are administered by the Employment Development Department (EDD). They are Unemployment Insurance (UI) and Employment Training Tax (ETT), which are employer contributions, and State Disability Insurance (SDI) and Personal Income Tax (PIT), which are withheld from employees' wages.

Wages are generally subject to all four payroll taxes. However, some types of employment are not subject to payroll taxes and/or PIT withholding. For more information, please refer to the California Employer's Guide (DE 44).


ezPaycheck Payroll Software Can Handle CA Local Taxes including CA SDI (California State Disablility Insurance)
ezPaycheck payroll software is very flexible. You can use the customized deduction field to handle CA SDI.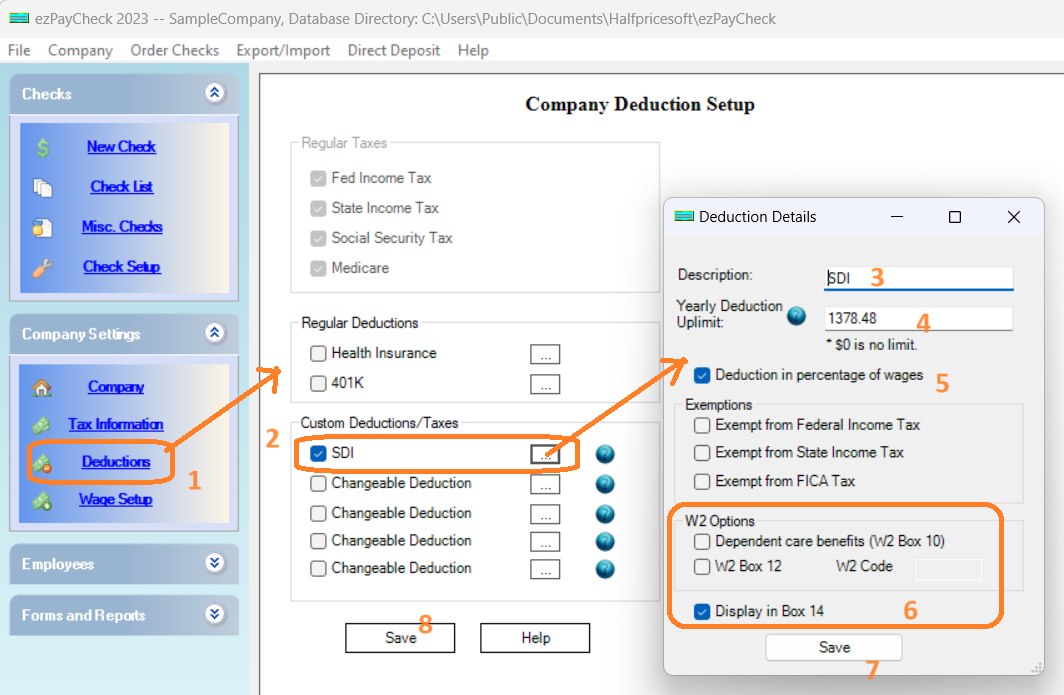 Click the following link to view more details:
- How to handle CA SDI
- How to handle local tax
---
ezPaycheck Can Print Paycheck with Stubs With Option To Hide Social Security Number For California Businesses

Related links:
- How to hide Social Security Number on Paystubs
- How to print paycheck on blank check stock
- How to add logo to paycheck
---
ezPaycheck Can Support CA Paid Sick Leave Plan
From July 1, 2015, California employers are required to provide paid sick leave plan for all eligible employees. You can learn more about how to handle paid sick leave with ezPaycheck here.
---
California ETT
ezPaycheck software added the new tools to help you file state and local tax return.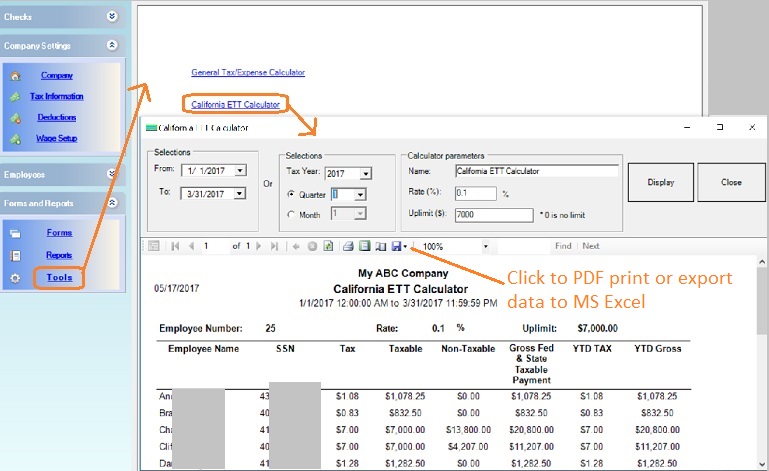 ---
Tax Forms and Reports
-
ezPaycheck can generate and print Form W2, W3, 940 and 941
- ezPaycheck does not fill in state and local forms. However, its report feature can prepare the data and help you
file the DE-9, DE-9C and other state and local forms
- If you need to file Form 1099-misc, you can use
ezW2 software
together with ezPaycheck software. EzW2 software can retrieve data from ezPaycheck payroll software in a few clicks.
---
Paying Employees On Time And Accurately With Peace of Mind.
- ezPaycheck can support multiple companies and up-to-500 employees for each company with no extra charge.
- Ezpaycheck comes with payroll database backup and restore features
- Supports daily, weekly, biweekly, semimonthly and monthly payroll periods. Features report functions, print functions, and pay stub functions.
- Easily calculates differential pay
- Prints miscellaneous checks as well as payroll calculation checks.
-Supports network access so multiple users can share the same database overnet work.
---
30 Days FREE Trial Before Purchasing, No Cost and No Obligation
Each company is unique. You are welcome to download our paycheck software and try it free before purchase. The download version is full version and comes with sample database. So you can test drive this payroll tax software easily without wasting time to setup it. (The trial version will print TRIAL image on paychecks and tax forms. You need purchase the key code to remove.)
ezPaycheck is very user-friendly. You can find
ezPaycheck Payroll Software Quick Start Guide
here. Free technical support information is also availale at support page.
---
1.
2.
3.
4.
5.
6.
7.
8.
9.
10.