How to use ezPaycheck payrolll software with QuickBooks and other accounting software
Designed for small businesses, ezPaycheck payroll software is very user-friendly. ezPaycheck makes it easy
- to calculate payroll taxes;
- to print paychecks on blank stock and pre-printed check;
- to prints tax form W2, W3, 940 and 941;
- to support multiple accounts on the same machine with no extra charge.
Many QuickBooks, PeachTree and other accounting software customers like to use ezPaycheck to process payroll jobs.
However QuickBooks does not allow other software to write payroll data back to its database directly. If you just need to track the running balance, ezPaycheck report feature will work for you. Many of our customers get the summary data from ezPaycheck reports and enter it into QuickBooks manually. This solution may work for you also.
ezPaycheck: how to import employees from QuickBooks IIF file
Step 1: Export employee list from Quickbooks Utility to IIF file
1.1 Select export list "File -> Utilities -> Export -> Lists to IIF Files" from the manu.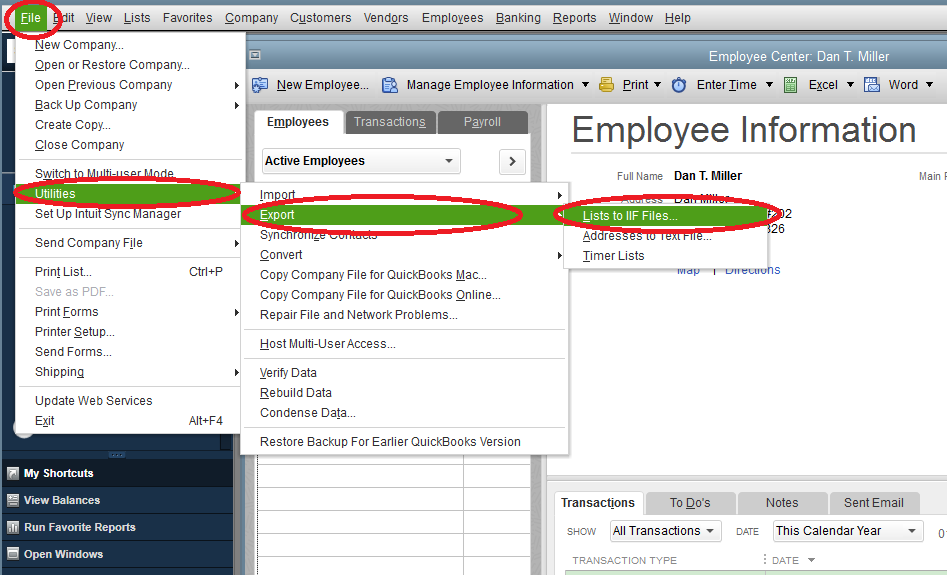 (Click image to enlarge)
1.2 Select Employee List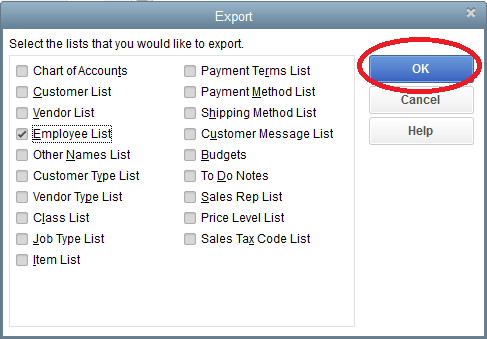 (Click image to enlarge)
1.3 Save to IIF file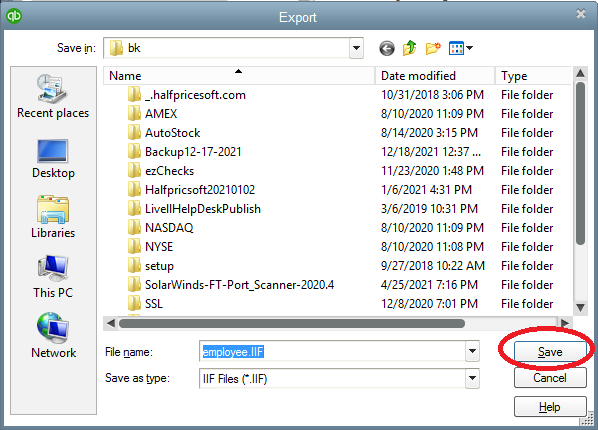 (Click image to enlarge)
1.4 Edit IIF file with Notepad, and remove non-data lines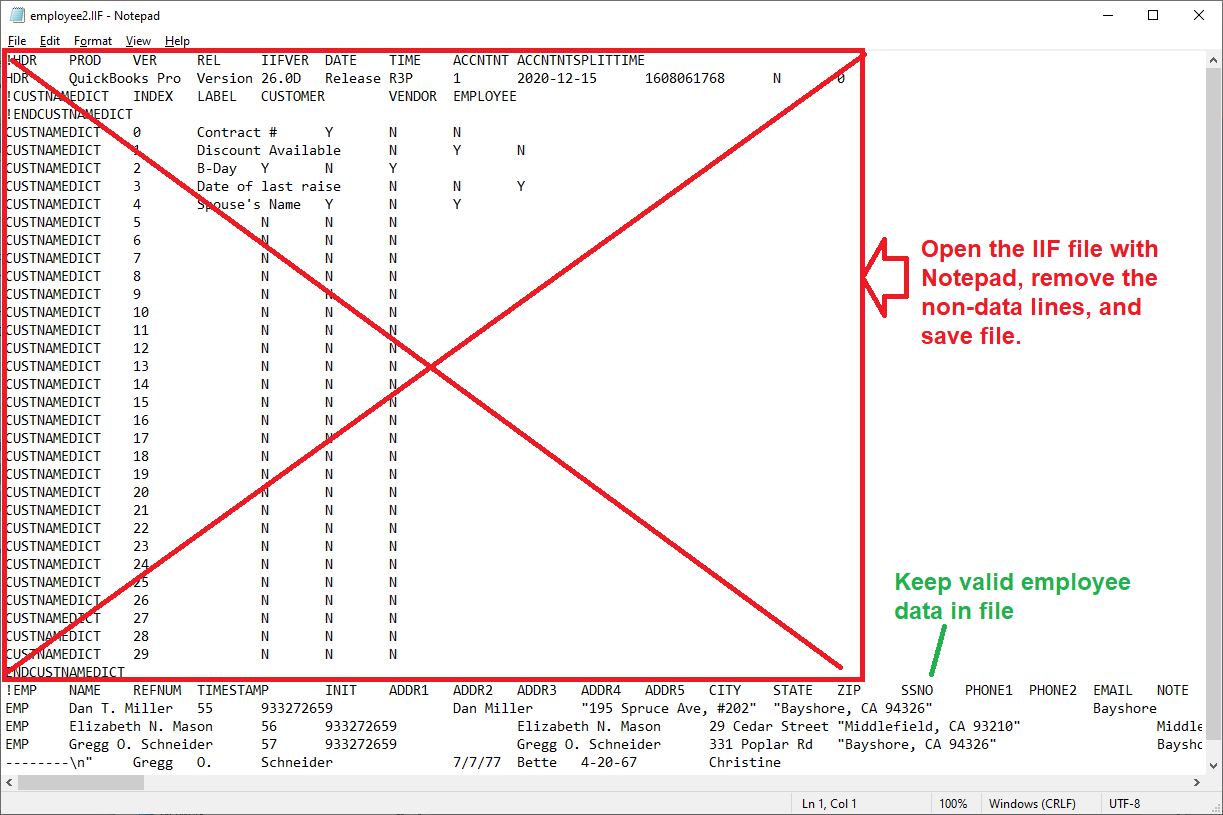 (Click image to enlarge)
Step 2: Clear employee list (Opional)
If you have test data, you can remove it before you import data.
2.1 Click the left menu "Employees" then "List Employee" to view employee list.
2.2 Delete employees.
Step 3: ezPaycheck imports the employee list from .iif file
3.1 Click the top menu "Export/Import", then click "Import Employee"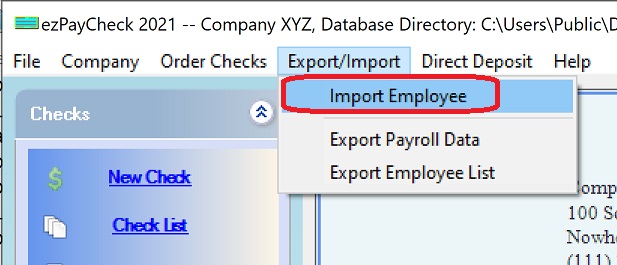 3.2 Select the .csv file.
3.3 Map the fields.
3.4 Click the "Test Parse" button.
3.5 If there is no error, click the "Import" button to save data into database.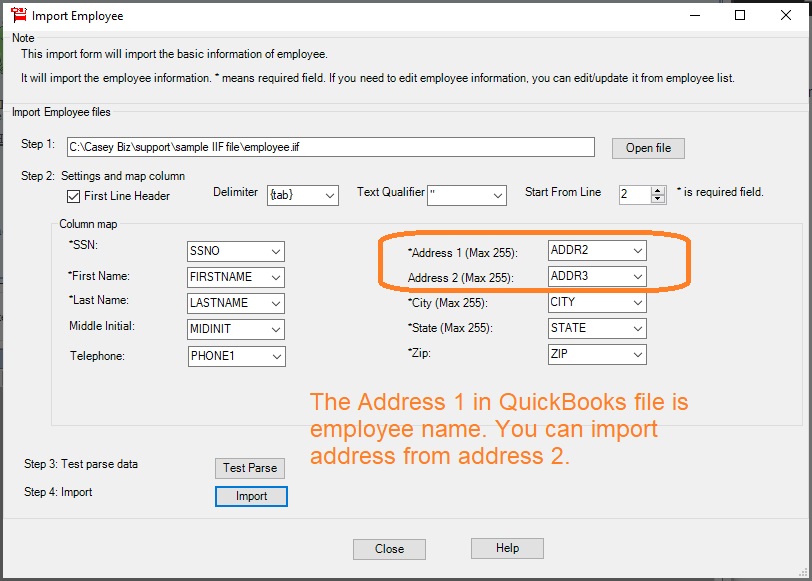 Step 4: Refresh Employee List, review and edit the employee tax options.
4.1 Click the left menu "Employees" then "List Employee" to view employee list.
4.2 Select the one employee from list, click "Edit xxxx Record" link to edit employee tax options.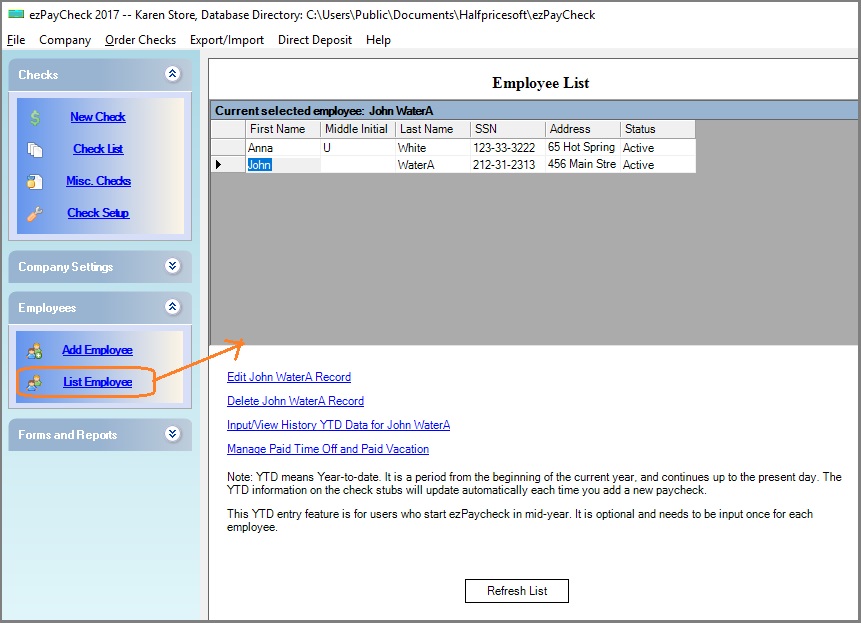 Step 5: Process payroll
Follow
ezPaycheck Quick Start Guide
to set up company, edit employees and print paychecks.
---
Other information you may be interested in
1.
How to print QuickBooks checks on blank stock in one step
2.
How to print QuickBooks compatible pre-printed checks to fill in later manually or by QuickBooks, Quicken and other applications
3.
How to print W2 and 1099 forms for QuickBooks
4.
How ez1095 works with QuickBooks to file ACA forms
---



ezPaycheck Makes Small to Midsize Business Payroll An Easy, In-House Task!

Trusted by Thousands of New and Seasoned Clients Each Year Since 2005.
Calculate Federal & State Taxes, Print Paychecks, Print W2, W3, 941 and 940.
Free General Customer Support

Try it free for 30 days with no obligation and no credit card needed. ezPaycheck is compatible with Windows and Mac.

**$139/calendar year - print paychecks in minutes**

No monthly fee. No hidden cost.


---