How to Print W2 Form for Employees with ezPaycheck Payroll Software
ezPaycheck payroll software
can print W2 and W3 tax forms. The W2 form is generated automatically based on paycheck data.
---
1. How to Print W2 Forms for Employees
1.1: View W2 Form
You can click the ezPaycheck left menu "Forms and Reports" then click the sub menu "Forms" to view Form options on screen.


2.2.1. Select the tax year

2.2.2. Select the employee

2.2.3. ezPaycheck will generate the W2 form automatically based on paycheck data.

2.2.4. You can edit box 1 to 20 manually if needed, but you can save it.

2.2.5. Choose the form you want to print

2.2.6. Click the PRINT button to print forms.

Employee copies: W-2 copy B, C and 2 As an employer, usually you need furnish W2 copy B, copy C and copy 2 to employees. You can print one form per page and you can also print employee forms in 4-up format.
SSA Copy: W2 Copy A You can choose Copy A option to print copy A data on red forms for SSA return
---


- 2.2.5.1 ezPaycheck can print W2 form copy B, C, D, 1 and 2 on white paper. The format is one-form-per-page.




(Click image to enlarge)


Copy 2, one form per sheet, employee copy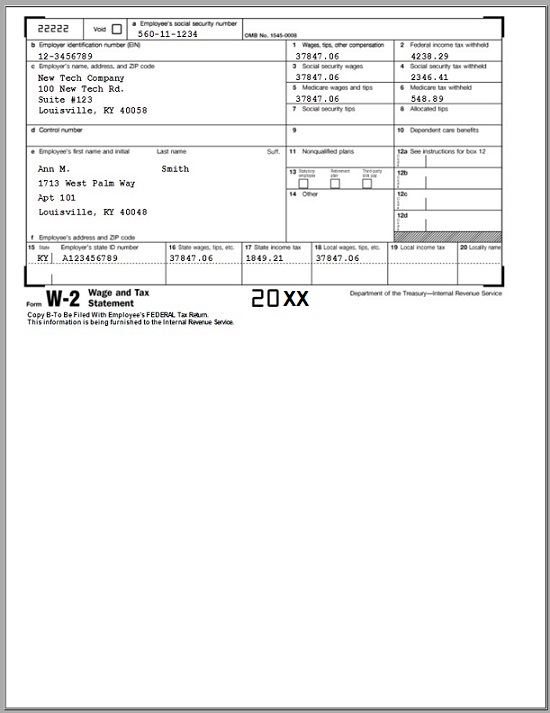 - 2.2.5.2 ezPaycheck 2015 and later version will allow customers to print employee copies in 4-up format.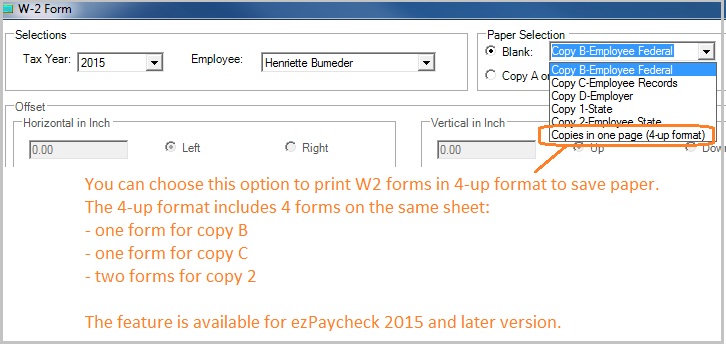 (Click image to enlarge)
W2, 4-up, employee copy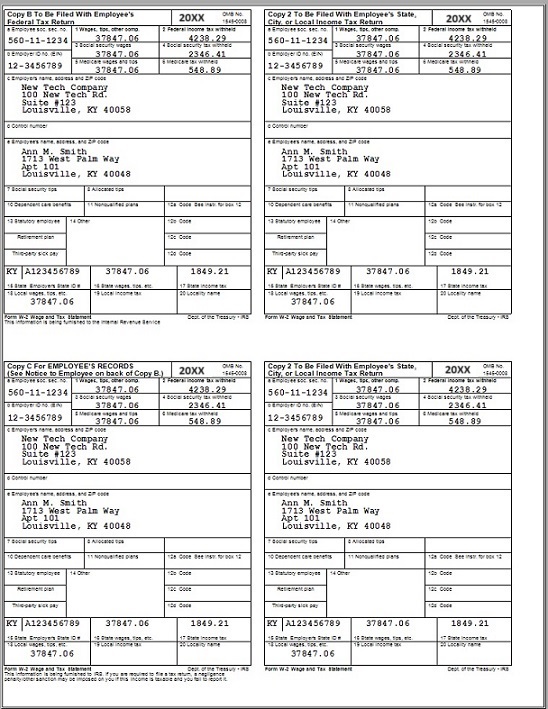 - 2.2.5.3 You must use the red forms for W-2 copy A
. ezPaycheck prints data only when you choose Copy A option. ezPaycheck just prints the data on the top red form now. You void the bottom one.
- You can choose Copy A option to print data on preprinted forms for copy B, C, D, 1 and 2 too.
- SSA will accept the form printed in one-form-per-page format.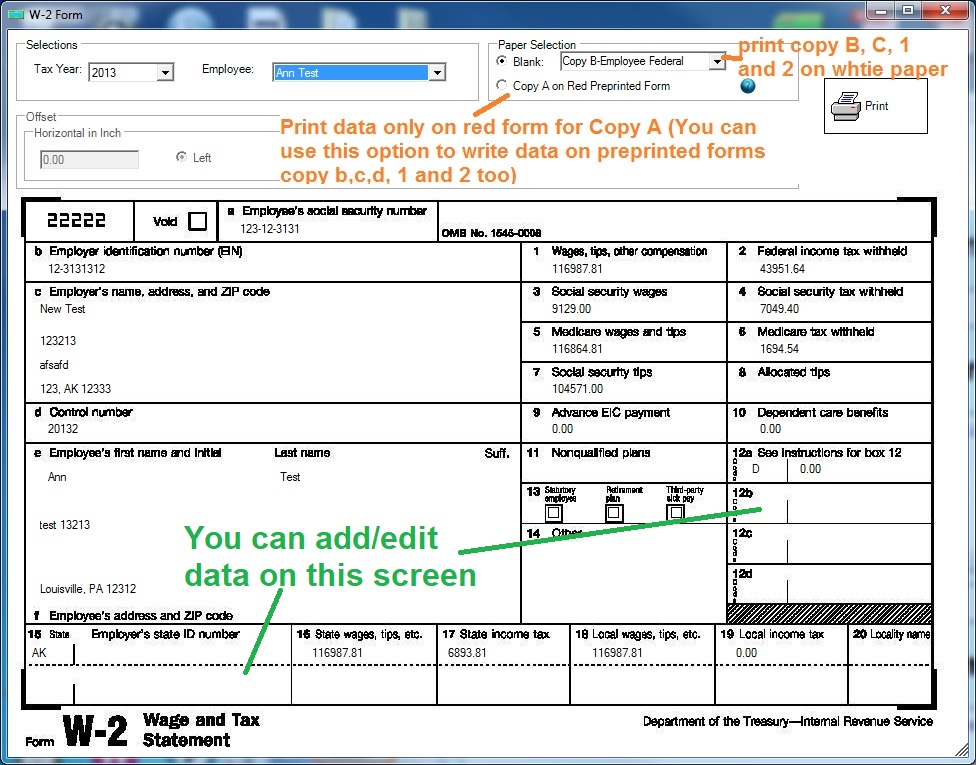 (Click image to enlarge)
W2 copy A, data only for red form printing, SSA copy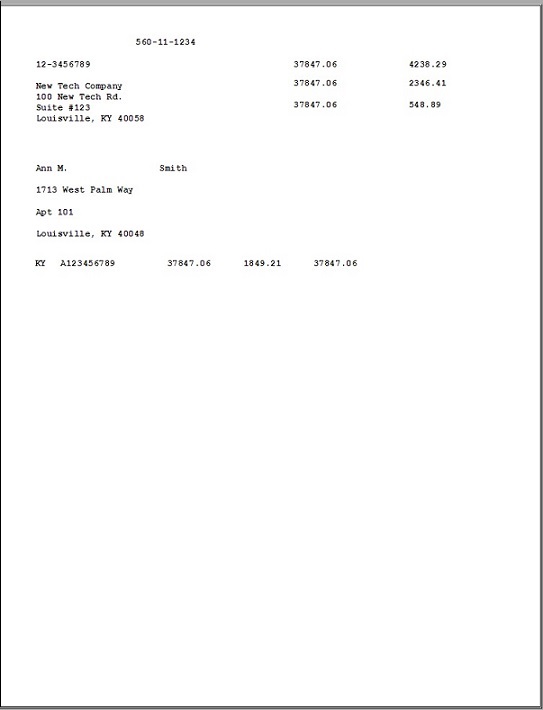 2. Form Printing Alignment
Most customers should be able to use default settings to print W2 on red forms. If you need to adjust printing position for your printer, you can edit the offset values.

---
---
3. Start ezPaycheck in Mid Year
If you just start ezPaycheck at the end of year and do not have all paychecks in ezPaycheck system, you can refer this guide
How to print W2, W3, 941 and 940 tax form by entering data manually
---
4. Need More Functions to Prepare and File Tax Forms
If you need more constrols on W2 form (such as pdf printing, efile features and 1099 printing so on), you can use ezW2 software with ezPaycheck.
ezW2 is approved by SSA to print all W-2 and W3 forms on white paper to save your cost on red forms. It can print 1099-nec and 1096 forms also. ezW2 software can read data from ezPaycheck software directly.
You should consider using ezW2 if
You are a CPA with many clients
You have more than 5 employees. ezW2 will save money on red forms.
You need to file 1099-nec and 1096 tax forms also.
You need to convert recipient copies into PDF format and email the files.
You need to file W2 forms electronically
Or you need to more controls, for example: edit the W-2 form

How ezPaycheck works with ezW2 software
https://www.halfpricesoft.com/payroll-software/ezPaycheck-ezW2.asp

Many ezPaycheck customers like to use ezW2 with ezPaycheck payroll software to file tax forms. If you like to save cost on red forms, you can download and try ezW2 before purchasing it at

https://www.halfpricesoft.com/w2-software-free-download.asp





Related Links:
How to Print W3 Forms
---



ezPaycheck Makes 2023 Payroll An Easy, In-House Task!

(For Windows and Mac)


Trusted by Thousands of New and Seasoned Clients Each Year Since 2005.
Calculate Federal & State Taxes, Print Paychecks, Print W2, W3, 941 and 940.
User-friendly, Easy-to-use

Try it free for 30 days with no obligation and no credit card needed.

**$139/calendar year - print paychecks in minutes**

No monthly fee. No hidden cost.


---
How to print paycheck in different formats: check-on-top, check-in-middle, check-at-bottom and 3-per-page