How to eFile 1095/1094 ACA Forms to CA
Minimum Essential Coverage Information Reporting (MEC IR)
ez1095 software
can generate the XML documents you can upload to CA site to report health insurance information. The efile XML documents include 1095 forms and 1094 form.
If you are a first time efiler, please follow this guide from step 1
.
Step 1: Register online
1.1 Register for an MEC IR account
. IA Responsible Official (RO) must complete the registration for your organization.
- You must
register for an MEC IR account
.
- You will immediately receive confirmation email
- You can complete registration by selecting the link in the email within 72 hours
1.2: Enroll in the MEC IR Program
Before you can submit data, the RO must enroll to participate:
Log in to MEC FX Portal.
Select "Begin or Continue Enrollment Request" and complete the enrollment process.
1.3: Confirm enrollment
After you submit your enrollment, you will a confirmation email. You need to confirm Enrollment. Typically, it takes up to 10 business days to approve your enrollment.
Note: more information can be found from CA site
https://www.ftb.ca.gov/file/business/report-mec-info/getting-started.html
Step 2: Install ez1095 software
If you have not installed ez1095, you can download it and test drive for free before purchasing with no obligation.
---



From $295

Securely File 1095 & 1094 ACA Forms In-House

With ez1095 software, you can prepare, print, PDF print and e-file forms unlimited 1095-B, 1094-B, 1095-C and 1094-C ACA forms easily.

For 2016 to 2024 tax seasons. For both federal and states.

Try free DEMO version with no obligation today!

ez1095 is compatible with Windows 11, 10, 8.1, 8, 7, and other Windows system, 32-bit or 64-bit.


---
Step 3: Complete the testing cycle to confirm you're transmitting data properly
3.1 Submit test transmissions for the required scenarios
You CANNOT submit your company information for testing!!!
. We have prepared all data for you to pass this step. You just need to follow our guide and enter your own CA-TCC.
-
How to pass CA 1095 efiling testing.
3.2 Once all required test scenarios transmissions have an "Accepted" status, FTB will review the test outcomes and issue the "production" CA-TCC. If after 3 business days your "production" CA-TCC has not been issued, contact the FX System help desk.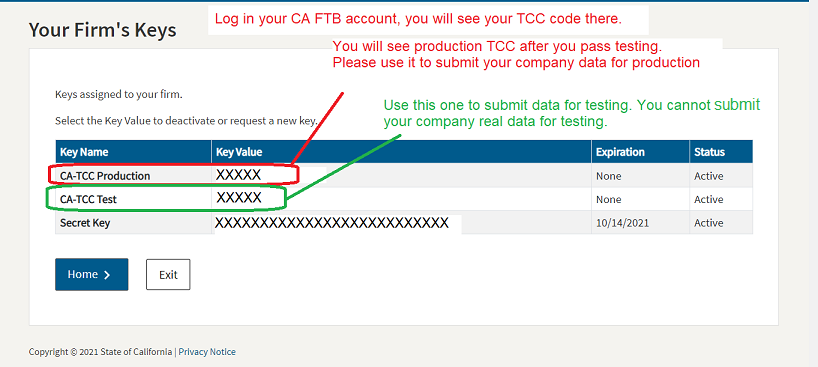 Step 4: Transmit production data to CA State
4.1 Enter data manually or import data from file
4.1.1: Enter company information
4.1.2: Enter or import 1095 form information
4.1.3: Enter form 1094 information
4.1.4: Print 1095 forms for recipients
Related links:
-
How to prepare and print Form 1095-C and 1094-C
-
How to prepare and print Form 1095-B and 1094-B
-
How to Import Data
-
IRS Form 1094/1095C Instructions
-
IRS Form 1094/1095B Instructions
Step 4.2: Generate XML documents
4.2.1 Click ez1095 top menu "Current Company" then "Efile CA" to view CA efile screen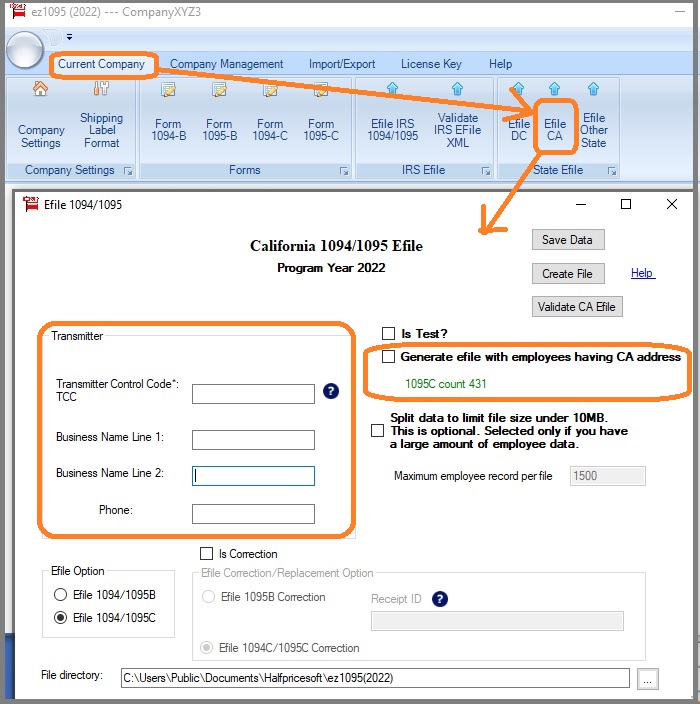 4.2.2 Input your CA TCC and business information.
4.2.3 Check the option "Generate efile with employees having CA address" if you do not want to include all 1095 forms.
4.2.4 DO NOT check the "Is Test" option box for your production file.
4.2.5 Click the "Save Data" form to save your efiling settings.
4.2.6 Click the "Create File" button to generate the XML files:
- "CAManifest_soapheader_xxxxxx.xml" (the manifest file)
- "CA1094X_Request_YourTCC_xxxxx.xml"(the data file).
Your default efile location will be in "C:\Users\Public\Documents\Halfpricesoft\ez1095(20XX)" directory. You can change this path.
ie: for Year 2020, the default path is ez1095(2020).
4.2.7 Click "Validate CA Efile" button to validate the CA XML file. If no error, continue.
Step 4.3: Upload to CA State
There are two file to be uploaded.
"CAManifest_soapheader_xxxxxx.xml"
This is the manifest file.


"CA1094X_Request_YourTCC_xxxxx.xml".
This is the data file.

PLEASE DO NOT MODIFY FILES. Please record the Receipt ID after uploading.






---
Related Links
12. Troubleshooting
Other Forms