How to Accept Check Payments by Phone
ezCheckDraft software
, you can print professional draft checks with MICR encoding line on blank stock to receive payment via phone, email and fax easily in house.
A check draft is created by the merchant, and the signature is not required. The account holder must authorize the merchant to create a check draft. Draft check is also called check draft, bank draft, demand check or remotely created check.
Three Easy Steps to Receive Check by Phone
Step 1: Collect client information by phone
Usually you need to get the following information:
Client name, address


Client's bank account information including bank name, address, bank account number, routing number and transit code is available


Client's permission to print bank draft

If your ezCheckDraft is running, you can enter the data into ezCheckDraft directly.
Step 2: Add and Print Pre-approved Check Draft
Start ezCheckDraft Software, Add a new draft check and print it. To view step by step guide with image, please refer to this article How to Print Check Draft


---
ezCheckDraft allows customers to design and print bank draft checks with MICR encoding on blank stock in house to receive payment via fax, phone and internet quickly.

If you have not installed this software, you can download and try it free with no obligation and no credit card needed.

This check printing software is compatible with Windows 10, 8.1, 8, 7, Vista and Apple Mac systems.


---

- check-on-top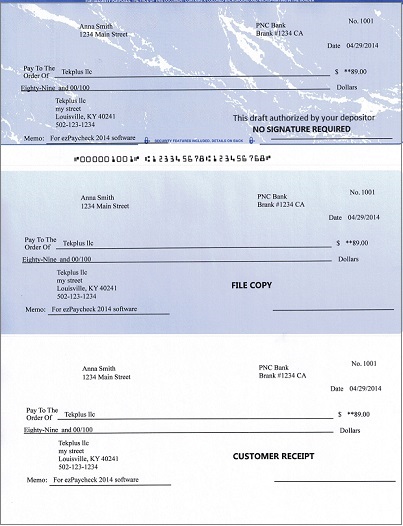 Click to see bigger image



- 3-per-page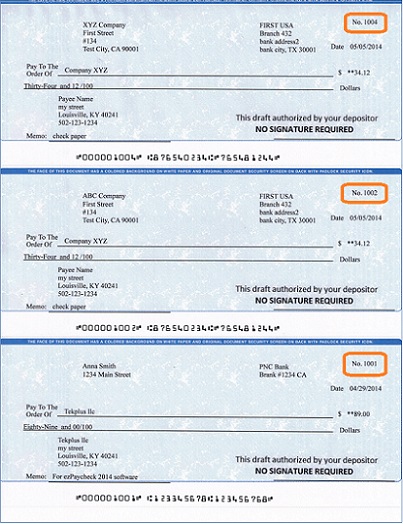 Click to see bigger image


Step 3: Deposit your check
Usually your check will clear in 2-3 business days.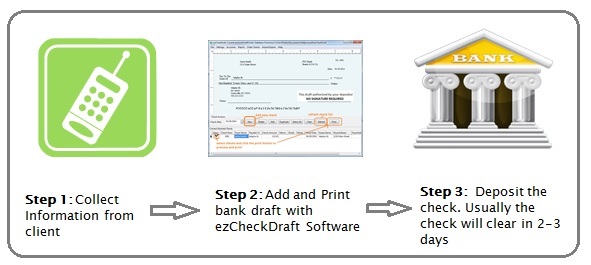 Related Links
Quick Start Guide
How multiple users can share the same account to print bank drafts
How to print 3 checks on the same sheet
How to print bank draft with check-on-top format
How to print monthly recurring bank drafts
How to print EPC-6 code for RCC
Sample Check
How to accept check by phone
How to accept check by fax
How to accept check by internet