Automated Clearing House (ACH) is an electronic network for financial transactions in the United States. With ezACH software, you can create the NACHA ACH file to make ACH Payment easily. ezACH makes it easy to

- Deposit the funds for payroll, employee expense reimbursement
- Pay Vendors
- Pay Government taxes
- Collect payments from customers

The ACH processes all credits and debits from a particular bank in one batch. This method is thus more suitable when you receive funds from multiple clients or send payments to multiple employess and vendors.










What ezAch Deposit does for you?

VALUE
ezAch Deposit software simplifies the process to create NACHA ACH files for fast electronic fund transfers. The NACHA Operating Rules require that ACH credits settle in one to two business days and ACH debits settle on the next business day.

EASY TO USE
User-friendly graphic interface and Windows menus make ezAch Deposit quick and easy to set up, use and understand.

FLEXIBLE.
Flexible import from files; Easily import from Halfpricesoft's ezPaycheck and ezCheckPrinting software.

Affordable - Purchase once and use it forever
Only $199 with no monthly fee and other hidden cost. (Note: Some bank may charge fee for direct deposit.)

Free 30 days trial
---
---
How ezACH works
Most commercial banks have an interface that can be activated by request that allows you to make ACH deposits. You can contact your bank to make sure this ACH depsit feature is enabled with your account.


Customers generate the ACH file with ezACH deposit software, then upload this file to bank

ezACH software will not process the transactions. ezACH will generate the ACH file that you can upload to your bank. Your bank will process the transactions based on the instructions inside the ACH file. For example: deposit payment for employees, pay vendors or collect funds from clients. ezACH, the do-it-yourself direct deposit solution, is quite straightforward.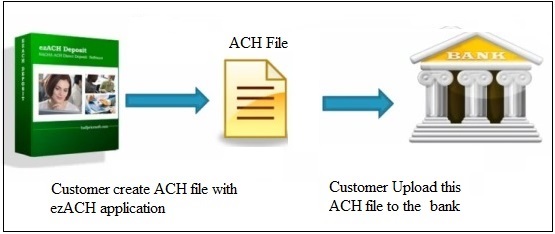 Your bank will process transaction based on this ACH file.

The ACH file includes your bank information, your employee/client bank information, and transaction instructions such as send payment or collect fund. The bank will process the transactions according to this file. It may take several hours to 1-2 days to completes the transactions.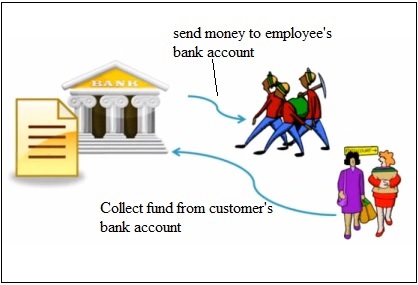 Key Features
Single-user Version
Multiple-user Version
Easy-to-use graphic user interface
Designed with simplicity in mind;
Form level help buttons;
Easy to follow wizard guides through the steps to generate ACH file
Yes
Yes
Generate ACH file for Direct Deposit manually or import data from other source
Create direct deposit file for employee payroll;
Create direct deposit file for Government;
Collect fund from customers;
Payments to vendors;
Yes
Yes
Support multiple origination bank accounts.
It supports ARC, CCD, CCD+, POP, PPD, RCK, TEL, WEB SEC type.
Yes
Yes
Import
Fast Import from files;
Easily import paycheck data from ezPaycheck and ezCheckPrinting software.
Easily import check data from ezCheckPrinting software.
Yes
Yes
Easily update ABA Bank routing number database.
Yes
Yes
Purchase and Support
30-day Free trial available;
No monthly fee;
Purchase ezACH software now and get the key code instantly;
No hidden cost
Free email and livechat support;
Yes
Yes
Network access (Multiple users can share the same database)
No
Yes


---
What is the cost of using ezACH deposit software
EzACh deposit software is just $199 per installation. You just pay us once with no monthly fee, no annual fee and no other hidden cost.

However, some bank may charge customers monthly fee for direct deposit feature. And some bank may charge a fee for each ACH transaction. Please contact your bank for more details.

And you can also enjoy No Payments and No Interest if paid in full in 6 months on Bill Me Later purchases of $99 or more. Simply choose Bill Me Later when you check out with PayPal.
Price List
(Learn More About Purchase)
ezAch Deposit Software Single-user License
(No CD included)
$199 per installation
ezAch Deposit Software 2-user Network Version
(No CD included)
$299 per installation
ezAch Deposit Software 3-user Network Version
(No CD included)
$389 per installation
ezAch Deposit Software CD
(no license key included.)
$9.95 (Each CD by USPS First Class Mail, US Only)

Note:
The license key will be sent to your email account automatically once the transaction is done. If the message is blocked by your mail server, please contact us at services@halfpricesoft.com.

The software on the CD is the same as the one you download from our site. The CD option does not include the license key. If you can download this software from our site, you do not need the CD. You can just purchase the license key. The CD is for the users who cannot download software or who wants to keep a hard backup copy.


---
No more hassle dealing with the banks.
ezACH Deposit Main Screen



Click image to enlarge
Your Account Settings



Click image to enlarge
Step 1: Add New Client

You can add account information for employees, Government TAX, Vendors and customers here.

Click image to enlarge
Step 2: Add New Transaction


You can enter the transactions manually.


Or you can import the transaction from external csv file.


Or you can import paychecks from EzPaycheck payroll software


Or you can import checks from EzCheckPrinting software

Click image to enlarge
Step 3: Create the ACH file



Click image to enlarge
Step 4: Upload ACH file to your bank

You can save your bank link inside ezACH application and open the bank site quickly.





ABOUT PURCHASE
Is your online checkout process safe?
Do you accept PayPal?
We can accept PayPal and credit cards.
How long it takes to get the license key after I order this timesheet tracking software?
Our system will send the license key to your email account once the transaction is completed. Usually, you can get it in 1 to 5 minutes depending on how often your mailbox is updated.

Some mail servers may block messages sent by machine. If you cannot find the key in your Inbox folder or Junk Mail folder after one hour, please contact us at services@halfpricesoft.com. We are glad to send the key to you manually.
MORE INFORMATION
Download.
Download the free version ACH Direct Deposit software now
ezPaycheck Payroll Software.
A lot of users like to use ezACH together with ezPaycheck.

You can use ezTimeSheet to track employee time and attendance. You can use ezPaycheck to handle your payroll job.
ezCheckPrinting - business check writing and printing software.
If you need to print customized check with logo, please try ezCheckPrinting. You can ezACH Deposit together with ezCheckPrinting.

You can get this check printing software and compatiple check paper for FREE through our special promotion program.
State Tax Tables.

State Tax and Revenue Websites.

Federal Tax and Revenue Websites.