Bank Draft Software for Windows and Mac
Print Unlimited Check Drafts on Blank Stock
Accept Checks by Phone, Fax and Web Easily and Quickly!
ezCheckDraft software helps businesses receive payments faster

Any business can create a check draft. A regular check is created by the account holder, and signed (authorized) by the account holder. A check draft is created by the merchant, and the signature is not required. The account holder must authorize the merchant to create a check draft. Draft check is also called check draft, bank draft or remotely created check.

With ezCheckDraft software, you can print pre-approved check draft with MICR encoding on blank stock, easily and in house.

Easy to Use - Save Time and Money
WYSIWYG user-friendly interface design with point-and-click simplicity

Affordable - No Annual Fee or Hidden Cost
Single user version is just $59
Supports unlimited accounts and checks

Free Trial Version Download
No registration needed, no obligation and totally risk free

No internet needed to run this check printing software
No verification needed.


---
Three Easy Steps to Receive Check by Phone, Fax and Internet
---
---
ezCheckDraft Check Writer Software Feature List
MAC Version
Windows Version
Draft Check Printing
- Print pre-approved draft check to receive payment via phone, email, fax and online quickly
- Print unlimited draft checks on blank stock
- Print checks with MICR encoding line
- Support unlimited bank accounts
- Print check with stubs
- Supports check-on-Top and 3-per-page formats
- Print multiple checks with one click
- Write recurring checks easily
Yes
Yes
Customize Check Layout
- You can customize any field on check
- Customize check layout with different font
- Add extra text labels and lines on checks

Yes
Yes
Yes
Yes
Account Management
- Support unlimited payers with no extra charge
- Support unlimited payees with no extra charge
- Add a new account quickly by duplicating an existing account
- Account backup and restore easily
- Data backup reminder

Yes
Yes
Easy To Use Reports
- You can generate report by payer name, date range
- You can generate report by category, date range

Yes
Yes
Import/Export Check Data
- Import bulk data from .csv file
- Export Check data to .csv file

Yes
Yes
Purchase and Support
- Free trial available
- Unlimited accounts and unlimited check printing with one flat rate
- Purchase cheque software now and get the key code instantly
- No hidden cost
- Free email and livechat support

Yes
Yes
Price
$59.00
$59.00


---
---
Purchase Check Draft Software
You will get the keycode instantly after the transaction completed.
Version
Price
ezCheckDraft Single-User Basic Version for Windows
(No CD included)
(Key message will be sent to your email account after the transaction completes.)
Unlimited Payers, Payees and checks

$59.00 (per installation)

New- ezCheckDraft Multiple-user for Windows
(No CD included)
(Multiple users can share the same account across network)
Unlimited Payers, Payees and checks


ezCheckdraft Software CD for Windows
(No license key included.)
(Note: Please purchase the license key with CD to print checks for deposit without TRIAL image.)

&nbsp
$12.95 (Each CD by USPS Flat Rate Mail, US Only)

Note: The software on the CD is the same as the one you download from our site.
The CD option does not include the license key
. If you can download this software from our site, you do not need the CD. You can just purchase the license key. The CD is for the users who cannot download software or who want to keep a hard backup copy.
Version
Price
ezCheckDraft Single-User Basic Version for Mac
(No CD included)
(Key message will be sent to your email account after the transaction completes.)
Unlimited Payers and Payees

For macOS: Mojave, High Sierra, Sierra, El Capitan, and Yosemite

$59.00 (per installation)

Check-on-top Format Business Blank Check Stock
Sheet size: 8-1/2" x 11"; Perforated Paper at 3-1/2", 7" to the top; Color: Blue; Form 1000 Business Standard
See Front See Back pdf version
500 Sheets, $56.95
($0.11 per sheet)
USPS 1-3 Days Priority Mail, US Only

1000 Sheets, $87.95
($0.088 per sheet)
USPS 1-3 Days Priority Mail, US Only

3-per-page Format Business Blank Check Stock
Sheet size: 8-1/2" x 11"; Perforated Paper at 3-1/2", 7" to the top; Color:Blue; Form 3000 Business Standard
See Front See Back pdf version
500 Sheets, $56.95
($0.11 per sheet, $0.038 per check)
USPS 1-3 Days Priority Mail, US Only

1000 Sheets, $87.95
($0.088 per sheet, $0.029 per check)
USPS 1-3 Days Priority Mail, US Only

ezCheckDraft check writer comes with the sample database. Most customers can print first check in minutes
Main screen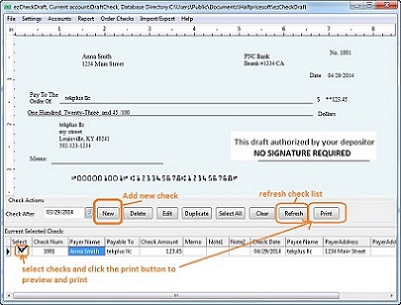 Click to see bigger image


Account setup screen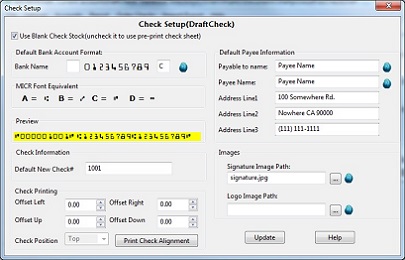 Click to see bigger image


New Check screen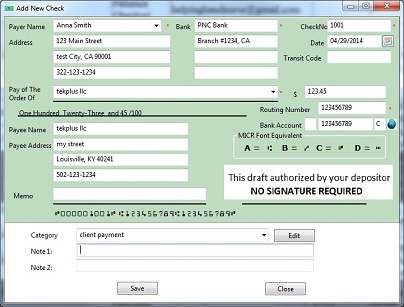 Click to see bigger image


Print Preview Screen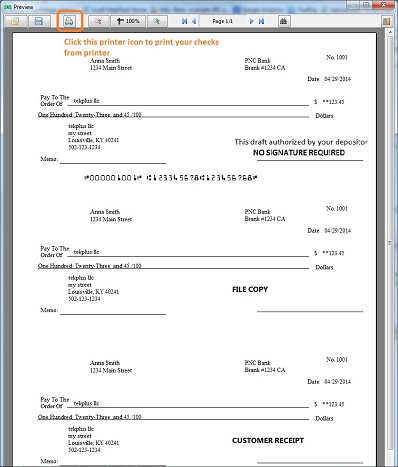 Click to see bigger image


Sample Draft Checks
- check-on-top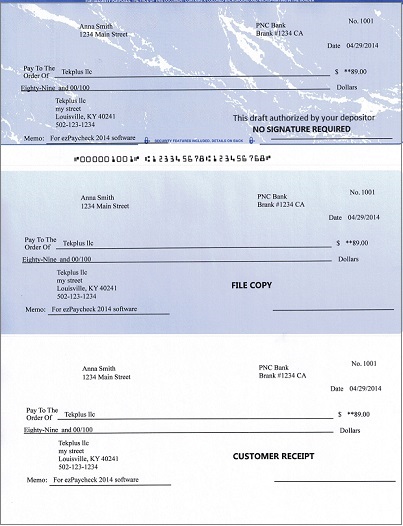 Click to see bigger image


- draft check with EPC-6 code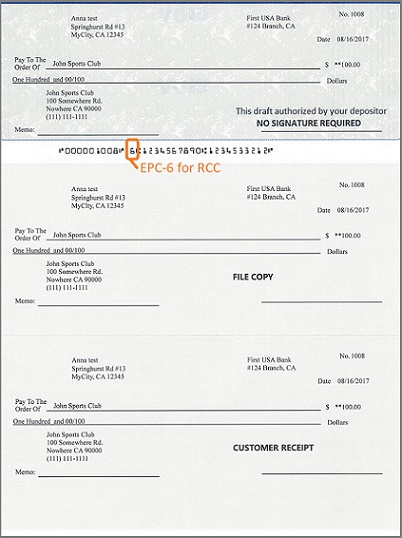 Click to see bigger image


- 3-per-page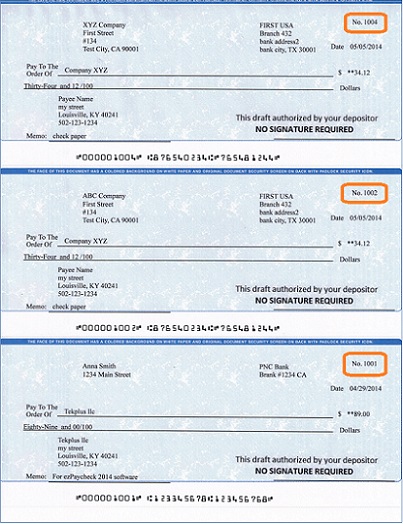 Click to see bigger image