How to Import Employee and W2 Data from .csv File
Below are the steps on how to import data from .csv file into
ezW2Correction software
.
Sample Data Files for Importing
The data file should be saved as .csv file.
Download Link If you need a sample file for testing purpose, you can download it here. You need to unzip it after downloading it.

http://www.halfpricesoft.com/w2c_software/w2_data.zip


How to convert Excel file to .csv file If your data is saved in Excel file, you can convert it easily by clicking Excel top menu "File", then click "Save As" to save it as .csv (comma delimited) file.


---
Steps to Import Form W2C Data
Here are two options to import W2C data from .csv file. Please follow the right direction

Note: If you are using ezW2Correction trial version, you can test the import function to veriry your data. But you cannot save your data into database.


Option 1: Import Previous W2 Data Only
This function is available inside advance and enterprise versions.

You can click the top menu "Current Company" then click sub menu "Import W2 CSV" button. You can follow the structions to import data.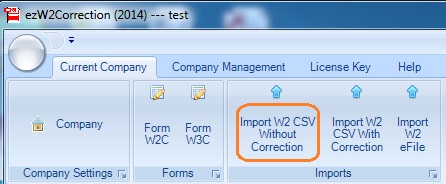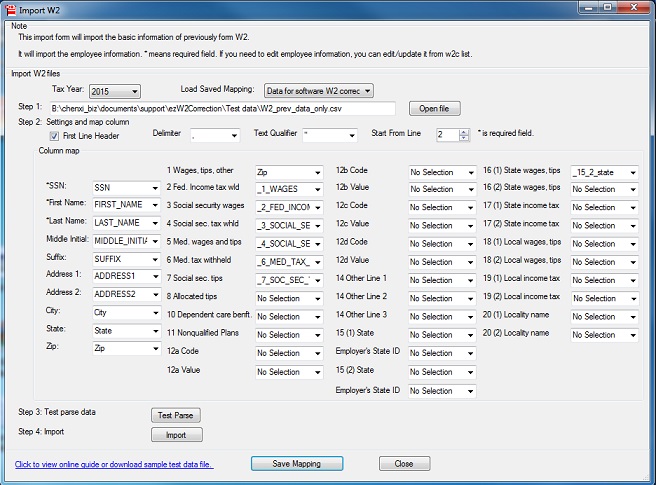 Import screen (click image to enlarge)


Option 2: Import Both Previous and Correction W2 Data
This function is available inside enterprise version only.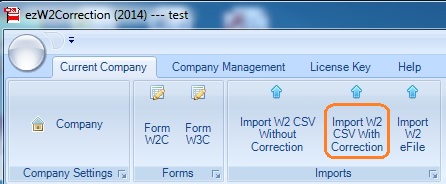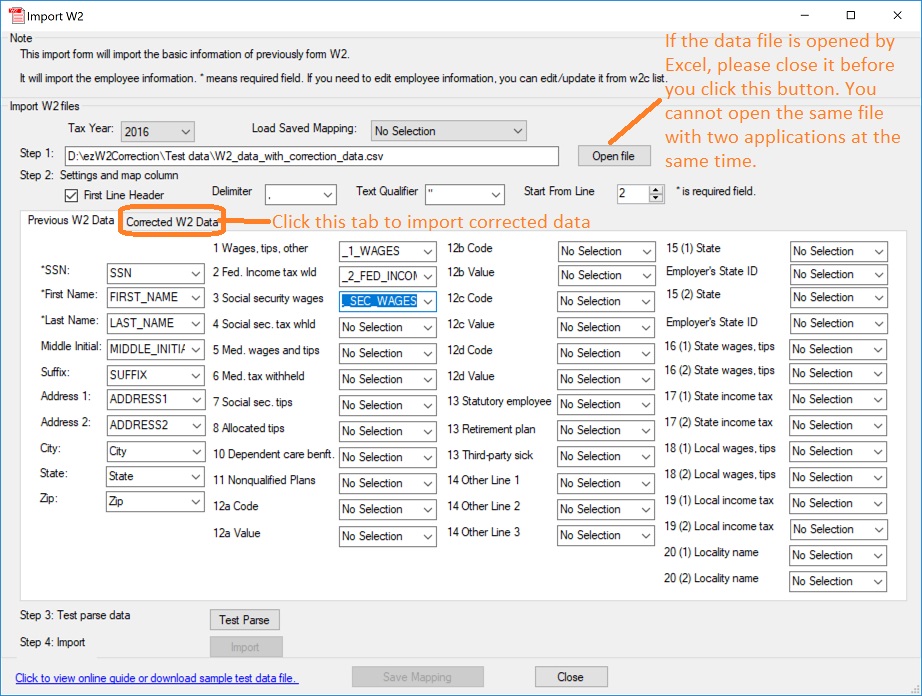 Import screen (click image to enlarge)


2.1 Specify the Year information
ezW2Correction can support tax forms for last 10 years.
2.2 Open .csv file
If the .csv file is opened with Excel or other application now, please close it first. You cannot open the same file with two applications at the same time.
2.3 Tab I data mapping
2.4 Tab II correction data mapping
2.5 Parse data by clicking the "Test Parse" button
2.6 Import data into database by clicking the "Import" button.
Note: Just click the Import button once!
2.7 Save data mapping (optional)
---
With ezW2Correction, you can paper print, PDF print and efile W-2C and W-3C forms easily. Its white paper printing and data import features can save you valuable time and money.

If you have not installed ezW2Correction, you are welcome to test drive this W2C software for free from before purchasing. No registration needed and no obligation. You can follow the step by step online instructions to finish the installation in minutes

ezW2Correction software is compatible with Windows 10, 8.1, 8, 7, 2003 Vista and XP systems.


---