ezW2Correction, W-2C and W-3C Software Download
Prepare and print Year 2007 to 2018 tax forms
---
EzW2Correction 2018
For Microsoft Windows
File Name
: ezW2csetup.msi
Size
: 1.6 MB
Version:
3.5.2
Date Published
: 1/2/2019
You are welcome to try this W2C software for free. No obligation. No credit card needed. The download trial version will print TRIAL or SAMPLE image on forms. You need to enter the key to remove it.

Please read End User Agreement here


Our software can run on Windows 10, 8.1, 7, Vista and other Windows computers.
You may see such message ".net framework version x.x is required" if .net framework is disabled or not installed on your machine.
Please follow this guide to enable .net framework or install .net framework


Have questions? Please check
instructions
below or
contact us
.


Previous Version:

You should use the current W2C form to correct W2 form for current and previous years. (For example: You can use EzW2 2018 to print Year 2014 W2C & W3C form.)


---
---
Instructions
1. You need to login as administrator of local machine.
2. If you machine has higher security settings, you may need to save this installation package to the local machine first. (See step 1)
3. You can also download this W-2C software from Download.com
4. Please feel free to contact us if you need any help.

Depending on machine settings, some user may need to restart computer after installation.


---
Steps
Step 1: Log in Administrator of your local machine.


Step 2: Click the download link or the blue "DOWNLOAD NOW" button
https://www.halfpricesoft.com/ezW2csetup.msi


Step 3: Save the installation package to your local folder first. (If your machine is with higher security settings, it may not allow you to install the printer driver from internet.)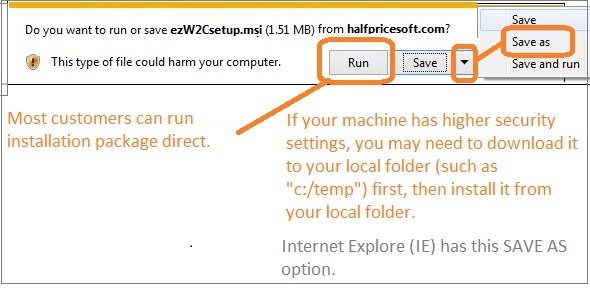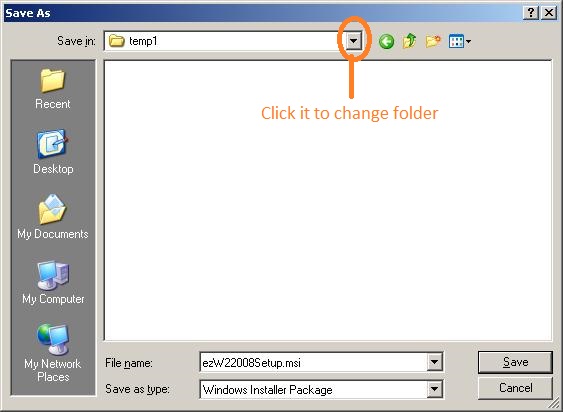 Step 4: start the installation.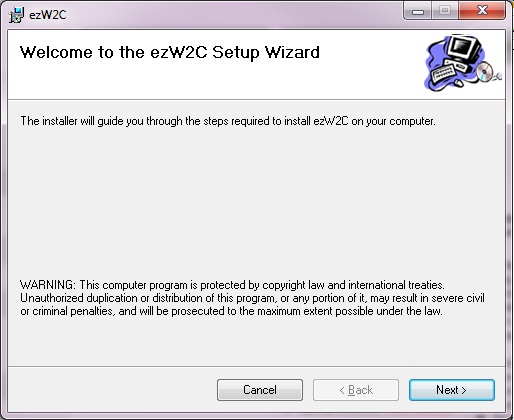 Step 5: Follow the instructions on screen and finish the installation.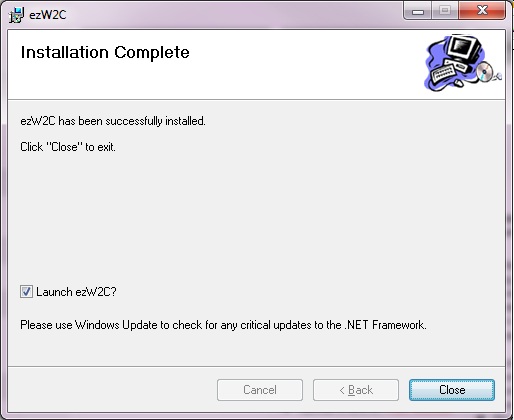 Step 6: A shortcut will be created on your desktop.
6.1 You can double click it to start ezW2Correction software

6.2 If you have purchase the license, enter the key code.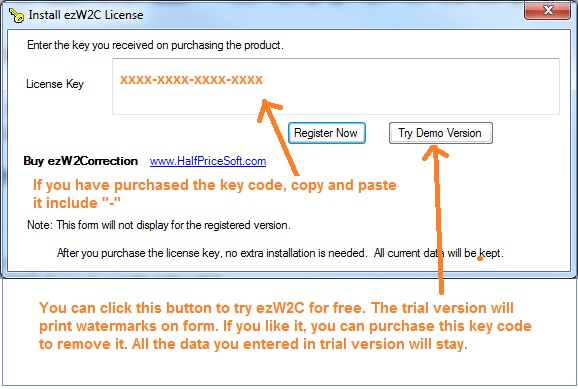 6.3 Set up ezW2Correction, print or efile W2C and W3C forms.

ezW2 Correction Quick Start Guide
Trouble Shooting
ezW2Correction installation issues and solutions
Related Links: