ezPaycheck 2019 Payroll Software For Mac Free Download
Try ezPaycheck payroll software on your Mac computer for free with no obligation and no credit card. Also no internet connection is needed to run this paycheck software.
For macOS
: Catalina, Mojave, High Sierra (for macOS 10.13 and later)
File Name
:
ezPaycheck2019.pkg.zip
Size
: 6.2 MB
Version:
3.9.12
Date Published
: 12/10/2019
This version includes:
2019 tax federal tables
2019 state tax tables
2019 Form 941
2019 W2 and W3 forms
2019 Form 940
Version List
---
Steps to download ezPaycheck on Mac
Step 1. Click the Download button to download the installation.
Step 2. Click ezPaycheck installation package icon to start the installation process.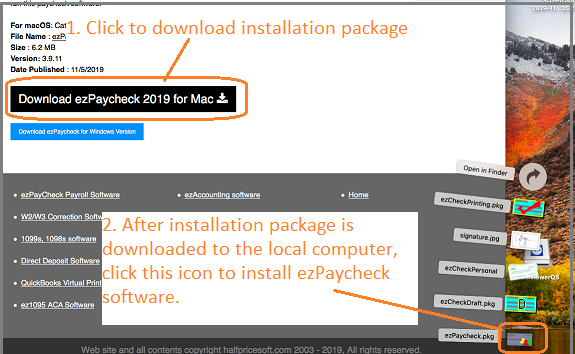 Step 3: Follow the instructions on the screen to complete installation. A shortcut for ezPaycheck software will be created on your desktop.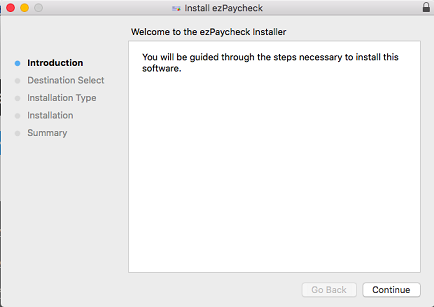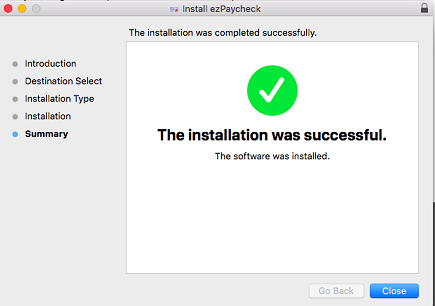 ---
How to run ezPaycheck payroll software after I install it
Click the Launchpad button, then you will see the current applications installed on your Mac machine. Click the ezCheckPrinting icon to start this check writer application.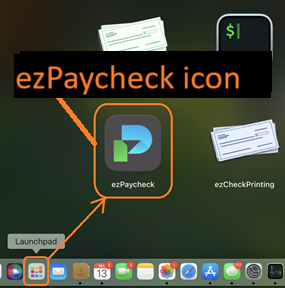 ---
Quick Start Guide

ezPaycheck quick start guide
---
How to purchase the license
You are welcome to try ezPaycheck 30 days free with no obligation before purchasing it. If you like it, you can purchase the license. All your input will remain.