Sample Paychecks and Paystubs
Paying Employees Is Easy with ezPaycheck Payroll Software for Small Businesses
---
With
ezPaycheck payroll software
, you can add and print paychecks with stubs
manaully by entering the data yourself (for after the fact checks)
ezPaycheck payroll software can prints paychecks on blank stock and pre-printed checks in the following formats:
Check-on-top
Check-in-middle
Check-at-bottom
3-per-page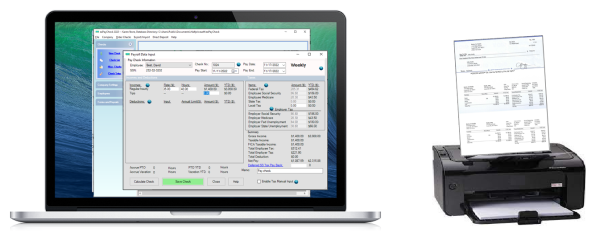 ---
ezPaycheck payroll software
also allows users to customize the check layout with the logo, the second signature line, extra text field (ie: direct deposit check) and more
1. Paycheck: check-on-top format, printed on blank stock
With check-on-top format, you will see paycheck on top, one paystubs in middle (empoyee copy) and one paystubs at bottom (employer copy)
(click to view large image)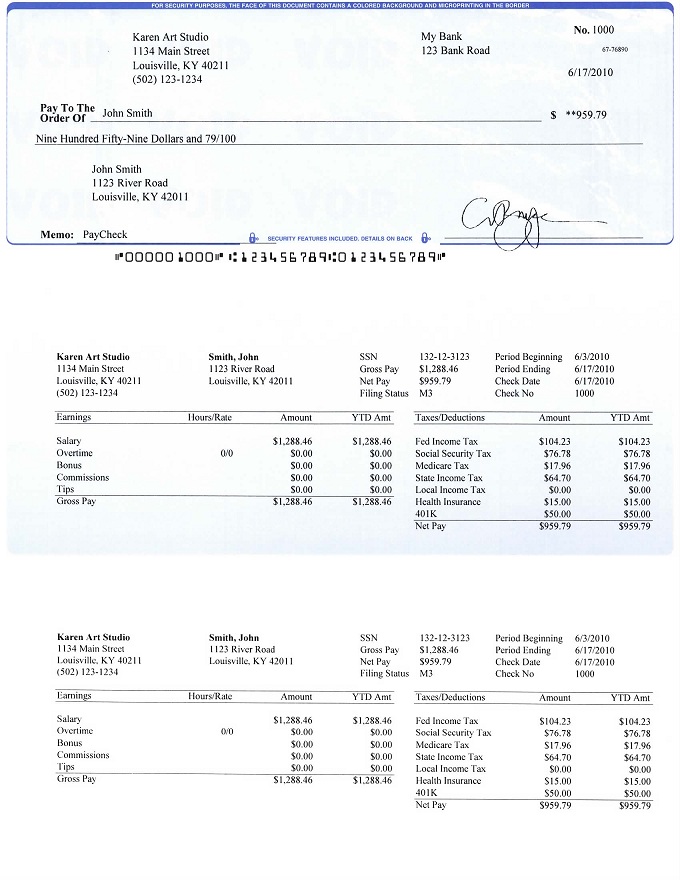 ---
2. Paychecks: check-at-bottom format, printed on blank stock
ezPaycheck payroll software has an option to hide SSN on paystubs. If you choosed this option, only the last four digits of SSN will be printed on payroll check stubs.
(click to view large image)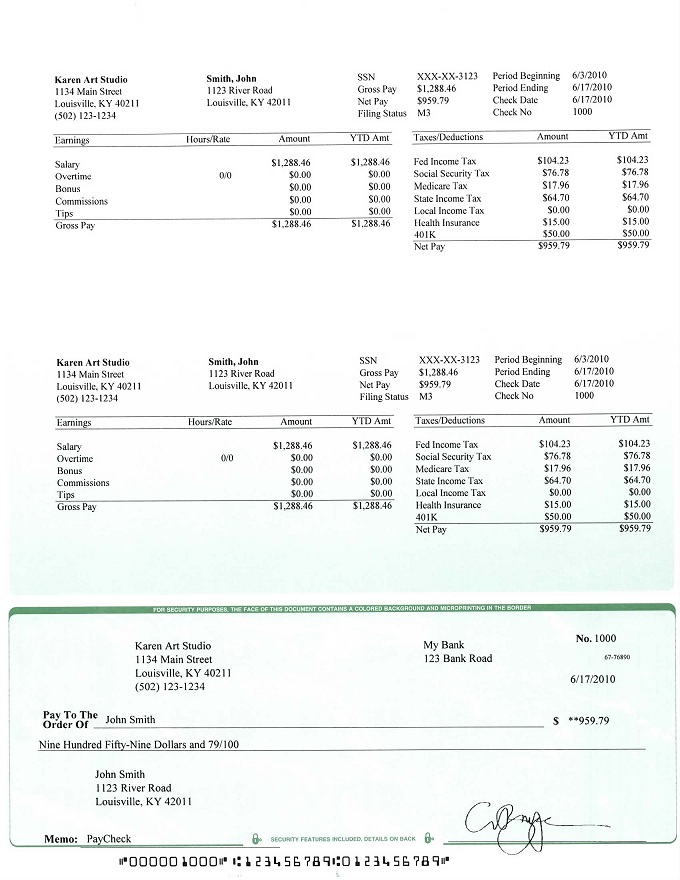 ---
3. Paychecks: check-in-middle format, data only for pre-printed checks
(click to view large image)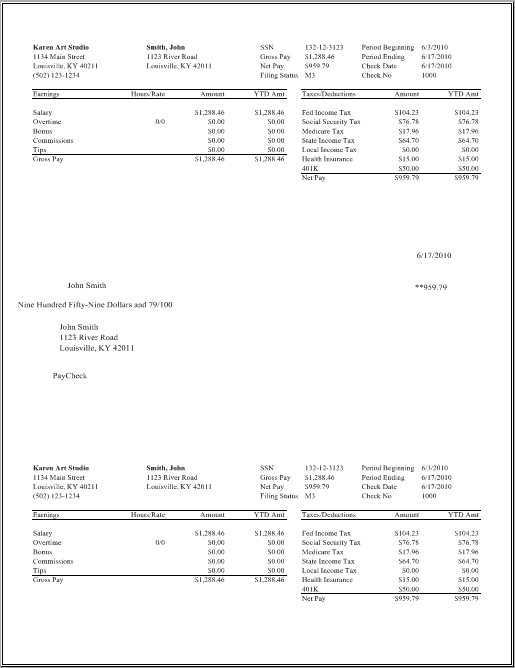 ---
4. Paycheck with logo
(Click here to see
how to add logo to paycheck
)

---
5. Paycheck with two signature lines
(Click here to see
how to add the second signature line to paycheck
)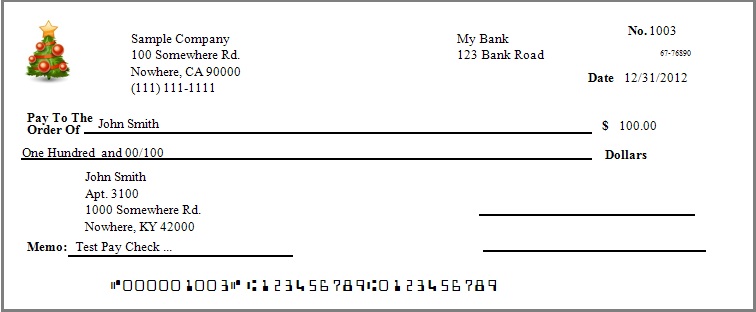 ---
6. Paycheck for direct deposit
If you use
ezACH deposit software
with ezPaycheck payroll software to deposit payment to employee account directly, you can customize the paycheck for record only.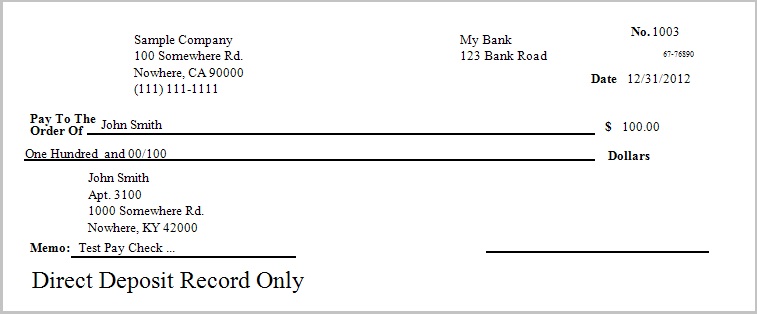 7. Paystubs only without paycheck
With ezPaycheck, you can
generate and print the paystubs w/o a check
easily anytime.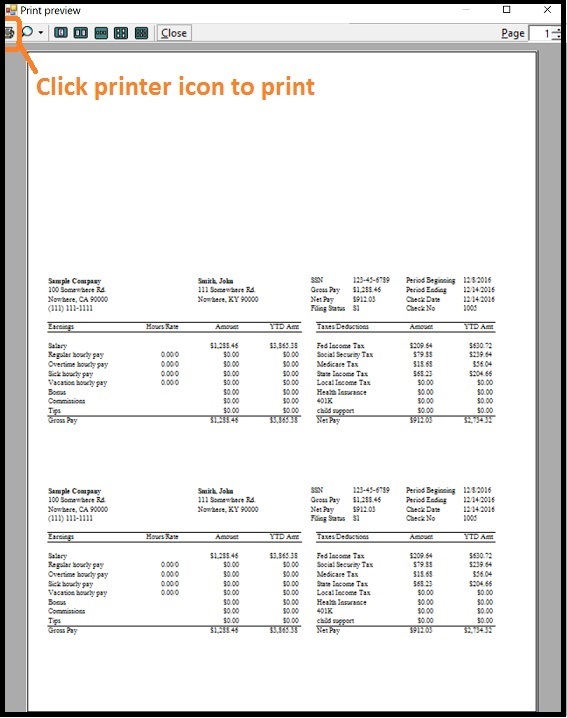 8. More sample business checks
More Payroll Information for Small Business
How to enter the paychecks for after the fact payroll
---



ezPaycheck Makes Small to Midsize Business Payroll An Easy, In-House Task!

Trusted by Thousands of New and Seasoned Clients Each Year Since 2005.
Calculate Federal & State Taxes, Print Paychecks, Print W2, W3, 941 and 940.
Free General Customer Support

Try it free for 30 days with no obligation and no credit card needed. ezPaycheck is compatible with Windows and Mac.

**LIMITED TIME SPECIAL OFFER** - ezPaycheck 2022 $99 (regular $139)!

No monthly fee. No hidden cost.


---