ezCheckPersonal Mac: License Issue
(Click to view
the solution for Windows Version

)
Step 1: Find the software name and version number
Click ezCheckPersonal top menu "help", then sub menu "About ezCheckPersonal" to found software name and version.
Note: The licenses for ezCheckPersonal version 3 and version 2 are different. ezCheckPersonal version 3 was released on Sep 9, 2019 and you can make in-app purchase from Apple Store only.
Step 2: Solution
Step 2.1 ezCheckPersonal Version 3 Solution
Step 2.1.1 Please review your Apple Store orders to make sure the order of ezCheckPersonal Mac version 3 completed.
Step 2.1.2 If you have multiple Apple Accounts, please make sure you install and purchase ezCheckPersonal with the
same Apple ID
.
Step 2.1.3 If your order completed, please start ezCheckPersonal and click the "Restore Purchases" button to retrieve your license from Apple Store.
If you cannot retrieve your order, restart your Mac computer and try one more time!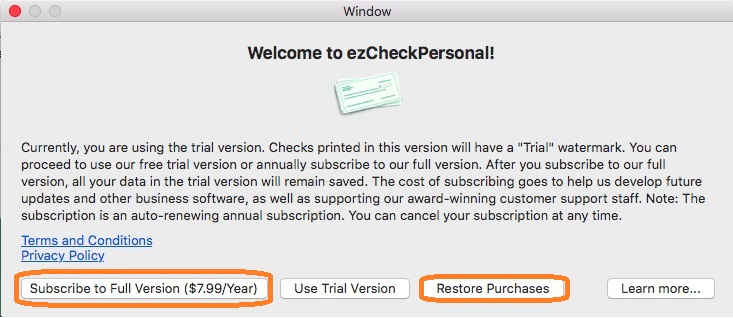 Step 2.2 ezCheckPersonal Version 2 Solution
Please copy and paste ezCheckPersonal Version 5 keycode including dashes ("-") to license input screen.
If you cannot find your license of ezCheckPersonal version 2, please
contact us
Related Links:
---
ezCheckPersonal allows customers to design and print pocket-sized personal checks with MICR encoding and logo on blank stock. You can also use it to fill out preprinted blank checks too.

If you have not installed this software, you can download and try it free with no obligation and no credit card needed.

This check printing software is compatible with Windows 10, 8.1, 8, 7, Vista, XP, Me, 2003, 2000 and Apple Mac systems.


---
---