Personal Pocket-sized Check Writer for Macintosh
Mac Check Software: Print Checks on Blank Stock with ezCheckPersonal

With ezCheckPersonal software, you can design and print professional-looking personal check with log and MICR encoding on blank stock easily and inexpensively. ezCheckPersonal will work with blank 3 or 4 checks per computer check paper with 8-1/2" X 11" size. The default personal pocket check size is 6" X 2-3/4".

ezCheckPersonal Software prints checks from blank check stock and can also create pre-printed personal bank checks.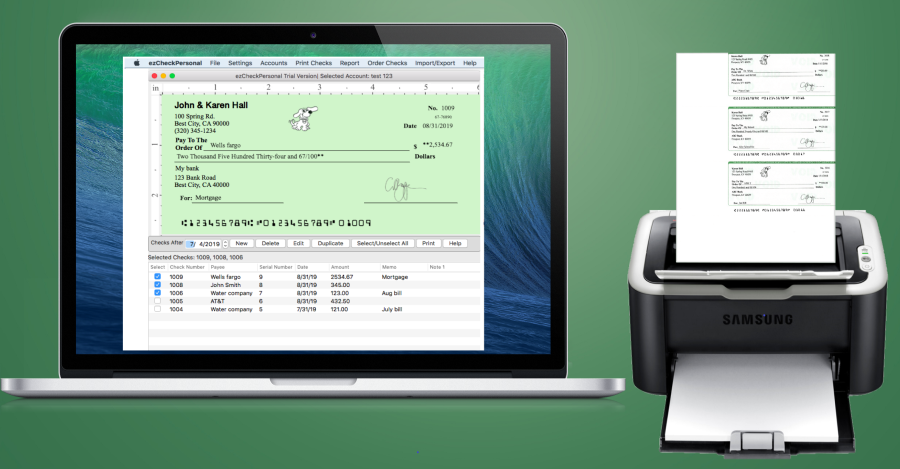 ---
Design and Print Professional Checks Yourself
---
Print Professional Checks on Blank Stock
---
Unlimited Accounts and Unlimited Checks Printing
Free customer Support
ezCheckPersonal for MAC, Version 3
(No CD included)

Systems: Catalina, Mojave, High Sierra(for macOS 10.13 and later)

Unlimited accounts and checks
(This version cannot import data from QuickBooks directly)
$7.99 (per year)
In-app subscription from Apple store
ezCheckPersonal for Mac, Version 2
(License key will be sent to your email account once the transaction completes.)
(No CD included)
Systems: Mojave, High Sierra, Sierra, El Capitan, Yosemite (for macOS 10.13 and earlier)

Unlimted Accounts
Unlimited Checks

$29.00 (per installation)

Windows and Mac versions are sold seperately.
Click here to purchase Windows version

Note: The software on the CD is the same as the one you download from our site. The CD option does not include the license key. If you can download this software from our site, you do not need the CD. You can just purchase the license key. The CD is for the users who cannot download software or who wants to keep a hard backup copy.


100 sheets Blank Personal Computer Checks (300 checks)
Sheet size: 8-1/2" x 11"; Check Size: 6"X2 3/4"; Color: blue;
Bigger Check Image

$17.95 ($0.06 per check)
USPS 1-3 Days Priority Mail, US Only

$46.95($0.03 per check)
USPS 1-3 Days Priority Mail, US Only

$69.95 ($0.02 per check)
USPS 1-3 Days Priority Mail, US Only