ez1095 Software: How to File DC ACA 1095 Forms
ez1095 software makes it easy to file ACA tax form 1095 and 1094 to IRS and state. Here is the guide for DC users.
Step 1: Start ez1095 Software
If you have not installed ez1095 software, you need to download and install it first.
---



From $295

Securely File 1095 & 1094 ACA Forms In-House

With ez1095 software, you can prepare, print, PDF print and e-file forms unlimited 1095-B, 1094-B, 1095-C and 1094-C ACA forms easily.

For 2016 to 2024 tax seasons. For both federal and states.

Try free DEMO version with no obligation today!

ez1095 is compatible with Windows 11, 10, 8.1, 8, 7, and other Windows system, 32-bit or 64-bit.


---
After you installed the ez1095 software, you will see a new shortcut created on desktop. You can double click this shortcut to start ez1095 software.

If you are using the trial version of ez1095 software, you will see the key input pop up screen. You can enter the key code here or click the "TRY DEMO Version" to try this software for free. (Note: The trial version will print TRIAL image on forms.)
Step 2: Set up Company Information
- Start ez1095 software, click the top menu "Current Company" then the sub menu "Company Settings" to view company set up screen.
- Enter company information
- Click the
SAVE
button to save the change.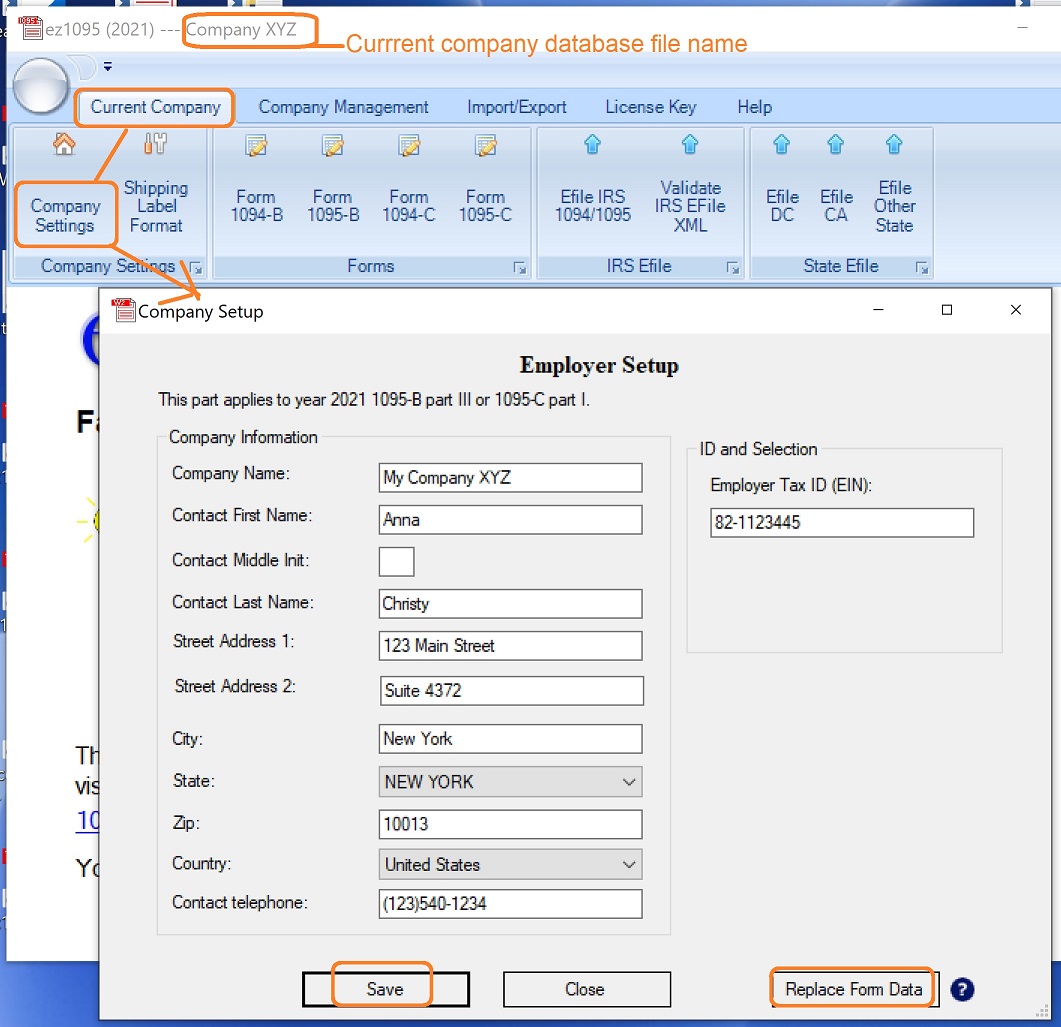 Step 3: Add Tax Form 1095-C or 1095-B
with ez1095 software
you can enter the form data manually by following the steps below;
or you can roll forward previous year's ez1095 data;
or you can import 1095-C data from spreadsheets;
Step 4: Print Tax Form 1095 & 1094
ez1095 software can print both 1095-C and 1094 C forms for IRS and recipients on white paper. No pre-printed form is needed.
4.1 Select 1095 forms and click the PRINT button.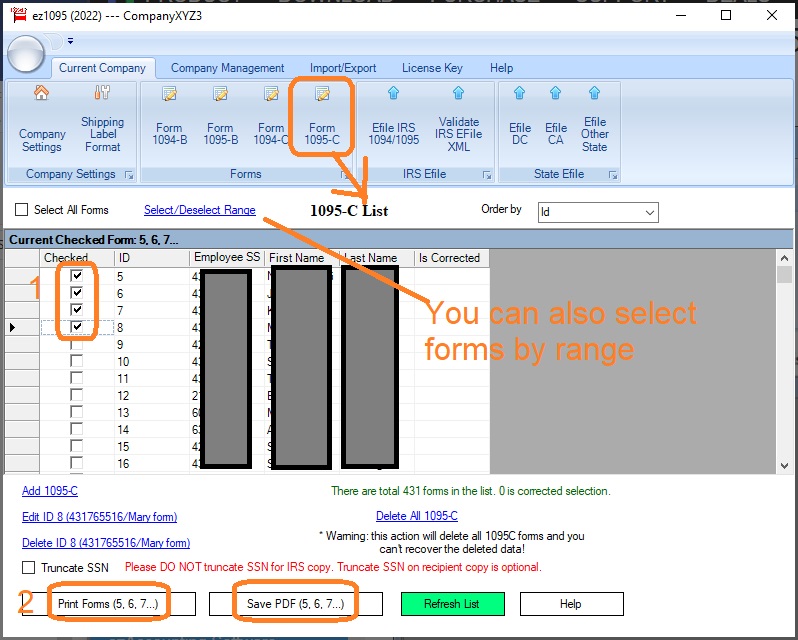 You can print optional shipping address to mail forms with #10 double windows envelopes easily.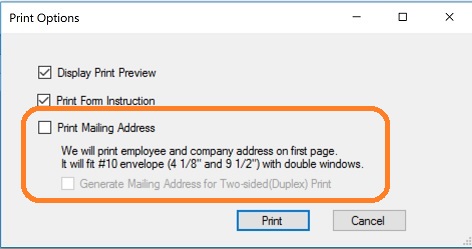 You can view/edit printer options if needed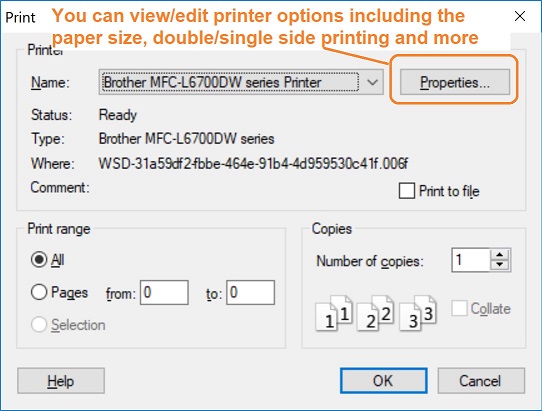 4.2 Click the top menu "Current Company" then the sub menu "Form 1094-C" to view and print 1094-C forms.

Step 6: Efile Forms to IRS
6.1 Click ez1095 top menu "Efile 1094/1095" to view efile screen
6.2 Input your TCC and correct EIN to generate efile. DO NOT check "Is Test" check box for your production file.
6.3 We strongly suggest you validate your data before submitting XML documents to IRS.
6.2 Upload the generated XML files to IRS ACA System.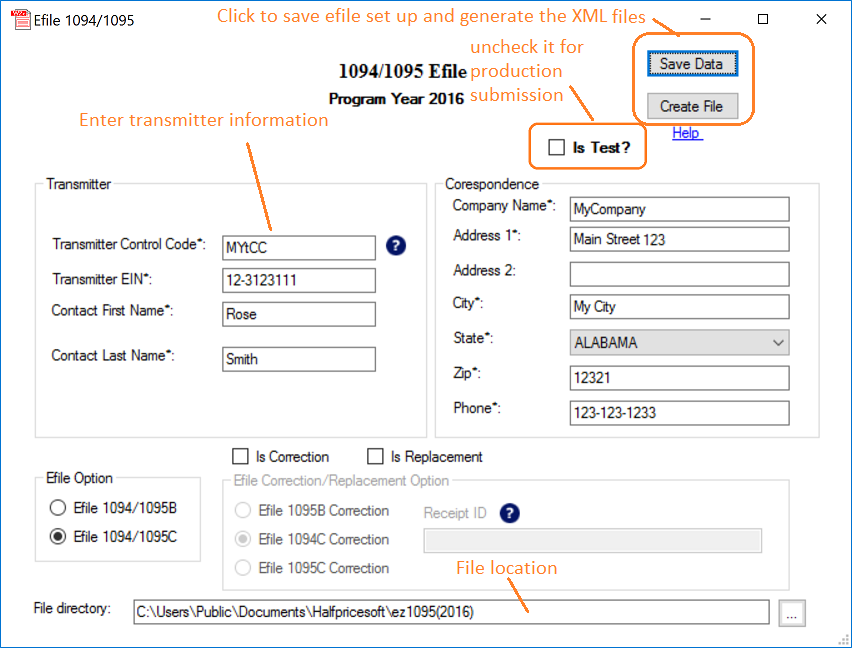 Step 7: Efile Forms to DC
7.1 Generate the file documents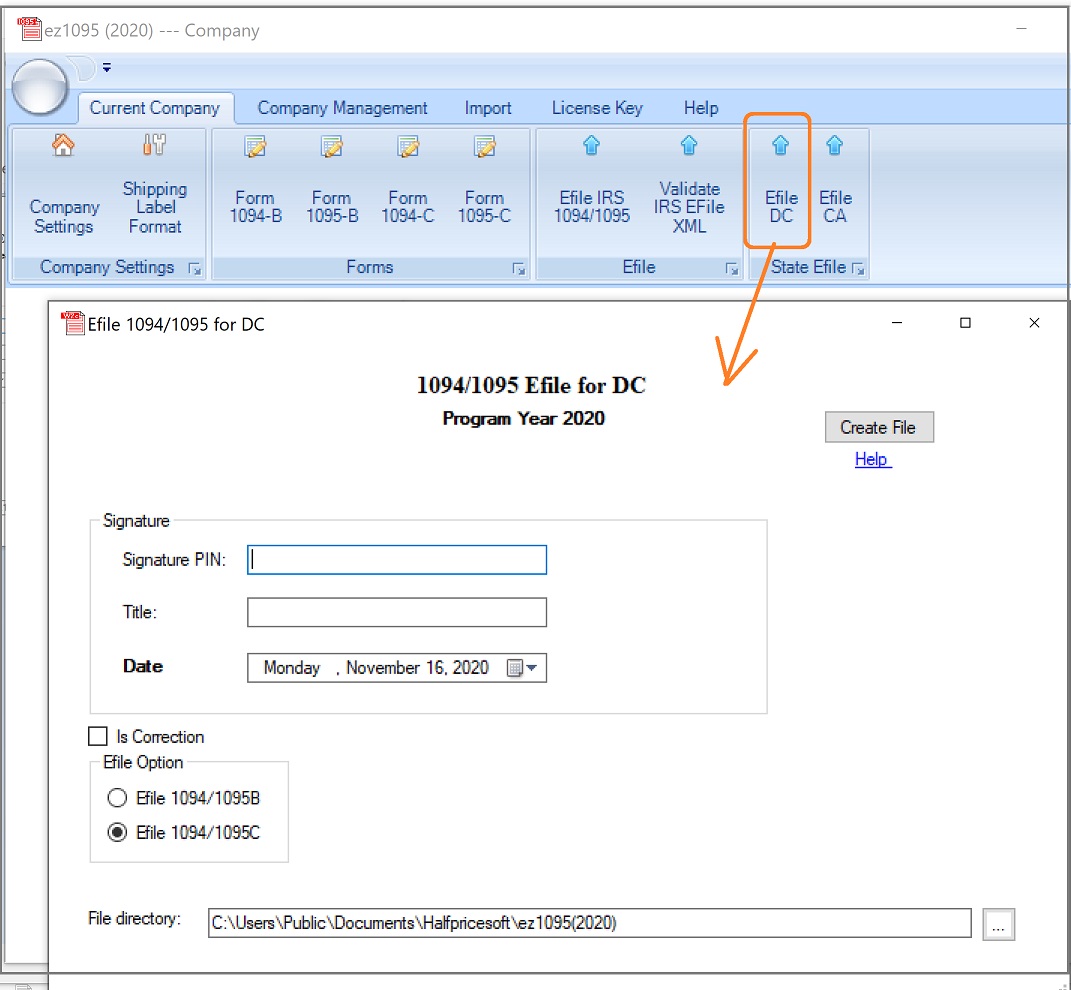 7.2 Upload to DC site
https://ess.dc.gov/psp/essprod/?cmd=login&languageCd=ENG&
More information
More about DC efile
https://otr.cfo.dc.gov/node/1447081
---
Related Links
12. Troubleshooting
Other Forms