ACA Software: How to Import 1094/1095 Data from XML Efile Documents
Who can use it
If you need to file
replacement
or
correction
with ez1095, but you filed ACA original forms with other software, you can use this XML file importing feature to import 1095/1094 data.
Note:
1. If you filed ACA forms with ez1095 software, you do not need to use this feature to file replacement or correction. You can correct the error in your account directly.
2. If your XML file includes the data for multiple submissions(ie: one file with multiple company form data), this function will import data for the first submission only.
Step 1: Back up your data first if you have important data in this account
This XML import feature will overwrite the data in current account. If you have important data in current account now, here are two options:
#2: Create a new account
You can start ez1095, click the top menu "Company Management" then "Add Company" to add a new company account.


Step 2: Import Data from XML file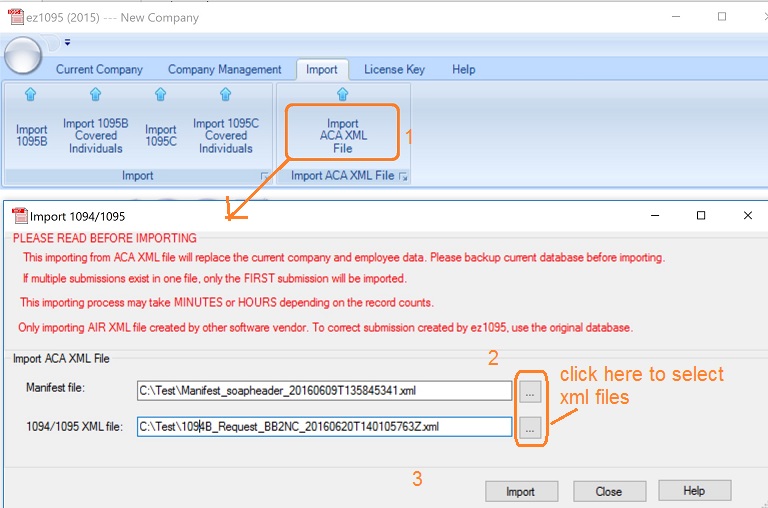 ---
ez1095 software can prepare, print and e-file forms 1095-B, 1094-B, 1095-C and 1094-C ACA forms. You are welcome to download the trial version for free, with no registration needed and no obligation.

For 2015 to 2022 tax seasons. For both federal and states.

This ACA form 1095 printing software is compatible with Windows 11, 10, 8.1, 8, 7, and other Windows system, 32-bit or 64-bit.


---
More Information
1. How to Import 1095C Data from .csv file

2. How to Import 1095B Data from .csv file

3. How to efile ACA forms

4. Common ACA filign errors


---
Related Links
12. Troubleshooting
Other Forms