ezCheckPrinting Check Software Faqs: Missing Data
Question:
I started ezCheckPrinting this morning and my data is missing. How can I get my data back?
---
Design and Print Professional Checks Yourself

- Print checks on blank stock with logo and signature
- Fill in data on pre-printed checks
- Print blank checks to fill in later
- QB virtual printer for QuickBooks/Quicken(for Windows)
- Unlimited accounts and checks for Windows and Mac.

Try ezCheckPrinting free demo version with no obligation and no credit card needed.


---
Solutions:
Step 1: If your account information is still correct, you can change the "Check After" date to view more checks

How to view more checks from check list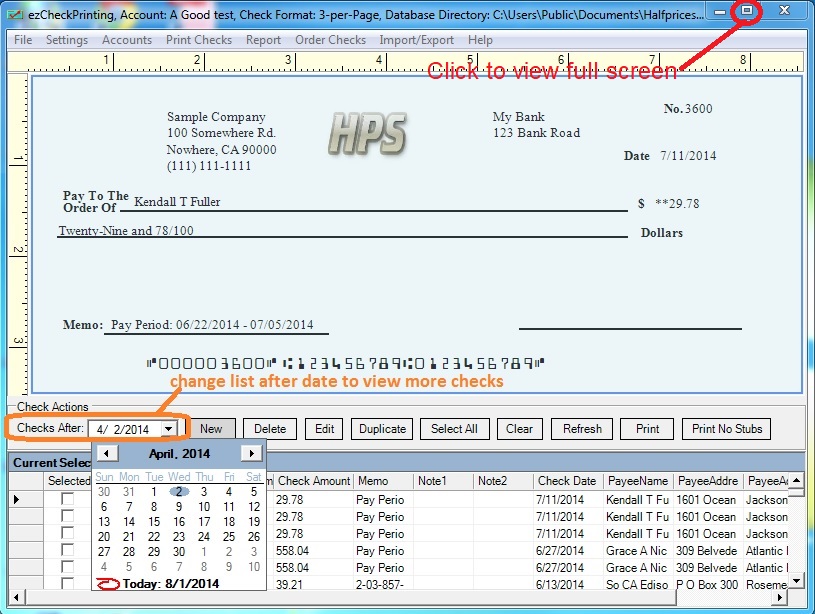 click to enlarge
Step 2: Switch Account
If you lost current account set up, You can click the top menu "Accounts", then click the sub menu "Select Account" to view account list and switch current account.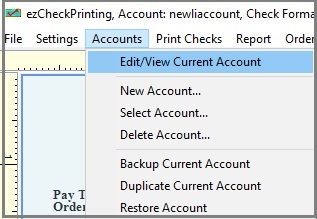 Step 3: If you backed up your data before, you can restore your data easily.

How to restore a check account
Start ezCheckPrinting, then click the top menu "Account->Restore account" and select the database file. ezCheckPrinting will copy this database file to the application folder.


Then select the new database file as current company database by clicking the top menu "Accounts->Select Account".


Step 4: Copy the file back manually
The database file is .mdb (Microsoft Database) file.

The default data folder is:
C:/Users/Public/Documents/Halfpricesoft/ezCheckPrinting

If you used old version ezCheckPrinting 4.0 and earlier before, the database folder can be

C:\Users\**YourName***\AppData\Local\VirtualStore\Program Files (x86)\Halfpricesoft\ezCheckPrinting
or
C:/Program Files/Halfpricesoft/ezCheckPrinting

Or you can search "*.mdb file" manually.

If you can find the data, you can copy it back to the default folder. Then select this database file as current company database by clicking the top menu "Accounts->Select Account".
---
Related Links: