Quick Start Guide for Windows (Click to view Macintosh Version )
How to Set up Account and Print Checks
---
How to Print Checks with Logo on Blank Check Stock
Stand Out in the Crowd with Fast and Easy Check Customization
You never know who will see or handle your personalized checks. The customized bank checks are also a great way to differentiate your company and get your brand out in the marketplace. We are confident
ezCheckPrinting check printing software
will give customers more control on check design and printing.
A company logo on blank check stock is great way to grab the attention of potential customers.
Below are the four easy steps to design and print the bank check with a logo.
Step 1: Install ezCheckPrinting
If you have not installed ezCheckPrinting, you can download it from

Just follow the instructions on the download page to finish the installation.
This software is compatible with the latest Windows 10 system and previous Windows systems.
Step 2: Start ezCheckPrinting, set up the bank account and add the logo image.
2.1 Start ezCheckPrinting
Once you installed ezCheckPrinting software, a desktop shortcut will be created. You can click it to start ezCheckPrinting easily.

2.2 Enter key code
If you have not registered the key code, you will see key code input popup windows. If you just want to test the trial version, simply click "Try DEMO Version" to continue.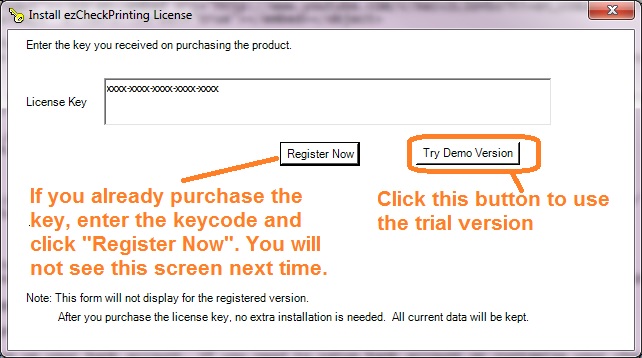 2.3 Click the top menu "Settings->check setup" to open the check setup page. Set up your check information and add your company logo file there.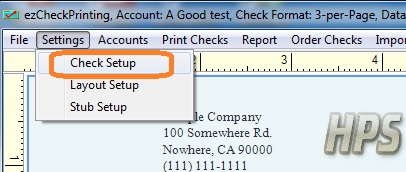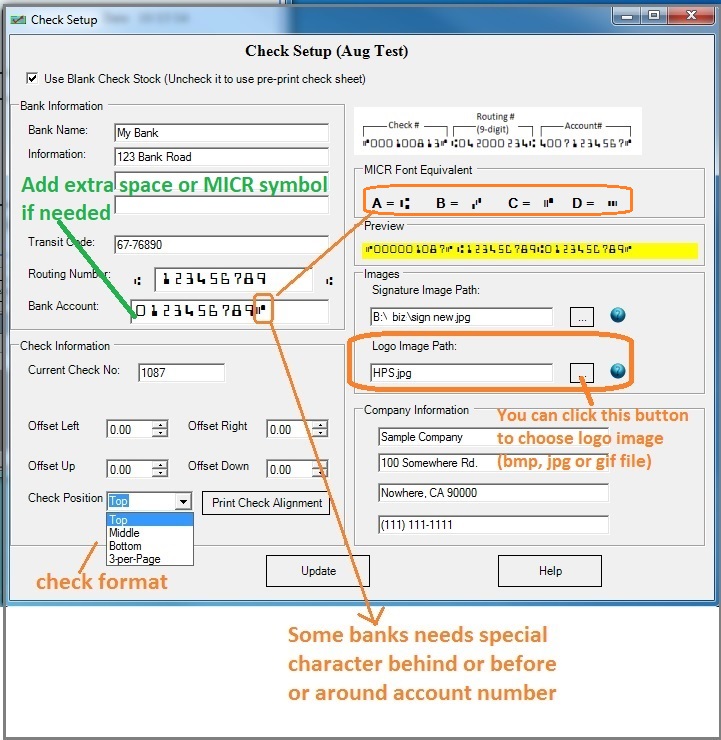 2.4 Enter the check information


- Blank check stock or pre-printed check
If you will use blank check stock, check the option "Use Blank Check Stock". Otherwise, uncheck it.


- Bank information
Please enter the bank information here. Bank information is required. If you select to use pre-printed check, you can leave the default sample data here.


- Transit code (optional)
This information is optional. If you have this data on your old check, you can enter it. Otherwise, you can leave this field blank. US banks will not use this information to process checks today.


- Check position
ezCheckPrinting supports blank check stock and pre printed checks for check on top, middle, bottom and 3-per-page business size formats.


- Current check number
You can enter the starting check number here. ezCheckPrinting will increase it automatically when you add a new check.


- Offset left/right/up/down
Most customers can leave the values as 0 (zero). You can adjust the value to print check higher or lower if your printer is special.


- Images
You can choose your own logo image and signature images here. If you do not want to use images, you can delete the data and leave these fields blank.




Step 3: Customize the check layout (Optional)

Video Guide: How to customize check layout
(If you like current layout, you can skip this step.)
3.1 Open Layout set up screen
Click the top menu "Settings->Layout Setup" to open the check layout page.
3.2 Customize Check Layout
You can customize the layout of your check by changing the font size, logo position, logo size or add a new label.
To customize the logo, you need to select the logo from the item picker first. Then you can resize it or drag/drop the logo to a new position. If you are satisfied with the effect, you can save your change.
Step 4: Add a new check and print it.

Video Guide: How to write and print a check
4.1 Go back to the main page. Click the New button to add a check.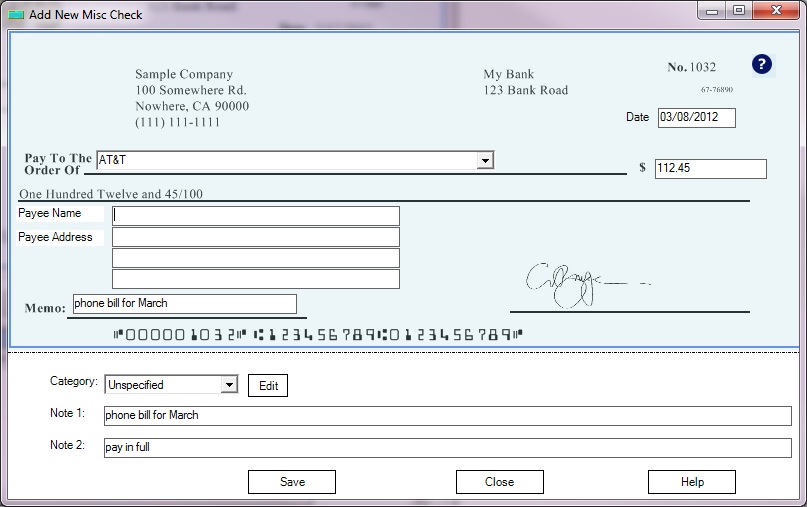 4.2 Select this check from the check list and click the Print button to print your check.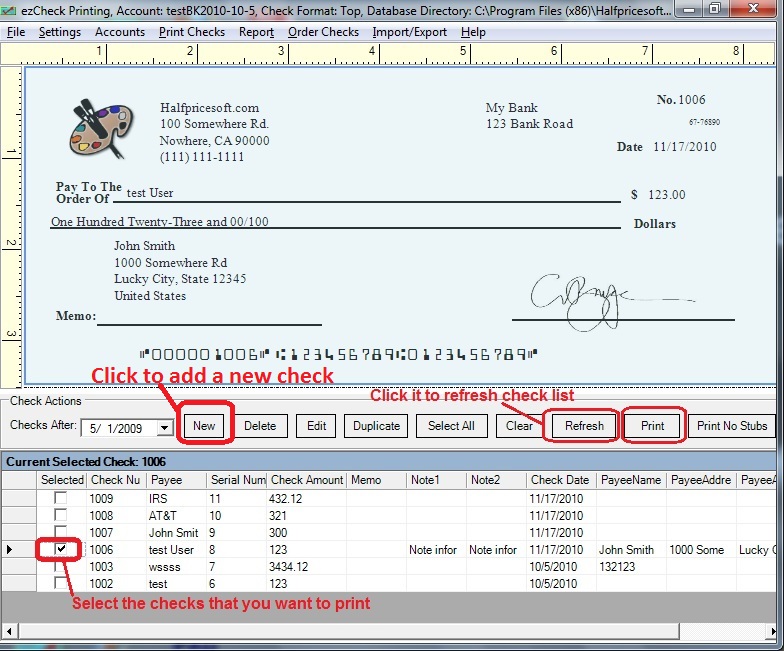 4.3 Select Printer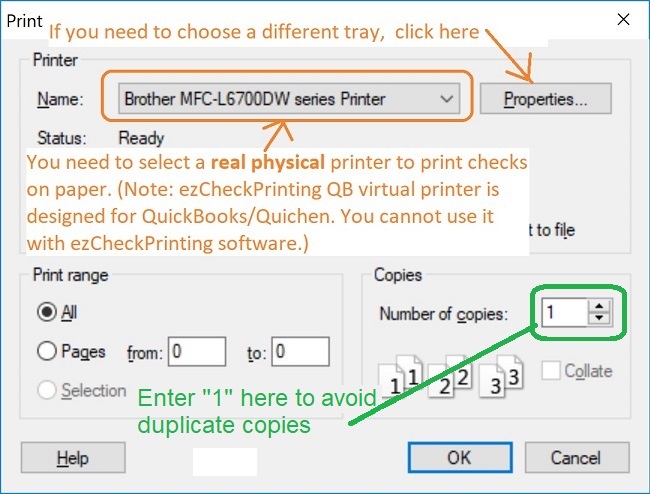 4.4 Preview and print check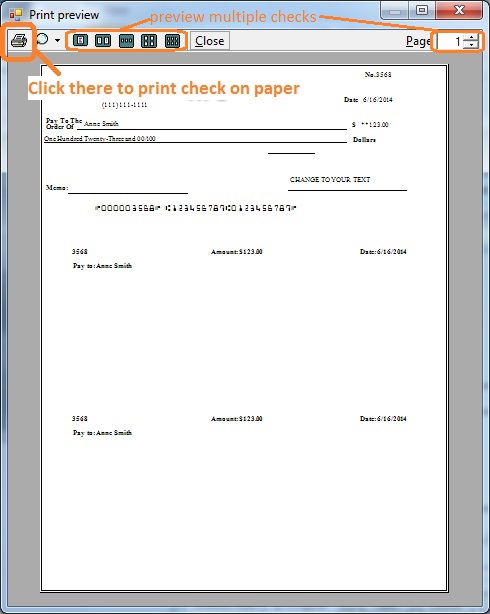 Please feel free to download and try ezCheckPrinting Software. No registration needed and no obligation.


---
Related Articles:
How to print pre-printed blank checks to fill in later
https://www.halfpricesoft.com/articles/how-to-print-quickbooks-micr-blank-check.asp


How to print QuickBooks checks on blank stock
https://www.halfpricesoft.com/quickbooks-check-printing/print-quickbooks-checks.asp


How to print multiple checks with a single click for batch printing
https://www.halfpricesoft.com/business_check_software/print-multiple-checks.asp
How to print recurring checks
https://www.halfpricesoft.com/business_check_software/print-recurring-check.asp
Why the bank cannot read my check
https://www.halfpricesoft.com/business_check_software/check_scanning_issue.asp
How to customize the check layout
https://www.halfpricesoft.com/business_check_software/customize-check-layout.asp