ezCheckPrinting Quick Start Guide for Quicken (for Windows)
How to Print Quicken Checks on Blank Stock
You can print checks and stubs on blank stock in one step from Quicken.
You can print Pre-printed check with MICR encoding to fill in manually later

You can print checks with logo, signature and extra labels.
You can print check draft to collect fund via phone, fax and internet
ezCheckPrinting can support multiple accounts with no extra charge


Step 1: Install both ezCheckPrinting and Virtual Printer for QuickBooks/Quicken on your Windows Computer.
To print checks from QuickBooks and Quicken (no matter desktop version, network version or online version), you need to install both ezCheckPrinting and Virutal Printer on your local machine

You can try ezCheckPrinting and virtual printer for free with no obligation before purchasing. However, the trial version will print TRIAL images on checks. You can purchase the key code later to remove it. All the data you entered in the trial version will stay there.


ezCheckPrinting free download
https://www.halfpricesoft.com/check_printing_software_download.asp
virtual Printer for QuickBooks/Quicken free download
https://www.halfpricesoft.com/business_check_software/quickbooks_check_writer_dowload.asp
---
Step 2: Run ezCheckPrinting application at least once and print a test check to make sure both ezCheckPrinting and your printer work
The virtual printer will call ezCheckPrinting CheckPrint() function to print check(s) from QuickBooks and Quicken. So you need to run ezCheckPrinting software at least once before you can print checks from QuickBooks.
2.1 Start ezCheckPrinting
You can click the desktop shortcut to start ezCheckPrinting application.

If you have not purchased the key code, you can use the trial version.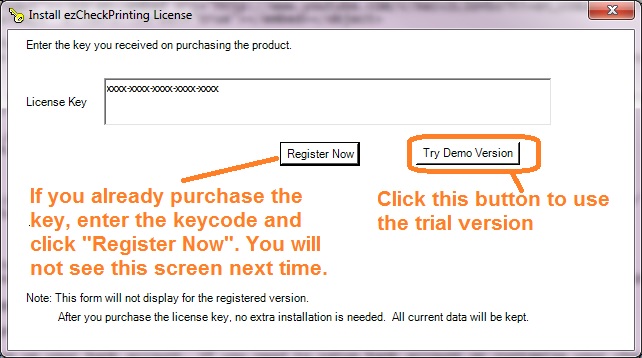 2.2 Set up account
You can access this screen by clicking ezCheckPrinting top menu "Settings", then the sub menu "check setup".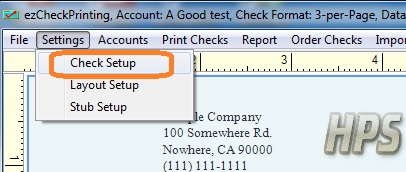 Please make sure you checked the option to use blank stock on check set up screen
.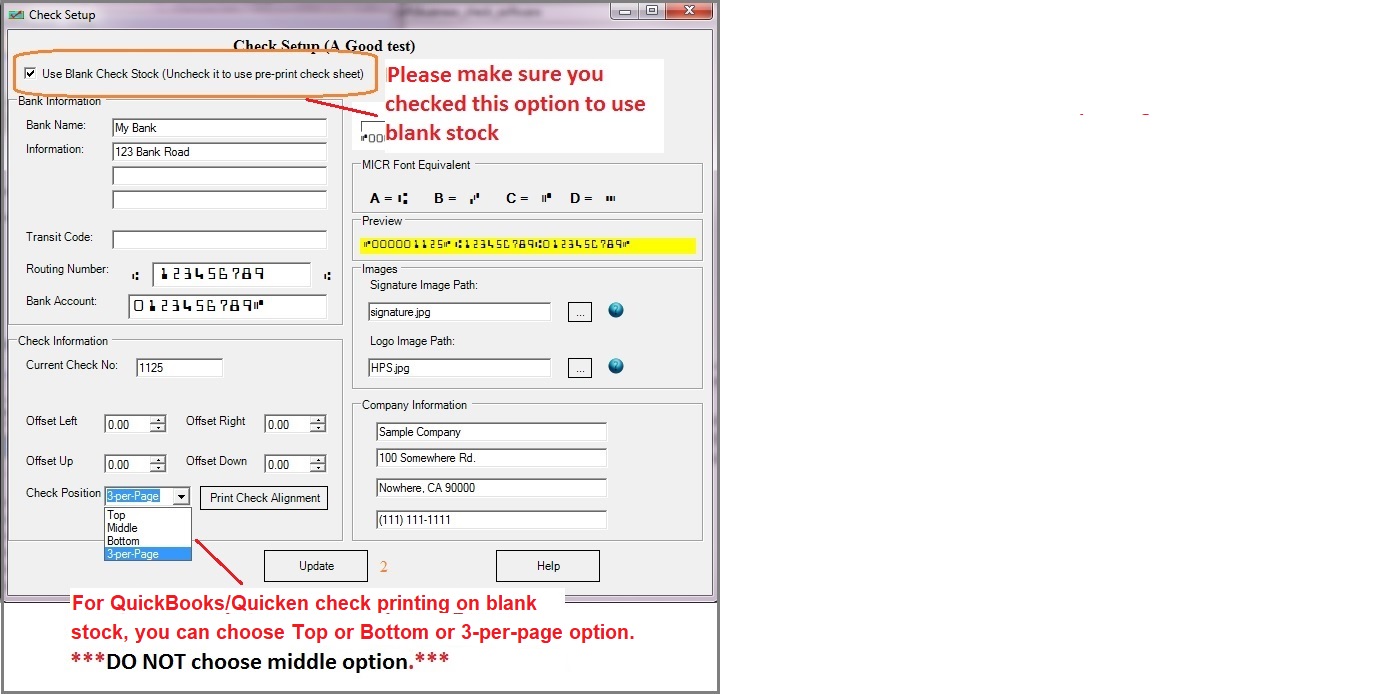 2.3 Add and print one test check
2.3.1 Go back to the main page. Click the New button to add a check.
2.3.2 Select this check from the check list and click the Print button to print your check.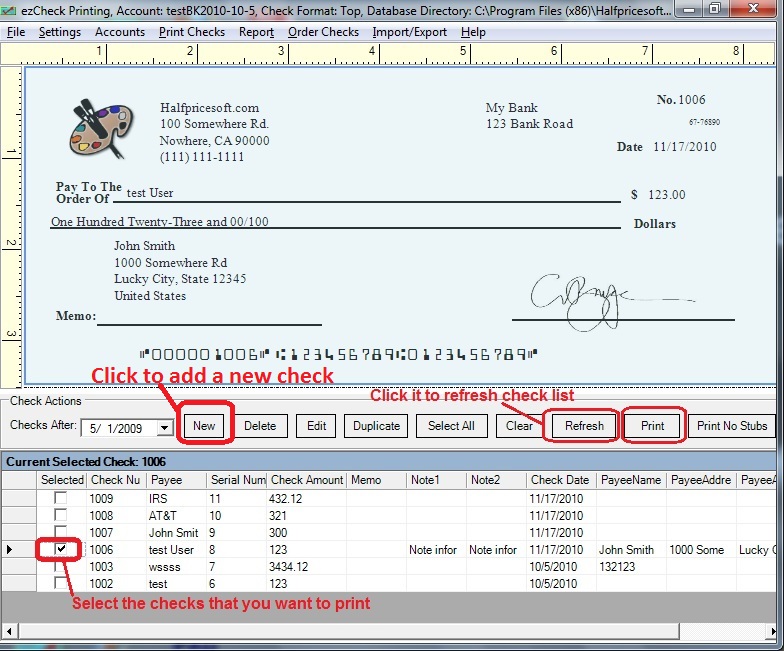 2.3.3 Select Printer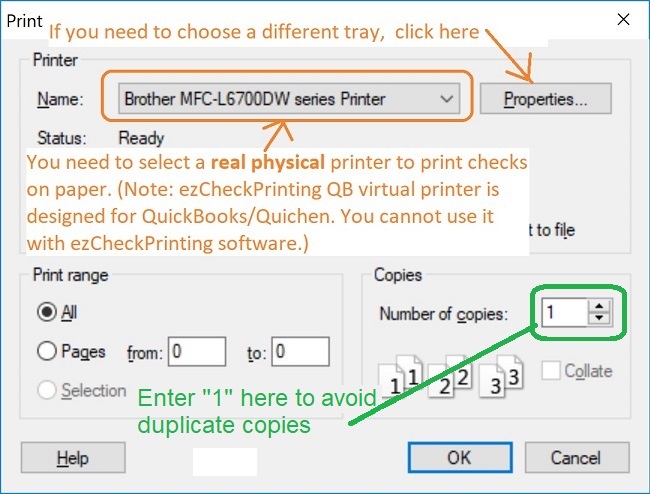 2.3.4 Preview and print check
You can click the printer icon to print check on paper from preview screen.
---
Step 3: Print checks from Quicken on blank stock in one step.
3.1 Start Quicken and select EzCheckPrinting Virtual Printer as the default check printer. (You can skip this step if ezCheckPrinting virtual printer has already been choosed as the default check printer.)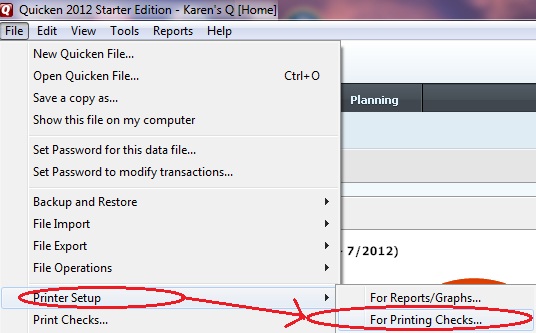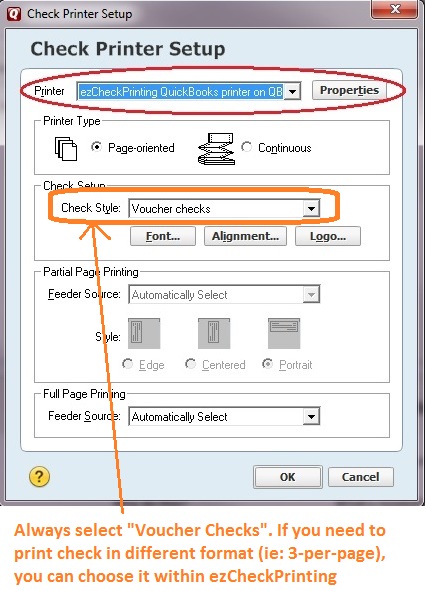 3.2 Print checks from Quicken as before.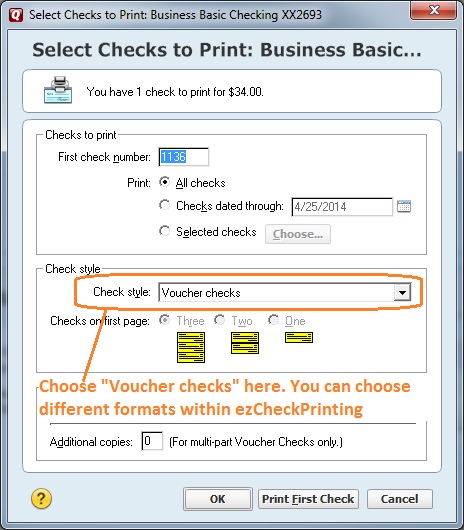 3.3 If you are using trial version, you will see the key input pop up window. Once you enter the key code, you will not see it again.

You should copy and paste the key code including "-" for ezCheckPrinting virtual printer here. (Note: the key codes for ezCheckPrinting and virtual printer are different. When you purchase ezCheckPrinting QuickBooks version, you will see two key codes in the key message. Please use the right one)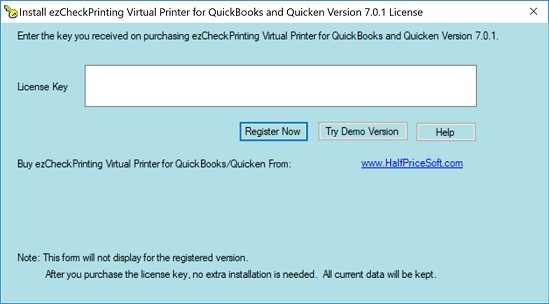 3.4 Change a different check account or a different real printer if needed.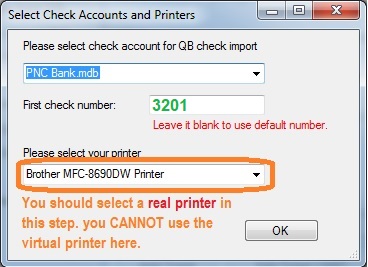 ---
If your computer hides the pop up screen in step 3.3 or 3.4, here are two options:
1. you can check the bottom status bar. You can click the ezCheckPrinting virtual printer icon on status bar to make it visible.
2. Or you can press ALT and TAB keys on your keyboard at the same time to switch between applications.

3.5 Print preview check. If you like the result, click the printer icon to print QuickBooks checks on blank stock.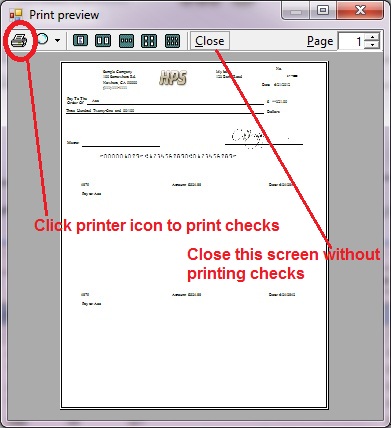 ---
Still have questions?
| | |
| --- | --- |
| | If you have still have questions, you can also check the FAQs page or contact us at customer support page. We are glad to assist you as soon as possible. |


You will never waste your pre-printed checks when you change your bank or move to a new location. Printing checks with ezCheckPrinting software is easier, cheaper, safer and faster with free test drive.


---
ezCheckPrinting allows QuickBooks and Quicken users to print checks on blank stock in one step.

- Compatible with Windows 11, 10, 8, 7, XP and other versions.

- Compatible with QuickBooks/Quicken current and previous versions.

Download the free demo version with no obligation today.


---
Related Links:
Quick Start Guide: How to print Quicken Checks
How to set up check account and customize your check with logo
How to change the check number
How to Print QuickBooks/Quicken Compatible MICR Blank Checks
How to Add Extra Information to Checks and Stubs
How to Print Checks in Different Formats
Tips on Printing Checks for QuickBooks