How to Print MICR Blank Checks To Fill in Manually or by QuickBooks, Quicken and Other Software
Click to view
Macintosh Version

With ezCheckPrinting, you will never need to reorder the expensive Quickbooks checks. You can print QuickBooks/Quicken checks (including payroll checks) on blank stock in one step. You can also print the blank check with MICR line to fill in later.

Here is the step by step guide about how to create Quickbooks compatible MICR blank checks with ezCheckPrinting software.
---
Related Links:
How to print checks on blank stock
---

Quickbooks is a popular software in managing all of your expenses. However, the pre-printed MICR blank check is expensive and you have to order them regularly.

With ezCheckPrinting from halfpricesoft.com, you can eliminate the need for preprinted check. Followings are the four easy steps to print the MICR blank check for QuickBooks.

Step 1: Start ezCheckPrinting application

If you have not installed ezCheckPrinting, you can download it from our site. You are welcome to test drive ezCheckPrinting before purchasing it with on cost and no obligation.





Just follow the instructions on the download page to finish the installation. This software is compatible with the latest Windows 10 system (32-bit or 64-bit).

Step 2: Setup your bank account (Optional)
(You can skip this step if you have already set up check account.)

Click the top menu "Settings->check setup" to open the check setup page. Set up your check information and add your company logo file there.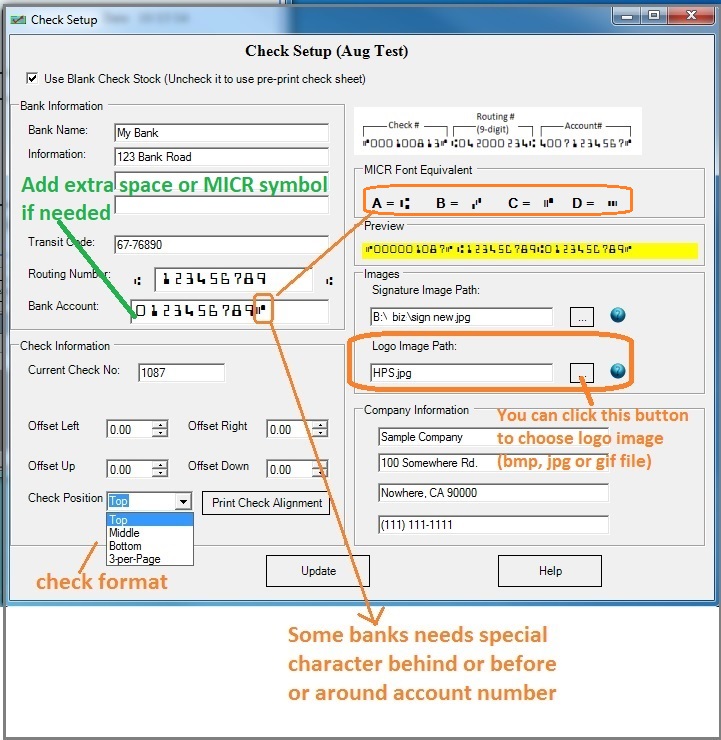 Step 3: Customize the check layout (Optional)
(You can skip this step if you have already set up check account.)

Click the top menu "Settings->Check layout" to open the check layout page. You can customize the layout of your check by changing the font size, logo position, logo size or add a new label.

To customize the logo, you need to select the logo from the item picker first. Then you can resize it or drag/drop the logo to a new position. If you are satisfied with the effect, you can save your change.


Step 4: Print the MICR QuickBooks compatible blank check stock.

How to print blank checks to fill in manually or by QuickBooks, Quicken and other applications

4.1 Specify the check format and sheets number.

Go back to the main page. click the Top menu "Print Check->Print Blank Checks" to view print options. You can specify the copy number, check format "check-on-top", "3-per-page", "check-at-bottom" or "check-in-middle" there. You can also specify signature option there. If you need QuickBooks format for the check stubs, please check the Quickbooks option box.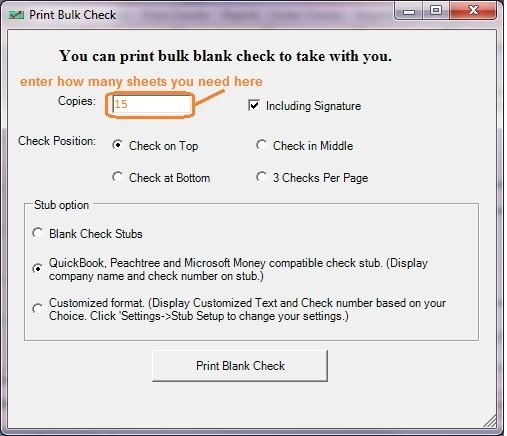 4.2 Select the printer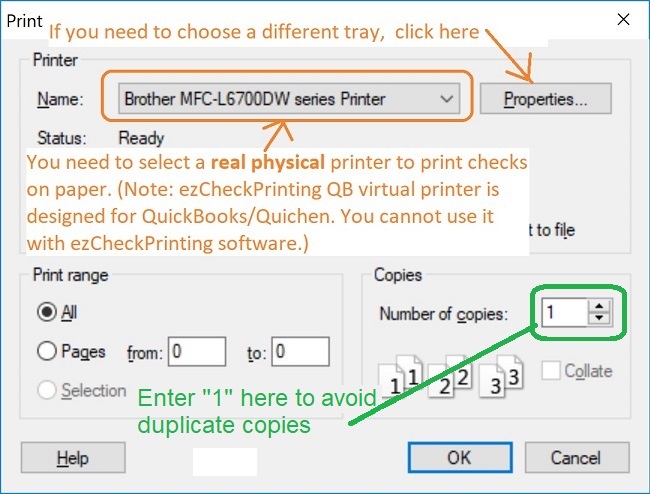 4.3 Blank check(s) will be printed.
Top format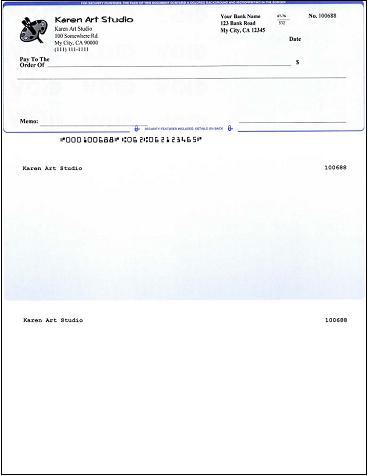 3-per-page format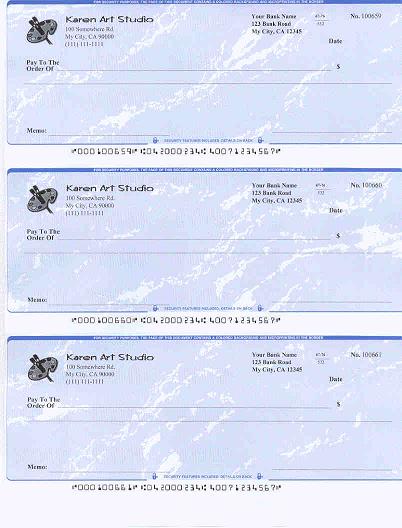 How to print checks in reverse order
If your company need to print last check first, you can specify it from PRINT screen.
Option 1: From print screen, you can enter the print range. The trick is you can enter "15 to 1" instead of "1 to 15" to print checks in reserve order.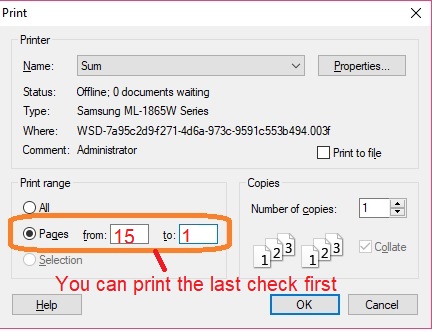 Option 2: For HP printer
- Click the Advanced tab in printing Preferences.
- Expand the Document Options entry.
- Expand the Layout Options entry.
- In the Page Order: drop down menu, select
Back to Front
.
- Click OK. HP considers reversing the print order to be an advanced setting.
Option 3: For Brother Printer: Check
reverse Print
option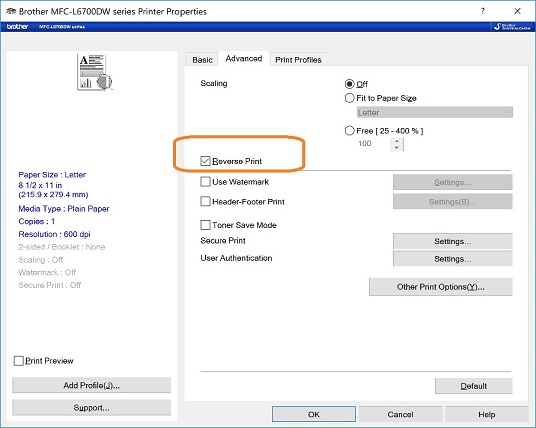 ---
ezCheckPrinting can also print logo on your check to different your company. A company logo on the bank checks is an efficient way to catch more eyeballs.
The best of all, you can even get this software or the compatible blank check paper for Free through the special offers from halfpricesoft.com. Do not pass up that kind of freebie, especially in today's budget-challenged economy.
Other resources:
---
ezCheckPrinting allows customers to design and print professional checks with MICR encoding and logo on blank stock. You can use it as stand-alone computer check writer, you can also use it with QuickBooks, Quicken and other software.

If you have not installed this software, you can download and try it free with no obligation and no credit card needed.

ezCheckPrinting software is is available for both Windows and Mac computers.


---