How to Register ezCheckPrinting
how to start ezCheckPrinting application
.
Register the key code
1. Double click ezCheckPrinting desktop shortcut to launch ezCheckPrinting software.

2. If you have not registered ezCheckPrinting, you will see key code input pop up screen. Once you enter the key code, you will not see this screen again.
You can copy and paste the entire license key code
including dashes
there and register it.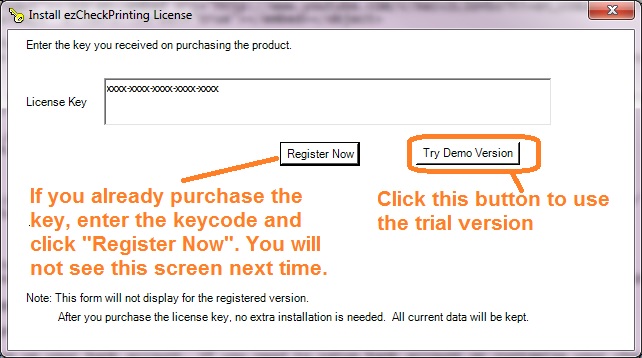 Touble Shooting
1. Invalid key code error Solution
1. Please make sure you are using ezCheckPrinting application.- most common reason
You can run ezCheckPrinting as DEMO version first. Then click the top menu "About ezCheckPrinting". Please make sure you are using ezCheckPrinting software.

2. Please make sure you are using the right key code for ezCheckPrinting application. The license keys for different software are different. The license key codes for Windows and Mac versions are different.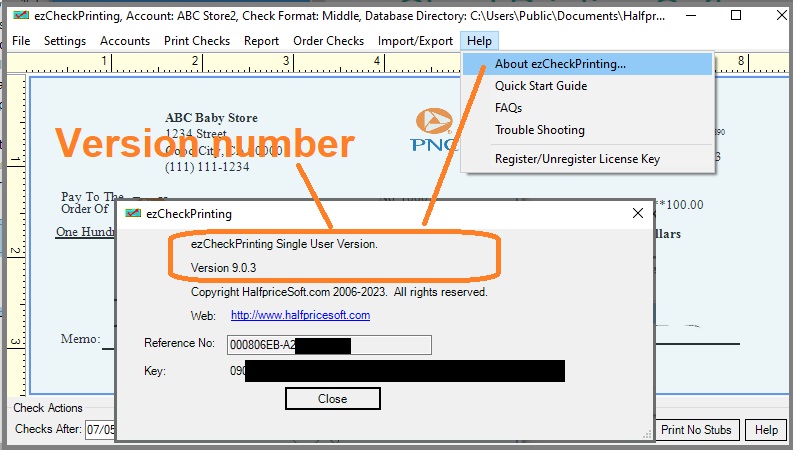 3. When you enter the key code, You need to copy and paste the complete key code including dashes there


2. Permission error
Solution 2.1: If you are the administrator of your machine, please check this article on how to
run Windows application as administrator
Solution 2.2: (Usually for Network version) If you are NOT the administrator, please ask your company system administrator for more permission. You need to have read, write and run persmission to use ezCheckPrinting application and to access database files.application.
Still need assistance?
Please contact us at
services@halfpricesoft.com
and add the following information to your message. We are glad to assist you as soon as possible
1. The email you used with your order (If you ordered this software from Amazon, please let us know the Amazon order ID)
2. The license key code you received
3. The software name and version number you see on screen.
---
ezCheckPrinting allows customers to design and print professional checks with MICR encoding and logo on blank stock. You can use it as stand-alone computer check writer, you can also use it with QuickBooks, Quicken and other software.

If you have not installed this software, you can download and try it free with no obligation and no credit card needed.

ezCheckPrinting software is is available for both Windows and Mac computers.


---
Related Links: