DIY ezAccounting Software Quick Start Guide
Simple Accounting Software for Small Businesses, Non-profits and Accountants!
---
Part 1: Set up Company Information
Part 2: Get Paid: Manage Customers, Products and Sales
Part 3: Pay Others: Manage Vendors and Expenses
Part 4: Print Checks: Checks and Bank Accounts
Part 5: Payroll and Employees
Part 6: Report Center
Customize Check and Form Layout
(Optional)
Chart fo Accounts: How to Edit Account Opening Balance
(Optional)
How to switch to ezAccounting from QuickBooks, ezPaycheck and Other Software
How to Switch to ezAccounting Payroll in Mid-year
Network and Multiple-user Version
(Optional)
Enable/Disable Password Protection
(Optional)
Learn More from
FAQs
---
Install ezAccounting Software
You can download ezAccounting software from
download page
. You can scroll down on that download page to view more details if you have any questions.
---
Start ezAccounting Software
To start ezAccounting software, you can
double click the shortcut icon on your desktop.


Or click Start from your Windows menu (usually bottom left of your screen) and select "All Programs", "EzAccounting" then "ezAccounting.exe".


---
Register EzAccounting

If you have not registered the key code, you will see the pop up key code input screen.


Paid Customers
The key code will be sent to your email account automatically after you purchase ezAccounting software. (If you have not received it in 30 minutes, please feel free to contact us).
You can copy and paste key code here and click the "Register Now" button. If you register the key code successfully, You will not see this popup screen next time you start ezAccounting software.
Trial Version User
You can click the "Use trial version" button to try ezAccounting software 30 days free before purchasing with no obligation.


---
ezAccounting Main Functions
Generate Estimate, Invoice, Receipt and Packing Slip
Receive Payments
Track Sales
Refund and Credit
Add Bills
Pay Bills
Write Checks on Blank Stock
Track Expenses
Calculate Payroll taxes
Print Paychecks with Stubs on Blank Stock
Print Tax Forms W2, W3, 940 and 941
Report Center
Balance Sheet
Profit and Loss
Get Ready for Tax Reporting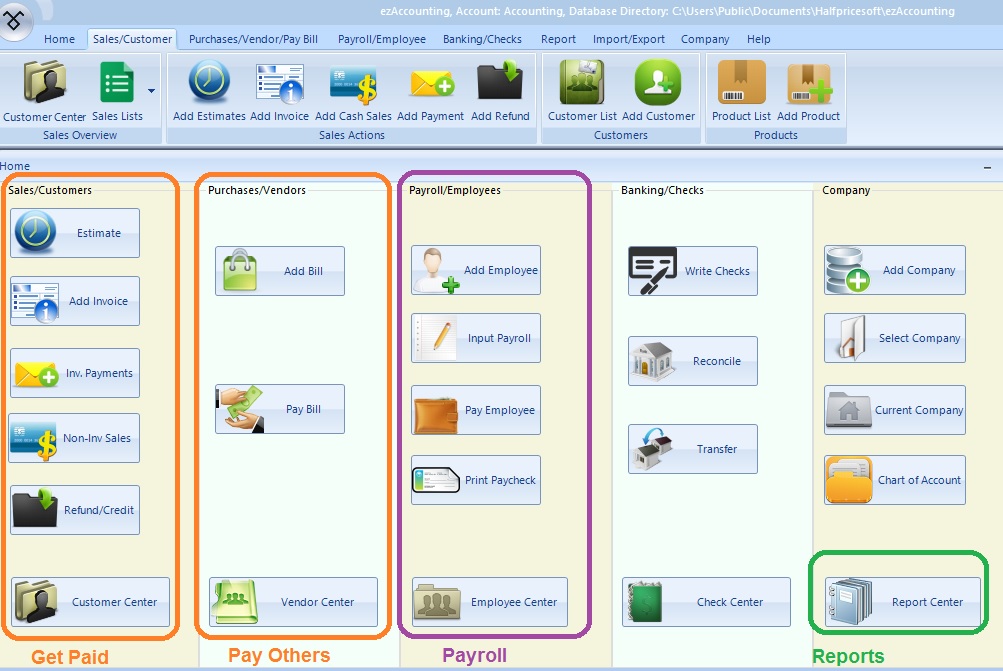 ---
Need Help - Free Support
The first time setup may take time but the quick start guide will walk you through the steps easily. If you still need assistance, you can find more information


by visiting FAQs page


by contacting us at the support page