How to Update ezPaycheck Payroll Software
Is it free to update ezPaycheck?
Current ezPaycheck customers can update ezPaycheck for the same year for free.
For example: if you purchased ezPaycheck 2018, you can get all updates for ezPaycheck 2018 for free including 941 update in Feb, W2 W3 update in Oct and 940 update in Dec, 2018. (Note: ezPaycheck 2017 clients need to purchase the new 2018 license to run ezPaycheck 2018.)
Do I need to update?
Please click the ezPaycheck top menu "help" then "check updates" to check latest updates. If you are using the latest version, you do not need to update again.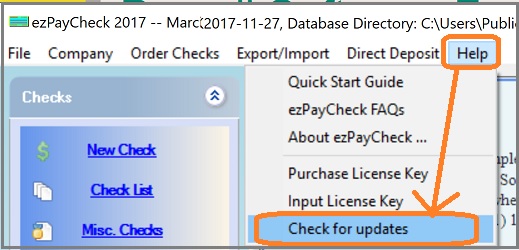 ---
Steps to update ezPaycheck
1. As a precaution, please back up data
Your data should be safe during this process. However, we would like to suggest you backup your company data first!
2. Close current ezPaycheck payroll application if it is running on your machine!!!
You cannot uninstall or update ezPaycheck when it is still running on your machine. Please exit ezPaycheck first.
3. Uninstall the previous version(optional)
Most of users can skip this step. However, if your machine does not allow to you install the new version directly, you need to uninstall the old version first.
How to uninstall ezPaycheck
http://www.halfpricesoft.com/payroll-software/uninstall_ezPaycheck.asp
4. Download the latest version
ezPaycheck download link
If your machine has high security, please click the link below to open the download page, scroll down, and follow the guide from step 1 to install ezPaycheck from your local folder.
http://www.halfpricesoft.com/payroll_software_download.asp
---
How to roll back to previous version
If you install ezPaycheck 2018 by mistake, you can follow this link to roll back to previous ezPaycheck 2017 version
http://www.halfpricesoft.com/business-blog/post/2017/12/14/How-To-Roll-Back-To-EzPaycheck-2017-Version-After-Installing-2018-Version.aspx
Trouble Shooting
1.
Permission issue
Please make sure you are the admin or a user that has enough permissons to install software. If you see permission issue, you can ask IT in your company for help.
2. According to clients' feedback, the following anti-spy applications may stop our software from downloading or running.
-
Kaspersky
- from Russia. If you are still using it, please read this warning news
https://finance.yahoo.com/news/experts-link-nsa-leaks-shadow-brokers-russia-kaspersky-144840962.html
-
Bitdefender
- from Romania.
Our clients said they could edit the setting to allow our software running.
https://www.bitdefender.com/support/i-can-no-longer-use-an-application-868.html
-
webroot
- Our clients said they could edit the settings to allow our software
https://www.webroot.com/En_US/SecureAnywhere/PC/Content/C5_Quarantine/CH5b_BlockingAllowingFiles.htm
---

ezPaycheck payroll software has been trusted by thousands of successful businesses for more than one decade. It helps you process payroll taxes, print paychecks and file tax forms easily and smoothly.

If you have not installed this software, you can download and try it free for 30 days with no obligation and no credit card needed. This paycheck software is compatible with Windows 10, 8.1, 8, 7, 2003 and Vista systems.

**$99/calendar year - Unlimited check printing, No hidden cost**


---
Related Topics