How to Move ezAccounting Software to a New Computer
ezAccounting
->
FAQs
->
Company Management
Step 1: Install ezAccounting software on the new machine
Log on the new machine as administrator, download and install ezAccounting software first on your new machine. (You need to have the administrator permission to install the special fonts.)
Download link:
https://www.halfpricesoft.com/accounting/accounting-software-download.asp
Step 2: Backup your current database file from the old machine to the USB disk or a shared folder.
Open ezAccounting application on your old machine, insert the USB disk, click the top menu "Company" then "backup" to backup your data easily. You can click the triangle button behind "Save in" field to change the current path. You can modify the back up new file name as you like. Once you click the Save button, you will save your current database file to the new location.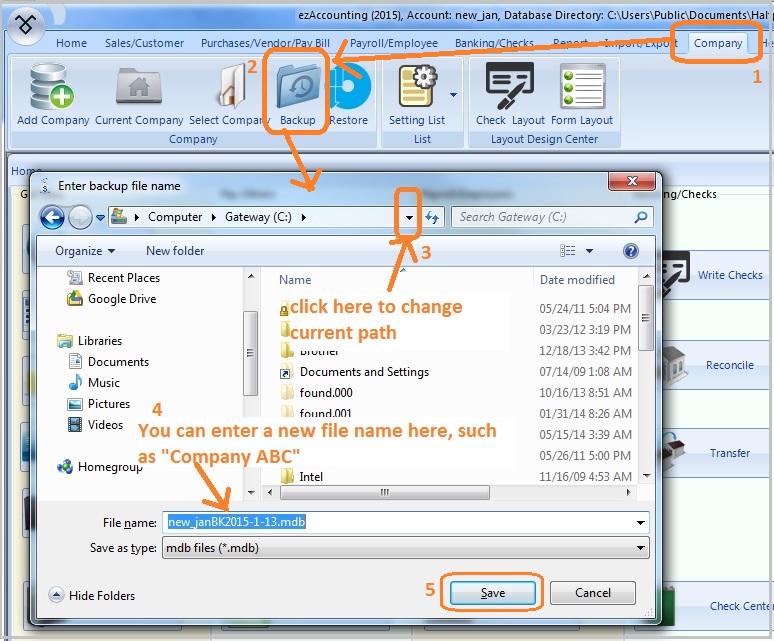 Step 3: Copy the database file from the USB disk to the application folder on your new machine.
On database restore screen, click the "Select backup database to be restored" button to choose the database file from your USB disk and backup folder. You can learn more from this link also.
https://accounting.halfpricesoft.com/ezAccounting-restore.asp
Or you can copy the database file(s) manually. The database file is .mdb file.
The default folder is:
C:\Program Files\Halfpricesoft\ezAccounting
Step 4: Switch the current account to view data
Once you restore the file successfully, you can switch the current company to view data by clicking the top menu "Company" then "Select Company"
Step 5: Register the license key code on the new computer
- If you will use ezAccounting on both old and new computer, you must purchase the 2nd license key. You can
contact us
to upgrade your single user version to 2-user version
- If you will use ezAccounting on the new computer only and you have removed ezAccounting from the old computer, please search your email account for the license key by "services@halfpricesoft.com". We always send the license key from the same account.
Step 6: Remove ezAccounting from your old machine
After you moved ezAccounting software on the new machine, you should uninstall ezAccounting software from the old machine. If you need to use ezAccounting software on both machines, you can
contact us
to upgrade the current version to 2-user version.
---
(
back to top
)
Related Topics