ezAccounting: How to Start Payroll in Mid-year by Entering YTD Data Manually
ezAccounting
->
Quick Start Guide
-> Switch to ezAccounting
---
Customers can start to use ezAccounting payroll feature any time in a year. Here is the step by step guide about how to enter YTD data manually if you need to enter previous payroll data.
What is YTD
YTD means Year-to-date. It is a period from the beginning of the current year, and continues up to the present day. The YTD information on the check stubs should be updated automatically each time you add a new paycheck.
Who Need to Use This Manual YTD Feature
This YTD entry feature is for customers who start ezAcounting in mid-year. (If you start ezPaycheck from Jan 1, you do not need to enter YTD manually.)
With ezAccounting manual YTD feature, you do not have to enter the old paychecks one by one. You can enter the summary information of the old paychecks quickly.
How to Enter the YTD Manually
#1: Open YTD Manual Input screen
Open Employee list
- You can click the "Employee List" button from control panel - Or you can click the top menu "Payroll/Employees" then click the sub menu "Employee List"

Note: If you enabled security set up for payroll feature, you need to enter password to view payroll data.


Select this employee from list

Click the bottom link "Input/View History YTD data for XXXX" to view YTD input screen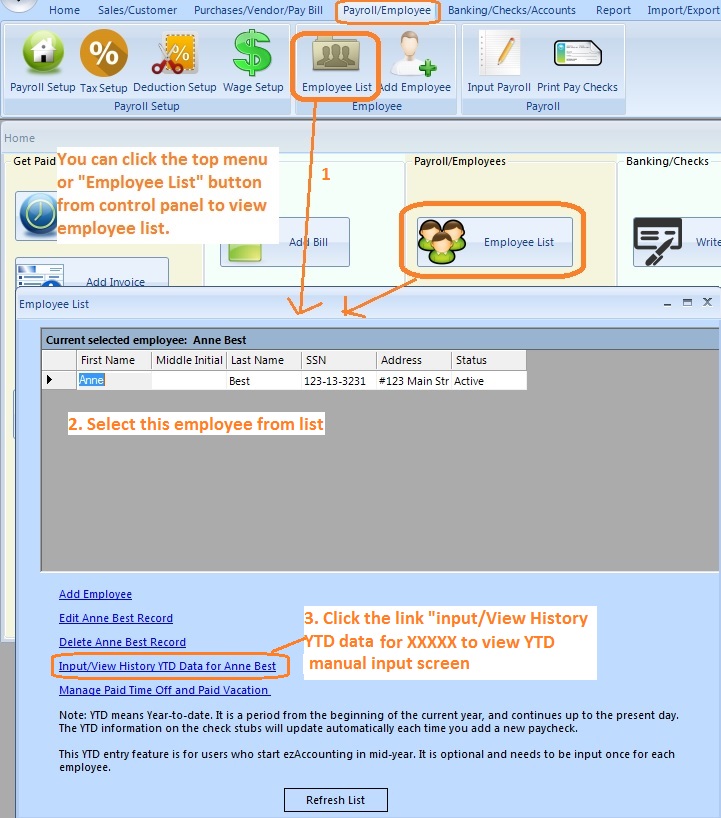 (Click image to enlarge)
Step 2: Enter the YTD data manually
You can enter the summary information for 1/1/2015 to 6/30/2015 if the first paycheck is from 7/1/2015. Please make sure you enter all the data there.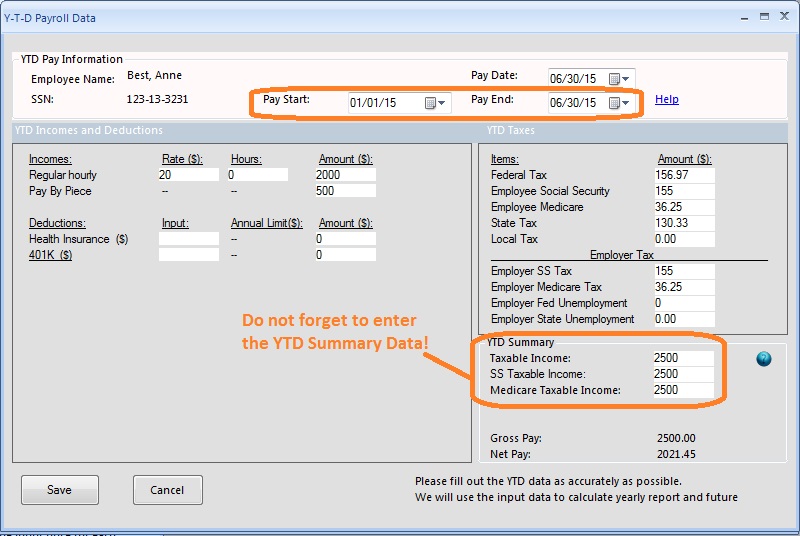 (Click image to enlarge)
---
Need more information
You can learn more about ezAccounting payroll features from FAQs.
---



From $179

ezAccounting software is the right in house accounting solution for small businesses needing to document and report on incoming and outgoing cash flow including sales, receipts, payments and purchases. It also supports payroll processing and tax form printing.

If you have not installed this software, you can download and try it free with no obligation and no credit card needed.

This accounting software is compatible with Windows 11, 10, 8, 7, Vista and other Windows computers.

ezAccounting makes it easy to track income and cost!


---


(back to top)
Related Topics