Can I print check on regular white paper?
1. No, regular white copy paper is not permitted unless your specific bank has previously approved you may use it.
1.1 Security:
Regular white paper lacks the security features that are present in specially designed check paper. Plain white paper makes it easier for fraudsters to alter or manipulate the information on the check, increasing the risk of check fraud.
1.2 Compliance:
Many financial institutions have specific requirements for checks, and using regular white paper might not meet these standards. Banks may reject checks printed on inappropriate materials.
1.3 Professionalism:
Using regular white paper for checks might be perceived as unprofessional and can lead to concerns about the validity of the check.
2. Blank Check stock and pre-printed checks are typically required by banks as they have the security watermarks already printed on them.
2.1 Sample blank stock for business check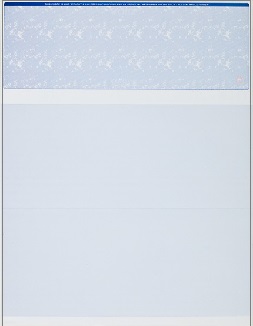 see dimensions
see security features
see front
see back
More information about check printing
Business check printing
Paycheck printing
Personal check printing
---
Design and Print Professional Checks Yourself

- Print checks on blank stock with logo and signature
- Fill in data on pre-printed checks
- Print blank checks to fill in later
- QB virtual printer for QuickBooks/Quicken(for Windows)
- Unlimited accounts and checks for Windows and Mac.

Try ezCheckPrinting free demo version with no obligation and no credit card needed.


---