How to Start Direct Deposit via ACH
ACH Direct Deposit Quick Start Guide
An ACH deposit means that funds are electronically deposited into an account. This means there is no need for a person to write a check and no one has to visit a bank to complete the transaction.
Here are the steps to start your ACH direct deposit.
Step 1. Enable direct deposit function with your bank account.
You may need to talk with the business support team in your bank to enable the ACH direct deposit feature.
Most bank accounts will not have this feature by default. Once this feature is activated, your bank will give you the instructions to upload the ACH file. (ie: ach file upload link, user ID, password. Some banks may also offer some security dongle or USB device to be used with your transactions.)
Step 2. Collect the account information from your employees or vendors or clients.
Usually you need to collect the following information to set up client accounts to direct deposit paycheck or to collect payments:
bank name

bank account number

routing number

account type (such as checking account or saving account)

client name

client Identification ID (such as SSN, company ID or others)

You may also need to get the signed permission forms from clients if you will collect payments through direct deposit.

How to add clients/employee accounts


Step 3. Create ACH deposit file with ezACH deposit software.
- How to add transactions

- How to genenrate ACH file for direct deposit

Sample ACH file


Step 4. Send or upload this file to your bank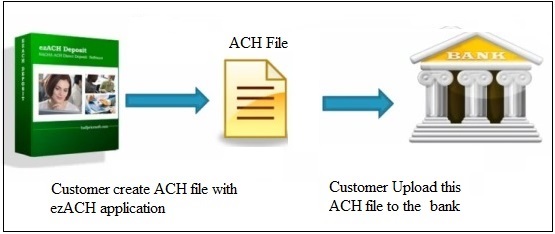 How to upload ACH file to bank
Step 5. Your bank process the transactions based on this ACH file.
Then your employees or vendors get payments, or you collect payments from your customers. Usually the transaction can complete within 24-48 hours.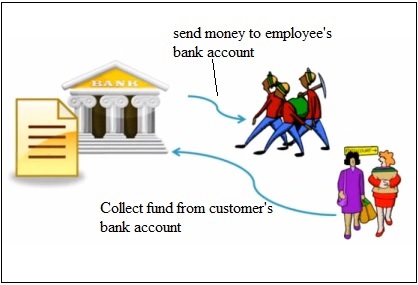 ---
Related Links:
ACH Direct Deposit Quick Start Guide