Quick Start Guide
ezCheckPrintng QuickBooks/Quicken Virtual Printer Installation Issue and Solution
ezCheckPrinting software
and QuickBooks virtual printer, you can save money on check printing easily.
Please try the solution below.
- if you cannot find ezCheckPrinting QuickBooks Printer from printer list after you installed it
- or if you get an error when installing ezCheckPrinting (ie: Port error).
---
Step 1: Log in your computer as administrator
You need to have administrator permissions to install printer driver. If you are not administrator of your computer, ask your IT for help.
Step 2: Uninstall ezCheckPrinting QuickBooks Printer if you installed it before
Open
Programs and Features
by clicking the Start button , clicking
Control Panel
. Select EzCheckPrinting QuickBooks Virutal Printer from program list, and then click Uninstall.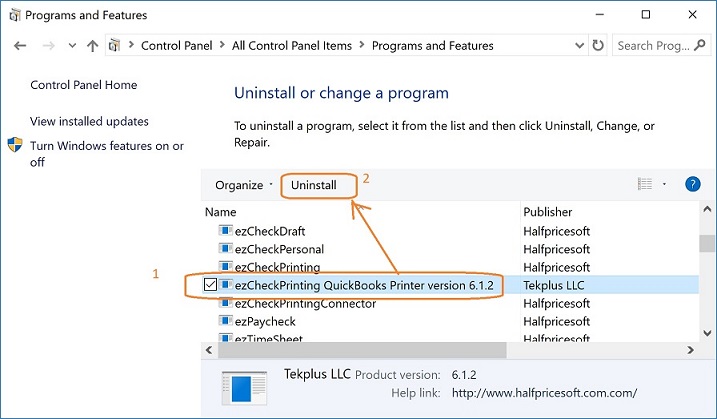 Step 3: Remove these two folders
C:\Program Files (x86)\Halfpricesoft\ezCheckPrinting QuickBooks Printer
and
C:\Users\Public\Documents\Halfpricesoft\ezCheckPrintingQBImport
Step 4: Download and install ezCheckprinting QuickBooks Virtual Printer again
https://www.halfpricesoft.com/business_check_software/quickbooks_check_writer_dowload.asp
Step 5: Follow the guide below step by step to print checks after you see ezCheckPrinting QuickBooks Driver from printer list
How to print Quicken checks on blank stock
---
ezCheckPrinting allows customers to design and print professional checks with MICR encoding and logo on blank stock. Virtual Printer is the optional add-on for QuickBooks and Quicken customers. It allows QuickBooks and Quicken users to print checks on blank stock in one step.

If you have not installed this software, you can download and try it free with no obligation and no credit card needed.

This check printing software is compatible with Windows 10, 8, 7, XP, 2003, 2000, Vista system. It compatible with QuickBooks/Quicken Online, Desktop Version 2019, 2018, 2017 and other previous versions.


---
Related Links:
Quick Start Guide: How to print QuickBooks Checks
How to set up check account and customize your check with logo
How to change the check number
How to Print QuickBooks Compatible MICR Blank Checks
How to Add Extra Information to Checks and Stubs
How to Print Checks in Different Formats
Tips on Printing Checks for QuickBooks