How ezW2 Software Works with ezPaycheck Payroll Software
ezW2 can import ezPaycheck data with a few clicks
In this article, you will find:
---
How can I know which ezPaycheck account has my data?
You can start ezPaycheck and view the current account database file name from the top menu. The file name is behind "ezPaycheck 201X" and before "Database directoy". (Note: If you have multiple accounts, you can click the top menu "Company" then "Select Company" to change the current account.)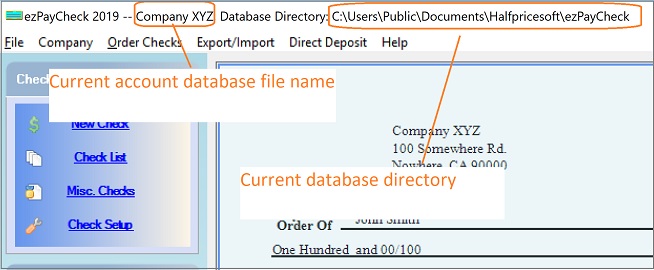 Steps to import ezPaycheck data into ezW2
Step 1: Add a new ezW2 account(optional)
If you are a CPA and have many client accounts, you need to add a new account for each client inside ezW2 software. Do not mix diffrent companies' data in one account. 1.1 You can double click desktop icon to start ezW2 software

1.2 Click the top menu "Company Management", then click the sub menu "Add company" to add a new account. Please enter a simple name with letters and numbers only.
1.3 Enter a new account name "ie: Company XYZ". You do NOT need to edit the company settings because you can import these settings from ezPaycheck in step 3.
Step 2. Remove employees and their tax forms if needed. (optional)
2.1 You can click the top menu "Current Company" then "W2 Employee" to view employee
2.2 You can click the link "Delete All Employee" to remove all employees from list.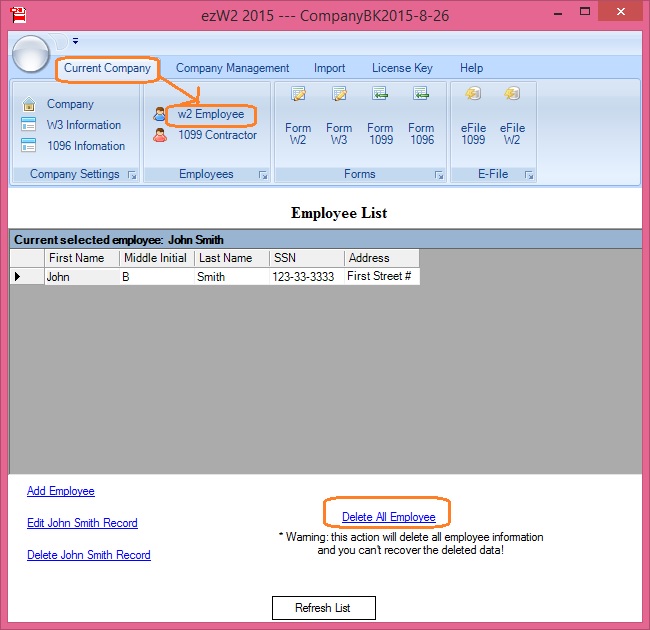 2.3 You can click the top menu "Current Company" then "1099 Contractors" to view contractor. You can delete all contractors from this screen if needed.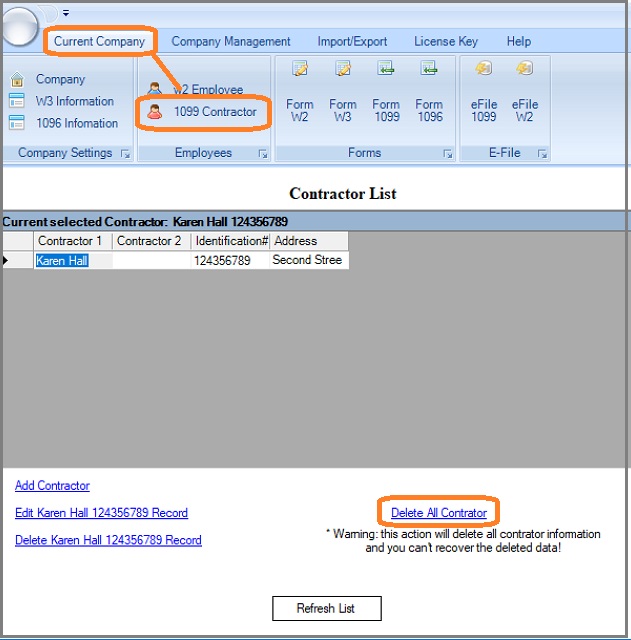 Step 3: Import W2 forms or 1099 forms from ezPaycheck account.
3.1 Click the top menu "Import" then "Import From ezPaycheck".

3.2. Select ezPaycheck accounts and import W2 forms or 1099 forms, then import Company Settings.
Note: Just import W2 or 1099 data once!
For example: If you re-click "Import employee's W2 Data", you may see error because you try to import the duplicate employee data.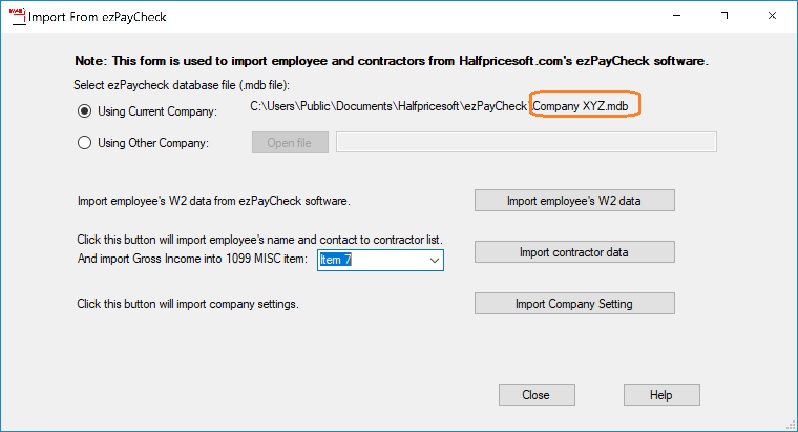 Step 4. Review forms, edit and file forms