How to enter QuickBooks Virtual Printer Key code

1. Register the ezCheckPrinting key, the first license from your license message
1.1 If you have not installed ezCheckPrinting, please
download and install it on your computer
.
1.2 Click the desktop shortcut to start ezCheckPrinting application. If you have not registered the license, you will see the input license popup screen. Register the ezCheckPrintign license here.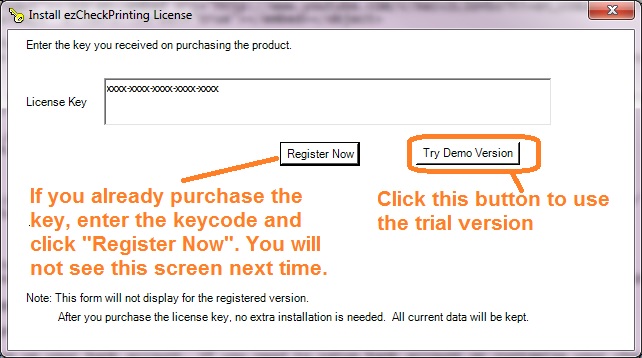 >
1.3 If you printed QB checks during the trial period, please remove the previous QB checks from ezCheckPrinting check list.
2. Register the virtual printer license, the second license from your license message
2.1 Start QuickBooks and print checks as usual. On print check option screen, select EzCheckPrinting QuickBooks Virtual Printer as the current printer and click the
Print
button.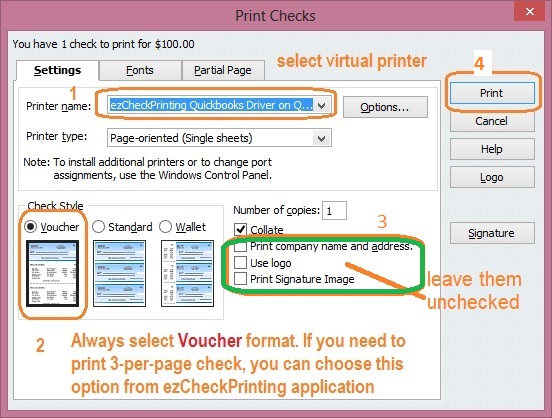 If you are using trial version, you will see the key input pop up window. (Once you register the license, you will not see it again.)

You should copy and paste the key code including "-" for ezCheckPrinting virtual printer here. (Note: the key codes for ezCheckPrinting and virtual printer are different. When you purchase ezCheckPrinting QuickBooks version, you will see two key codes in the key message. Please use the correct license)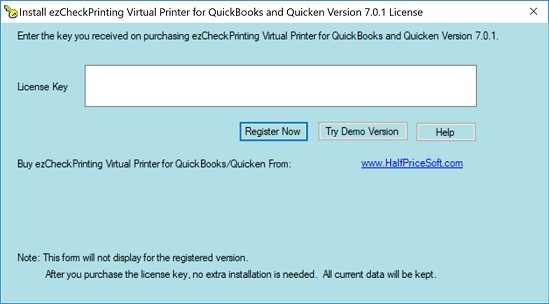 ---
Quick Start Guide
---
Trouble Shooting
1. If you see any error during license registeration, please click here to view the solution.
2. You should not see the TRIAL image or Trial text when you print new QuickBooks checks after you registered the licenses. If you still see the trial images and trial texts, please remove the previous test checks from ezCheckPrinting check list and try again.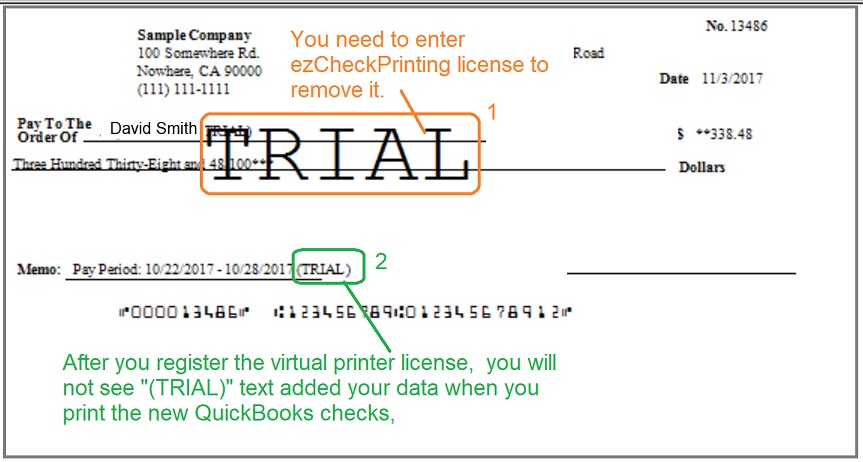 ---
ezCheckPrinting allows customers to design and print professional checks with MICR encoding and logo on blank stock. Virtual Printer is the optional add-on for QuickBooks and Quicken customers. It allows QuickBooks and Quicken users to print checks on blank stock in one step.

If you have not installed this software, you can download and try it free with no obligation and no credit card needed.

This check printing software is compatible with Windows 10, 8, 7, XP, 2003, 2000, Vista system. It compatible with QuickBooks/Quicken Online, Desktop Version 2020, 2019, 2018 and other previous versions.


---
Related Links:
Quick Start Guide: How to print QuickBooks Checks
How to set up check account and customize your check with logo
How to change the check number
How to Print QuickBooks Compatible MICR Blank Checks
How to Add Extra Information to Checks and Stubs
How to Print Checks in Different Formats
Tips on Printing Checks for QuickBooks