1099 Electronic Filing: How to Look Up Tax Return eFile Status from IRS Site
It is the filer's responsibility to check the status of submitted 1099 files.
If you do not receive an email within five (5) business days or if you receive an email indicating the file is bad, log back into the IRS FIRE System and select "Check File Status".
Here are the steps on how to look up tax return status after you efile 1099 tax return to IRS:
---
ez1099 software can prepare, print and efile forms 1099s, 1096, 1098s and 5498s.

If you do not have ez1099 software installed, you can download the trial version for free from halfpricesoft.com. No registration needed and no obligation. You can follow the step by step online instructions to finish the installation in minutes

This 1099 software is compatible with Windows 11, 10, 8, 7, XP and others Windows computers too.


---
1. Open IRS site. The IRS efile link is https://fire.irs.gov/firev1r/Logon.aspx

2. Enter your USER ID and Password to log on If you are a new user, you need to create a FIRE account on the FIRE system. You need enter your company name, company address, company phone number, contact name and email address. You can create the account before you get your transmitter control code.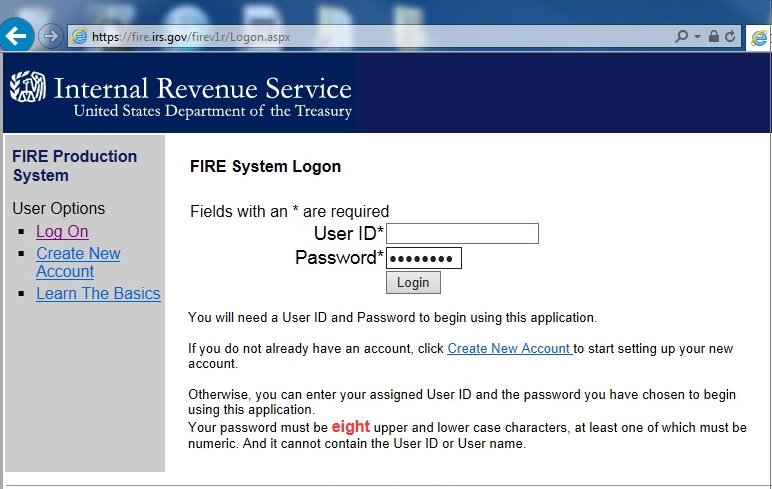 3. Then go to Main Menu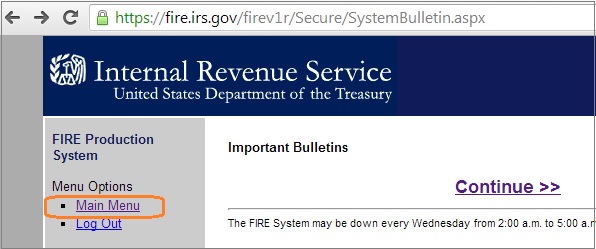 4. Then choose the option "Check File Status"
5. Enter TCC and TIN to search for file status Description of the File Status Results:

- Good, Not Released – The filer is finished with this file if the "Count of Payees" is correct. The file is automatically released after ten calendar days unless the filer contacts the IRS within this timeframe.

- Good, Released – The file has been released for IRS processing.

- Bad – The file has errors. Click on the filename to view the error message(s), fix the errors, and resubmit the file timely as a "Replacement" file.

- Not Yet Processed – The file has been received, but results are not available. Please check back in a few days.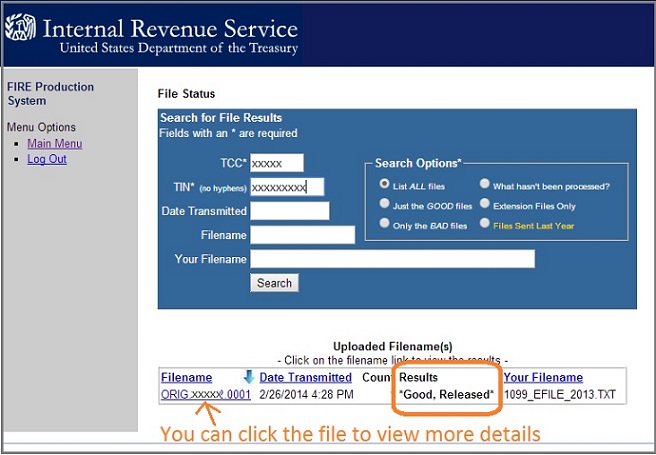 ---
Related Links
W2 and 1099 forms filing deadline
1099-misc
1096
More Forms