ezAccounting Software Installation Issues and Solutions
ezAccounting
->
FAQs
->
Trouble Shooting
#1: User Permission Issue
If you are not a user with permissions to install software on your computer, please ask your IT for help. Usually you need to have admin permissions to install software.
#2 System Permission
Some machine has higher security settings. You need to save this installation package to the local folder and install software from local folder.
You can open ezPaycheck
download page
, scroll down, follow the installation guide from step 1 to install software from local folder.
#3 .net Framework Error
Windows computers should have .net framework installed by default. You may receive this error if the .net framework is disabled on your computer. You can follow this guide to enable it from the control panel.
1) Open Control Panel.
2) In Control Panel, choose Programs and Features
3) Choose Turn Windows features on or off, and then select the .NET Framework 3.5 (includes .NET 2.0 and 3.0) check box.
This option requires an Internet connection. You do not need to select the child items for Windows Communication Foundation (WCF) HTTP activation unless you are a developer who requires WCF script and handler mapping functionality.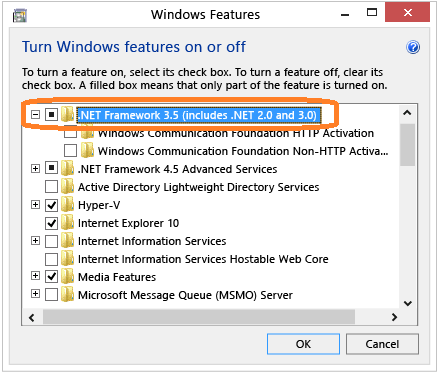 #4 Some Anti-virus and Ant-spy Applications May Block Installation by Mistake
According to clients' feedback, the following applications may stop our software from downloading or running.
-
Bitdefender
- from Romania.
Our clients said they could edit the setting to allow our software running.
https://www.bitdefender.com/support/i-can-no-longer-use-an-application-868.html
-
webroot
- Our clients said they could edit the settings to allow our software
https://www.webroot.com/En_US/SecureAnywhere/PC/Content/C5_Quarantine/CH5b_BlockingAllowingFiles.htm
-
Kaspersky
- from Russia. If you are still using it, please read this warning news
https://finance.yahoo.com/news/experts-link-nsa-leaks-shadow-brokers-russia-kaspersky-144840962.html
-
Windows Defender
- You can try the following solutions:
1. Add an exclusion to Windows Defender Antivirus
https://support.microsoft.com/en-us/help/4028485/windows-10-add-an-exclusion-to-windows-defender-antivirus
2. Allow a blocked app in Windows Defender Security Center
https://support.microsoft.com/en-us/help/4046851/windows-10-controlled-folder-access-windows-defender-security-center
#5 Repair and Remove screen
If you see the repair and remove screen, that means you already installed the same or newer version on your computer. You need to uninstall ezPaycheck before you re-install it.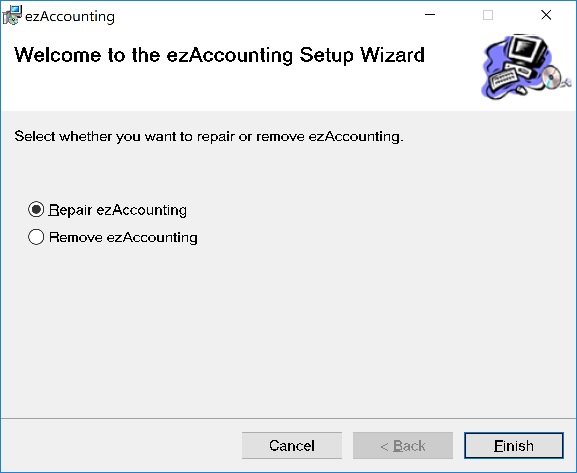 #6 Cannot run ezAccounting after ezPaycheck is installed with no error
Please refer to this solution if you can install ezAccounting successfully.
https://www.halfpricesoft.com/accounting/error-accounting-software-stop.asp
---
ezAccounting software is the right in house accounting solution for small businesses needing to document and report on incoming and outgoing cash flow including sales, receipts, payments and purchases. It also supports payroll processing and tax form printing.

If you have not installed this software, you can download and try it free with no obligation and no credit card needed.

This accounting software is compatible with Windows 10, 8.1, 8, 7, Vista and other Windows computers.

ezAccounting makes it easy to track income and cost!


---
---
(
back to top
)
Related Topics