ezAccounting Software: How to Edit Check Account
ezAccounting
->
FAQs
->
Checks and Banks
With
ezAccounting software
, you can print professional checks on blank stock or pre-printed check paper. Here is the instruction about how to set up bank account.
1. Edit account details
2.
Edit balance
1. Edit bank account information
1.1. Select the bank account
start ezAccounting software, then click the button "Check Setup" from the main panel, then click "Edit bank information" to view the account select screen. select one account from list and click the
Setup
button.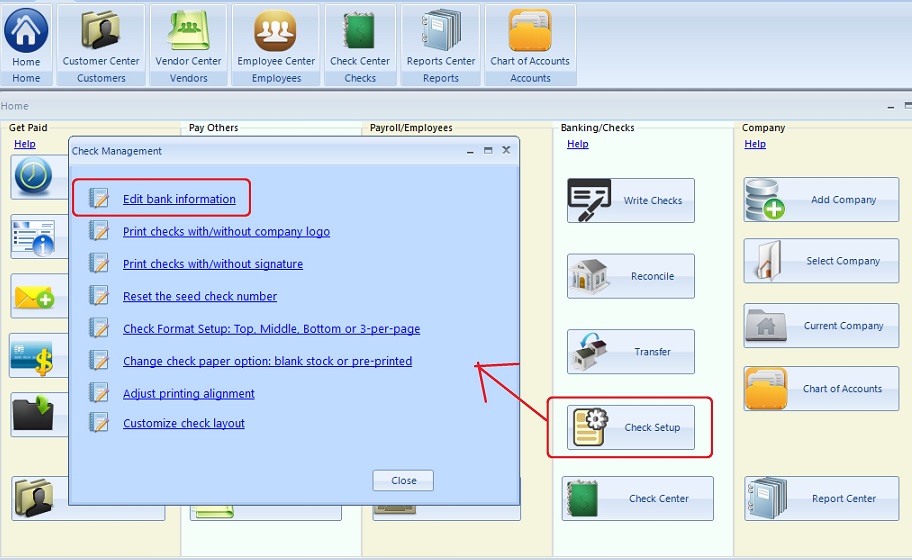 1.2. Edit the accounting information
- Bank Name
- Bank Address
- Transit Code (Optional)
The Transit Code is optional. If you have this information on your old check, you can enter it here. Otherwise, you can leave this field blank. US banks will not use this field to process checks.
- Routing Number
- Bank Account Number
1.3. Signature Image
If you like to print digital signature image on check, you can choose the signature here. Please use bmp, jpg and gif format image. If you have big white space around your signture, please crop the image. You cannot use the PDF or Word document as signature image.
Learn more here about
how to create digital signature image
.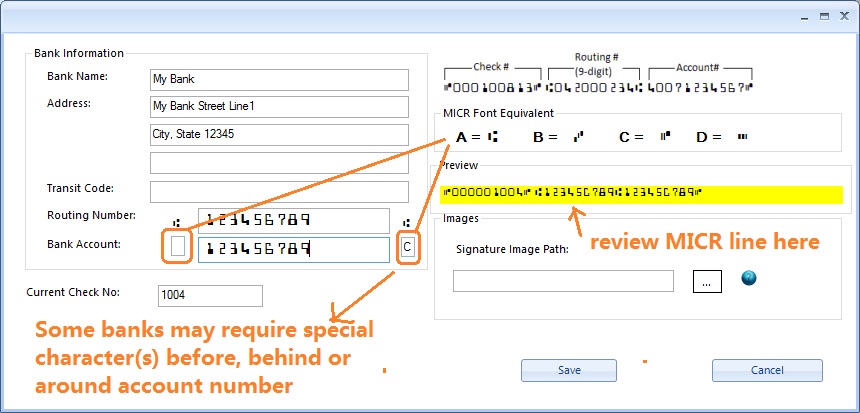 2. Edit Checking Account Balance
You can click the Reconcile button to adjust the balance of checking account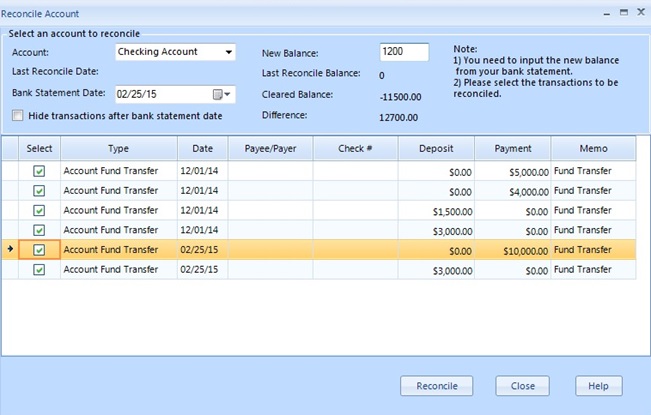 ---
ezAccounting software is the right in house accounting solution for small businesses needing to document and report on incoming and outgoing cash flow including sales, receipts, payments and purchases. It also supports payroll processing and tax form printing.

If you have not installed this software, you can download and try it free with no obligation and no credit card needed.

This accounting software is compatible with Windows 10, 8.1, 8, 7, Vista and other Windows computers.

ezAccounting makes it easy to track income and cost!


---
---
(
back to top
)
Related Topics