ezCheckDraft: How to Customize Check Layout
ezCheckDraft software can print bank drafts on blank stock. If you are using check paper with pre-printed information, you can customize check layout easily. You hide any fields that have been pre-printed on check paper.
Step 1: Open check layout screen
Click the ezCheckDraft top menu "Settings" then "Layout setup" to view layout set up screen.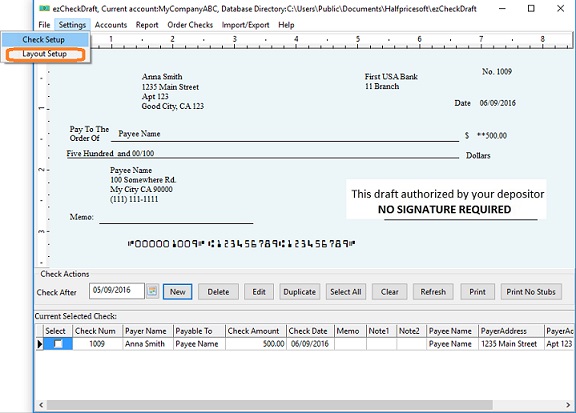 Step 2: Customize check layout and save changes
2.1 You can click a field on the check
2.2 You can drag the field to a new location
2.3 You can hide the field by unchecking the visible box
2.4 You can change font size, font type here
2.5 Click the SAVE button to save the changes.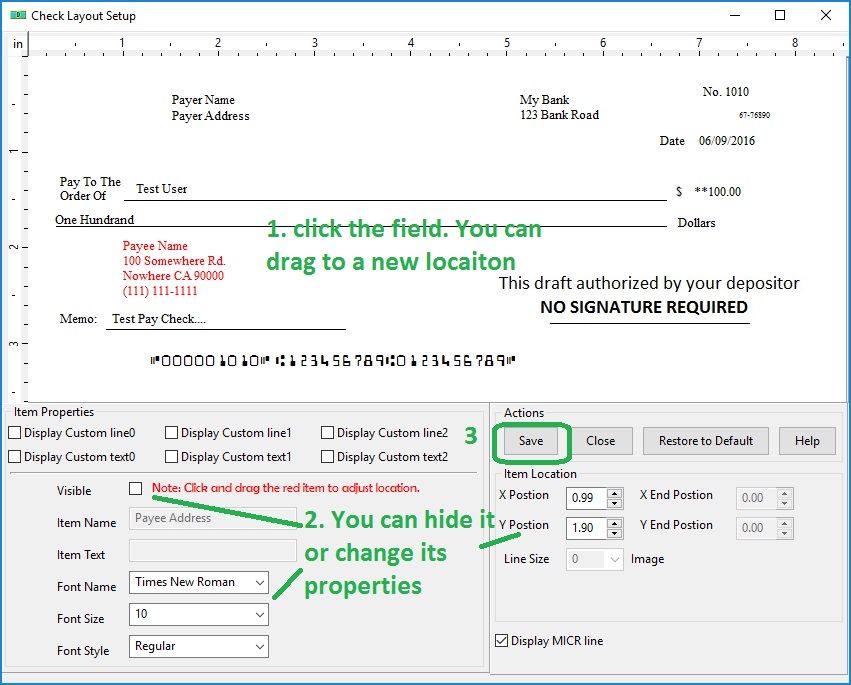 Step 3: Add and print a check to view the changes
You will see new check layout when you add and preview a check on screen.
Sample
How to print a draft check without check number
---
ezCheckDraft allows customers to design and print bank draft checks with MICR encoding on blank stock in house to receive payment via fax, phone and internet quickly.

If you have not installed this software, you can download and try it free with no obligation and no credit card needed.

This check printing software is compatible with Windows 10, 8.1, 8, 7, Vista and Apple Mac systems.


---
Related Links
Quick Start Guide
How multiple users can share the same account to print bank drafts
How to print 3 checks on the same sheet
How to print bank draft with check-on-top format
How to print monthly recurring bank drafts
How to print EPC-6 code for RCC
Sample Check
How to accept check by phone
How to accept check by fax
How to accept check by internet