How to transfer ezCheckPrinting and check data to a new computer if my old computer is crashed
---
ezCheckPrinting allows customers to design and print professional checks with MICR encoding and logo on blank stock. You can use it as stand-alone computer check writer, you can also use it with QuickBooks, Quicken and other software.

If you have not installed this software, you can download and try it free with no obligation and no credit card needed.

ezCheckPrinting software is is available for both Windows and Mac computers.


---
Option 1: If your old computer is still running
If you still be able to run ezCheckPrinting on your old computer, you can
use ezCheckPrinting database backup and restore function to move your data data
.
If you an accountants and have many client check accounts, it will be faster if you move the data manually. You can refer this article to
move multiple accounts manually
.
Option 2: If your computer stopped running
Step 1: Copy the data to the USB disk
Connect to the hard driver of the old computer and search for the ezCheckPrinting database files.
The database file is
.mdb
(Microsoft Database) file. You can copy the mdb files to your USB disk
The default data folder is:
C:/Users/Public/Documents/Halfpricesoft/ezCheckPrinting
If you used old version ezCheckPrinting 4.0 and earlier before, the database folder can be
C:\Users\**YourName***\AppData\Local\VirtualStore\Program Files (x86)\Halfpricesoft\ezCheckPrinting
or
C:/Program Files/Halfpricesoft/ezCheckPrinting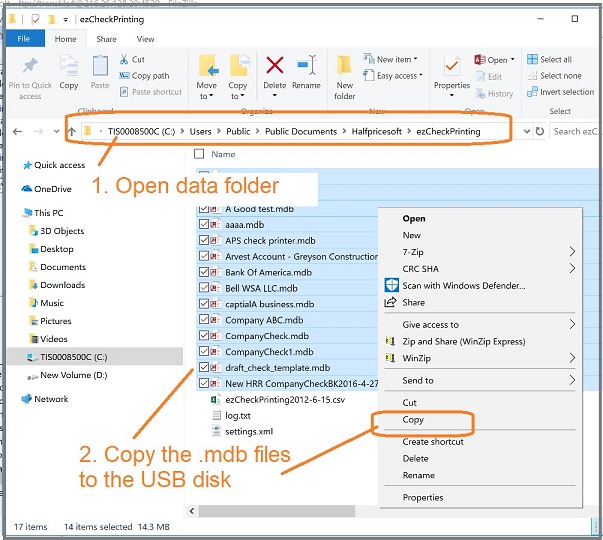 Step 2: Download and install the CORRECT version of ezCheckPrinting on the new computer
ezCheckPrinting download links for current and previous versions
https://www.halfpricesoft.com/download.asp#ezCheckPrinting
Note: The license codes for different versions are different. For example: if you purchased the previous version 5 for XP computer, you need to purchase the new license to use ezCheckPrinting version 7 on Windows 10.
If you have any question, you can refer to this guide about
How to update or rollback ezCheckprinting
Step 3: Copy the data from USB disk to the data folder on the new machine
The default data folder is:
C:/Users/Public/Documents/Halfpricesoft/ezCheckPrinting
Step 4: Switch the current ezCheckPrinting account to view data
Start ezCheckPrinting, click the top menu "Accounts" then "select account". You can should be able to see all the accounts there and switch the current account.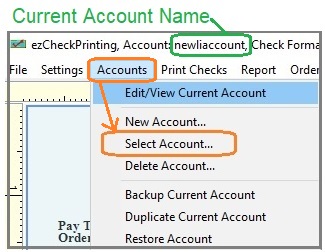 Step 5: Change the "Check After" date to view more checks (optional)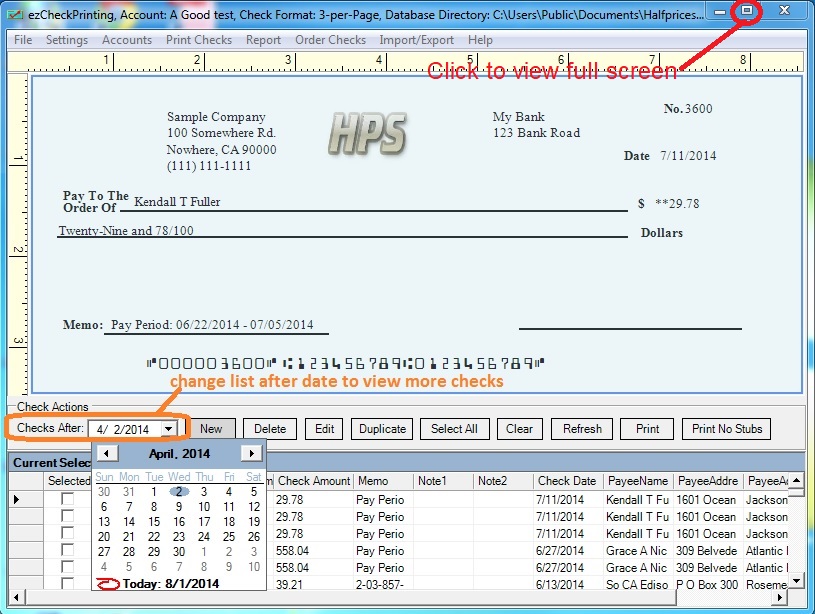 Note: License
---
Related Links: