ezCheckPrinting: How to Change Check Format
With ezCheckPrinting software, you can print on standard size checks or on 8 ½ x 11-inch pages with check-on-top, check-in-middle, check-at-bottom and 3-per-page formats.
Note: ezCheckPrinting is designed for business check printing. If you need to print the smaller personal wallet sized check, you need to use
ezCheckPersonal
.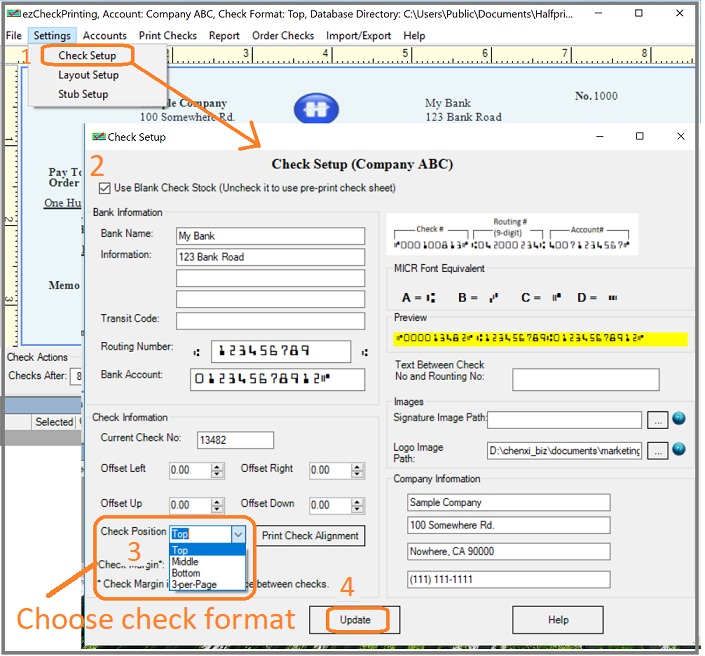 1. Click the top menu "Settings->check setup" to open the check setup page. Set up your check information and add your company logo file there
.
2. Blank check stock or pre-printed check
If you use the blank check stock, check the option "Use Blank Check Stock". Otherwise, uncheck it.
3. Change the value of the check position field to "3-per-page", "Top", "Middle" or "bottom". (the last item in check information group).
4. Click the Update button to save your changes
.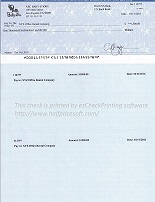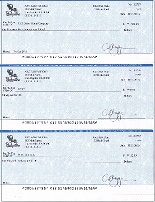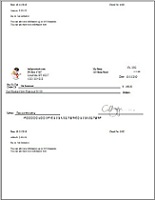 How to print checks with check-on-top format
How to print checks with 3-per-page format
How to print checks with check-in-middle format
How to print checks with check-at-bottom format
---
Related Articles:
How to print pre-printed blank checks to fill in later
https://www.halfpricesoft.com/articles/how-to-print-quickbooks-micr-blank-check.asp


How to print QuickBooks checks on blank stock
https://www.halfpricesoft.com/quickbooks-check-printing/print-quickbooks-checks.asp


---
ezCheckPrinting allows customers to design and print professional checks with MICR encoding and logo on blank stock. You can use it as stand-alone computer check writer, you can also use it with QuickBooks, Quicken and other software.

If you have not installed this software, you can download and try it free with no obligation and no credit card needed.

ezCheckPrinting software is is available for both Windows and Mac computers.


---