ezCheckPrinting for Mac, Version 5 Download
ezCheckPrinting Software for MAC
(for business checks)
- Stand-alone Desktop check writer
- No other software needed.
- No internet needed.
File Name
: ezCheckPrinting.pkg.zip
Size
: 15 MB
Version:
5.0.7
Systems:
Mojave, High Sierra, Sierra, El Capitan, Yosemite (for macOS 10.14 and earlier version)
Date Published
: 7/14/2014
Download location:
Our site
Must Read: How to download Mac version 5
Download the Latest Mac Version from Apple Store for Mojave, Catalina, Monterey(macOS 10.14 and later)

---
Step by step guide to install check printing software on Macintosh
Step 1: Click the blue "Download Mac Version Now" button above to download the setup package
Wait the download process to complete



Once the download completed, you can see check image icon.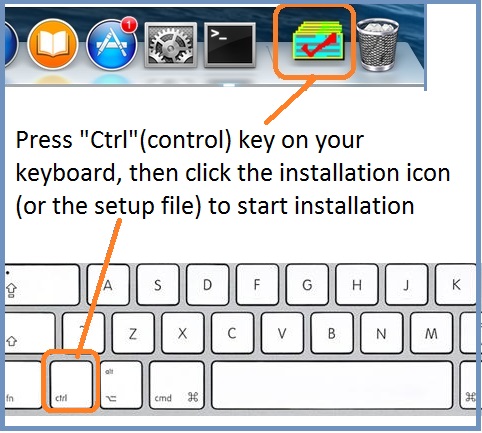 Step 2: Press Control Key on the key board and click the icon to start installation process
ezCheckPrinting version 5 is not available in Apple Store. If you click the software installation icon directly, you may see this error message "ezCheckPrinting.pkg can't be opened because it is from an unidentified developers".

To solve this issue, you can press "Ctrl"(control) key on your keyboard, then click the installation icon (or the setup file) to start installation. Then you can select "Open" from the contextual menu.(view image below)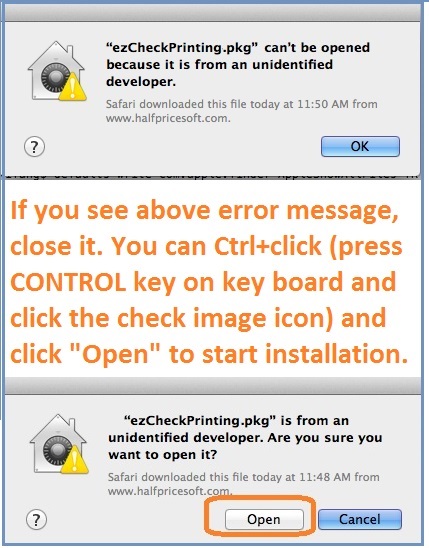 Step 3: Follow installation wizard step by step to finish installation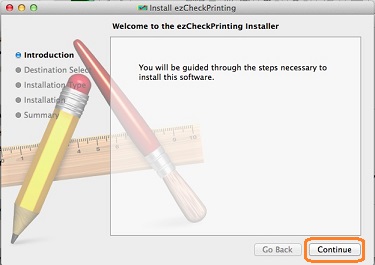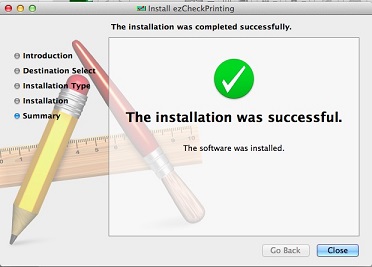 Step 4: Launch ezCheckPrinting software
You can view Mac Check Writer Quick Start Guide here on how to print check.