Pocket-sized Personal Check Software: How to Use ezCheckPersonal with QuickBooks
ezCheckpersonal can print pocket-sized personal checks on blank stock to save customers time and money. Here are two options that QuickBooks customers can benefit from this blank check printing feature also.
---
Note:
We have two check printing software:
ezCheckPrinting (for business check printing)
and
ezCheckPersonal (for pocket-sized personal check printing)
. You can try both for free before purchasing with no obligation. Both software can support unlimited accounts on the same machine with no extra charge. If your company have multiple users, you can use the network version to share the data.
If you need to print QuickBooks business checks (voucher check, check-on-top format), please read this article
How to print QuickBooks business checks on blank stock
---
#1: ezCheckPersonal can print blank checks that be filled in by QuickBooks application
- Run ezCheckPersonal software to print 3-per-page, pocket-sized blank checks with MICR line and bank information on checks.
- Insert the blank checks into printer
- print QuickBooks check data on them.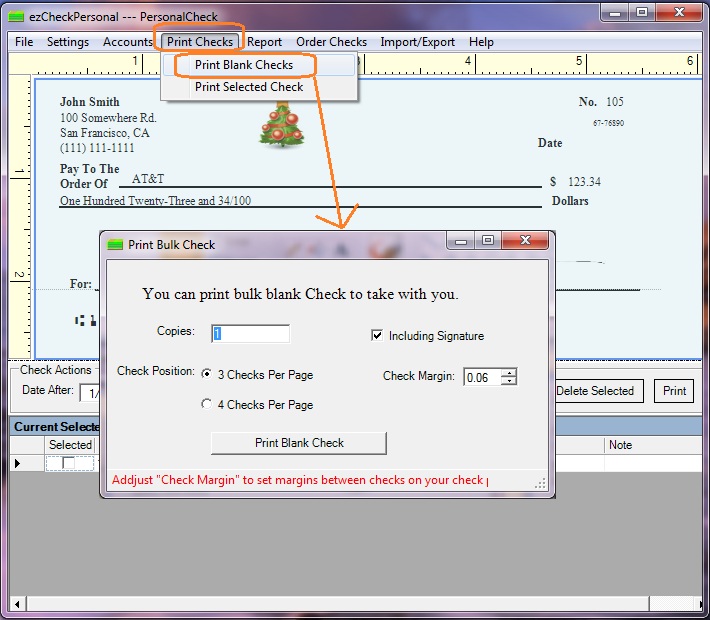 #2: Export checks from QuickBooks to .csv file then import data into ezCheckPersonal to print bulk checks on blank stock
If you need to test the import feature, you can
download sample check data files
here.
---
ezCheckPersonal allows customers to design and print pocket-sized personal checks with MICR encoding and logo on blank stock in house. You can also use it to fill out preprinted blank checks also.

If you have not installed this software, you can download and try it free with no obligation and no credit card needed.

ezCheckPersonal is available for both Windows and Mac computers.



---
---
Related Links:
---