ezCheckPersonal Check Printing Software: How to Update
---
ezCheckPersonal allows customers to design and print pocket-sized personal checks with MICR encoding and logo on blank stock. You can also use it to fill out preprinted blank checks too.

If you have not installed this software, you can download and try it free with no obligation and no credit card needed.

ezCheckPersonal is available for both Windows and Mac computers.


---
The key codes for version 2, version 3 and version 4 are different.
Since Microsoft stopped supporting net framework 1.1 and Windows XP, we re-designed ezCheckPersonal version 3, 4 for new Windows systems. If the previous version still works on your machine, you do not have to update.
As our previous version user, you can purchase the new version with $5 discount. You can contact us to request the special purchase link from support page. Please include the email for the previous order in your message.
Step 1: Your data should be safe when you update ezCheckPersonal. However, we always suggest you back up your data first.
Start ezCheckPersonal and click the top menu "Accounts" then "Backup Current Account" to open backup screen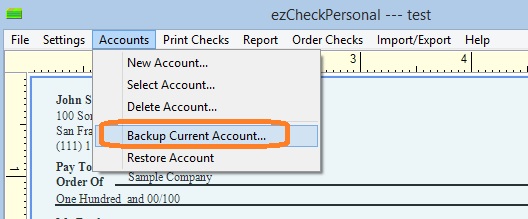 Select the backup location, enter the backup file name and backup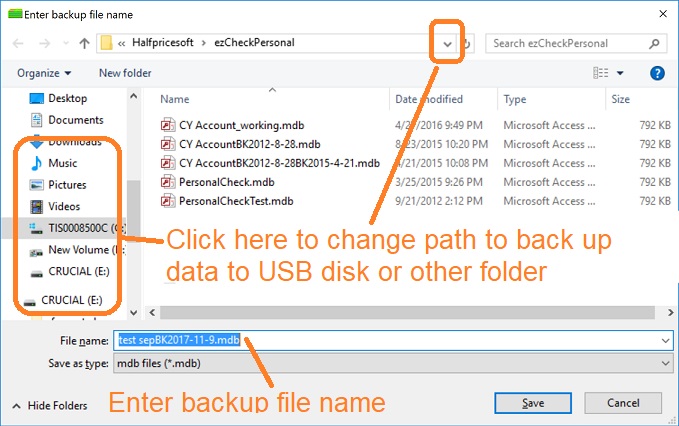 Step 2: Download the new ezCheckPersonal
You can click the link to download ezCheckPersonal current and previous versions.

---
How to restore data
If you cannot find your data after you install the new version, try the following steps:
1. Switch the current account by clicking ezCheckPersonal top menu "Accounts" then "select account".

2. Or you can follow this article to restore ezCheckPersonal data in a few clicks.


Related Links: