How to Move ezPaycheck Payroll Software to a New Computer If the Old Computer Is Crashed
Step by step guide on how to move ezPaycheck from one machine to another machine if the old machine is crashed.
To move the ezPaycheck to a new computer, you need to install ezpaycheck on the machine, copy your company database file to a shared folder or a USB disk, and then restore it on the new computer.
Followings are the step by step guide to move the ezPaycheck payroll software from the old machine to your new machine?
---

ezPaycheck payroll software has been trusted by thousands of successful businesses for more than one decade. It helps you process payroll taxes, print paychecks and file tax forms easily and smoothly.

If you have not installed this software, you can download and try it free for 30 days with no obligation and no credit card needed. This paycheck software is compatible with Windows 10, 8.1, 8, 7, 2003 and Vista systems.

**$99/calendar year - Unlimited check printing, No hidden cost**


---
Step 1: Log on the new computer as administrator, download and install ezPaycheck payroll software on the new computer. (You need to have the administrator permission to install the MICR fonts.)
Download link:
http://www.halfpricesoft.com/payroll_software_download.asp
Step 2: Enter ezPaycheck license key.
You can check the message your received after the transaction was completed. If you have lost the key, you can contact us. Please mention one the choices below so that we can retrieve your key information.
the email you used for that transaction
the buyer name and address (no credit card information needed)
the transaction ID
the receipt ID


Step 3: Copy the database file from the old computer if you did not back up your database before
- Connect to the hard driver of your old computer
- Open data folder. The default folder is
C:\Users\Public\Documents\Halfpricesoft\ezPayCheck
- Insert your USB disk and copy the .mdb file(s) to the USB disk


Step 4: Copy the database file from the USB disk to the data folder on your new computer.
- You can use the database restore function by clicking ezPaycheck top menu "Company->Restore Company".
http://www.halfpricesoft.com/business-blog/post/2011/06/07/How-to-restore-payroll-data.aspx

- Or you can open the application folder and copy the .mdb files to the new computer manually.
The default folder is
C:\Users\Public\Documents\Halfpricesoft\ezPayCheck


Step 5: Select the new database file as current company database.

Open ezPaycheck on the new computer, then click the top menu "Accounts->Select Company". You will see the database files in the list. You can select the new database file from the list and click the OK button to set it as the current database file.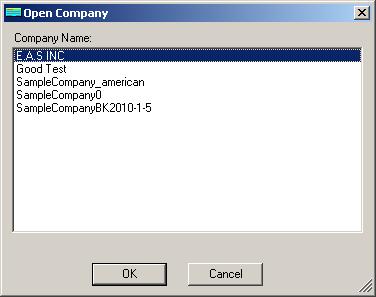 Now you are ready to generate your new payroll checks on your new computer.


---
Related Links: