---
Easy and Affordable QuickBooks Check Printing Solution for Small Businesses, Nonprofits and Accountants
If you do not have QuickBooks and Quicken installed on your machine, you can print checks with ezCheckPrinting stand-alone version.

EzCheckPrinting QuickBooks/Quicken version includes the ezCheckPrinting software and the QuickBooks/Quicken Virtual Printer. With Virtual Check Printer and ezCheckPrinting software bundle, QuickBooks and Quicken business users can now


Print checks and stubs on blank stock in one step from QuickBooks desktop version, network version and online version.
Print Pre-printed check with MICR encoding to fill in manually later

Print checks with logo, signature and extra labels.
Print check draft to collect fund via phone, fax and internet
Support multiple accounts with no extra charge
How QuickBooks Virtual Printer Works
What I need
EzCheckPrinting Software (Version 5.0.5 and later. Click here if you use an old version)
Check Virtual Printer for QuickBooks
Printer
Blank Check Stock

How to use Check Virtual Printer
Install and run ezCheckPrinting Software on your machine
Install ezCheckPrinting Virtual Printer for QuickBooks on your machine
Print checks from QuickBooks
View Quick Start Guide here

Affordable
You can get it for FREE through TrialPay offer

Free trial download
No registration needed, no obligation and totally risk free

Note: For QuickBooks online version customers, ADOBE or ADOBE compatible PDF reader is required to print checks correctly. Learn more here
---
---
Why ezCheckPrinting Can Print QuickBooks Checks on Blank Stock
ezCheckPrinting QuickBooks/Quicken version includes two parts: ezCheckPrinting and Virtual Printer.

-- You save bank information and check format information inside ezCheckPrinting application.

-- The virtual printer will retrieve the check data and stub data from QuickBooks.

So when you print QuickBooks/Quicken check via virtual printer, you can print bank information with data on blank check stock.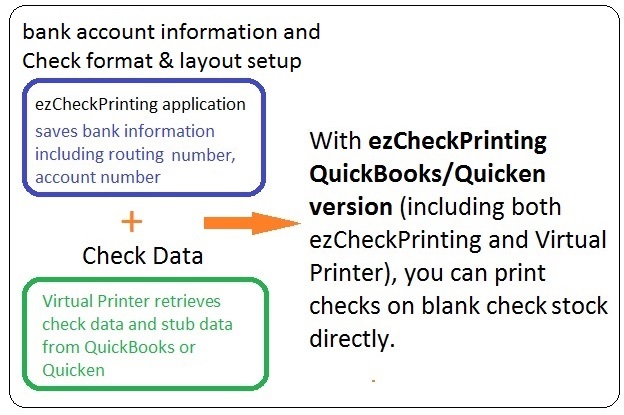 ---
You Can Save Time & Money Easily by Printing QuickBooks Checks on Blank Stock in One Step
Step 1: When you print checks from QuickBooks software, select ezCheckPrinting QuickBooks Virtual Printer as your printer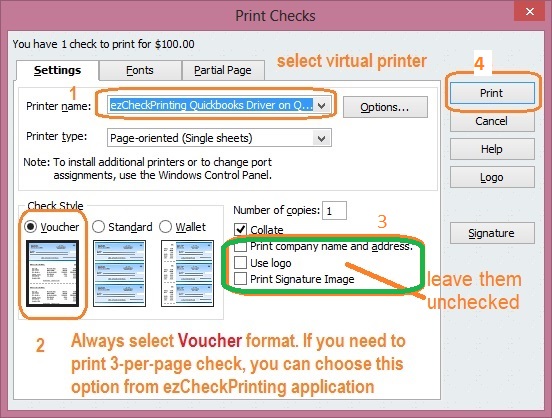 Step 2: Select account and printer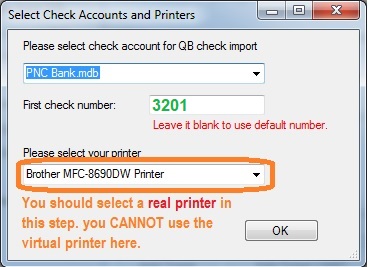 Step 3: Your check data will be imported into ezCheckPrinting and the check print-preview screen will pop up

You can review your checks here. If you are satisfied with these checks, click the printer icon to print your checks
Otherwise you can click the CLOSE button to see ezCheckPrinting check list screen.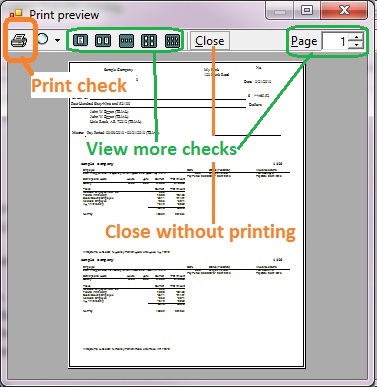 NOTE: To print checks via Virtual Printer from QuickBooks and Quicken, you need to install both ezCheckPrinting software and QuickBooks Virtual Printer on your machine first. You need to run ezCheckPrinting software at least once after you install it to make sure ezCheckPrinting works. check more details here on how to print QuickBooks Check on blank stock





---
Price List
(Learn More About Purchase)
(Want to get the full version free?)
Version
Price
ezCheckPrinting Single-User QuickBooks/Quicken Version for Windows System
(ezCheckPrinting single user version + Virtual Printer)
(No CD included)
(License code will be sent to your email account once the transaction completes.)
Unlimited accounts and checks
QuickBooks/Quicken check printing
$69.00 (per installation)

EzCheckPrinting for QuickBooks/Quicken, Multiple-user Network version for Windows System
- Including licenses for both ezCheckPrinting application and QuickBooks/Quicken Virtual Printer
- For Windows system, No CD included
- License key will be sent to your email account once the order completes.
Unlimited accounts and checks
QuickBooks/Quicken check printing



Upgrade
If you need to upgrade ezCheckPrinting from basic version to QB version or from single version to multiple-user version, please feel free to contact us.
Contact Us for Upgrade
ezCheckPrinting Software CD
(No license key included.)
&nbsp
$9.95 (Each CD by USPS Flat Rate Mail, US Only)

Special Offer: 50 sheets blank laser computer check stock
3-per-page and check-on-top
Free Shipping
More blank check stock options
Free
(Regular Price: $16)
Check Out through TrialPay

Note: The software on the CD is the same as the one you download from our site. The CD option does not include the license key. If you can download this software from our site, you do not need the CD. You can just purchase the license key. The CD is for the users who cannot download software or who want to keep a hard backup copy.






---
Blank Computer Check



You can get these compatible check sheets for FREE through the special offers!
Click here to order blank computer check.
---
MORE INFORMATION
Download ezCheckPrinting.
Download ezCheckprinting and try it for FREE now
Download Sample check data cvs file.
This is the cvs check data sample file that you can import into ezCheckprinting. Our import functions is very flexible. So your file can be different.
ezPaycheck Payroll Software.
A lot of users like to use ezCheckPrinting together with ezPaycheck.

ezCheckPrinting can print pre-printed blank business checks for a lot of other payroll accounting software.
ezTimeSheet - Employee Time Attendence Software.
ezTimeSheet allows you to track employee attendence and generate payroll data. You can export these data from ezTimeSheet to a cvs file. You can import these check data from the cvs file to ezCheckprinting and print out paychecks easily by a few clicks.
ezCheckPersonal - Personal check printing software.
If you need to print pocket size personal bank checks, please try ezCheckPersonal. You can get this software and compatiple check paper for FREE through our special promotion program.