How to Format MICR Encoding Line on Checks
With ezCheckPrinting software, you can print professional check with logo and MICR encoding on blank stock easily in house. You can
customize any field on the check
. You can learn more details here on how to customize MICR line layout.
1. Open the check setup screen
Start ezCheckPrinting, click the top menu "Settings->check setup" to open check setup screen.
2. Edit MICR line format
1) Please make sure you checked the option to print check with MICR line on blank stock
2) If you need more space(s) between routing number and account number, you can enter more space(s) before the account number.
3) Some banks require the special symbols before, behind or around account number. You can enter it by using MICR Font Equivalent on this screen.
4) If you need to add extra space(s) or extra character(s) between check number and routing number, you use the field "Text Between check number and routing no". (Note: This feature is NOT available with ezCheckPrinting version 6 and previous versions.)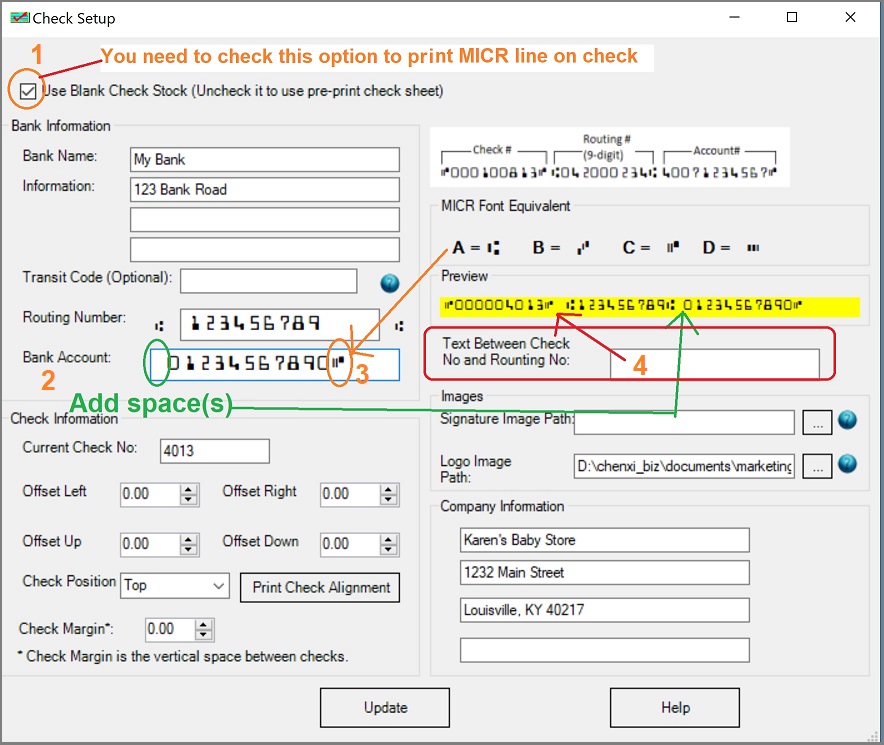 ---
Design and Print Professional Checks Yourself

- Print checks on blank stock with logo and signature
- Fill in data on pre-printed checks
- Print blank checks to fill in later
- QB virtual printer for QuickBooks/Quicken(for Windows)
- Unlimited accounts and checks for Windows and Mac.

Try ezCheckPrinting free demo version with no obligation and no credit card needed.


---
---
Related Links: