ezCheckPrinting Software: How to Transfer Check Data from a Windows Computer to a Mac
With ezCheckPrinting software, you can customize and print checks with logo and MICR encoding line on blank stock in house easily.
The database file structure for Windows and Mac are different
. Mac machine cannot use the database file desigend for Windows system.
If you need to move data from Windows machine to Mac, please use the data export and import feature.
1. Export the check data to a .csv file.
Start ezCheckPrinting from the Windows machine, click the top menu "Import/Export" to export the check data to .csv file.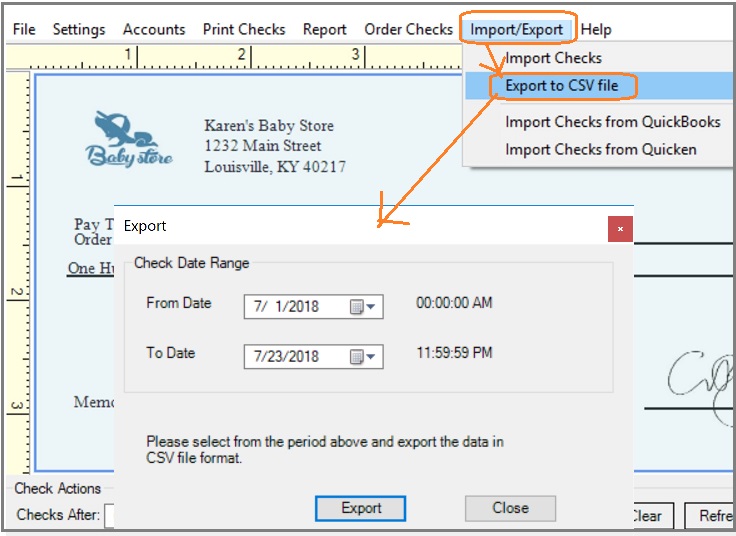 2. Start ezCheckPrinting on Mac machine and import data from .csv file
2.1 Install ezCheckPrinting Mac version if you have not installed ezCheckPrinting on Mac machine.
Note: The key code for ezCheckPrinting Mac and Windows versions are different. You need to purchase the new key code to use ezCheckPrinting Mac version.
ezCheckPrinting Mac Version Purchase Link

2.2. Click the top menu "Import/Export" to import data from the .csv file.


---
Design and Print Professional Checks Yourself

- Print checks on blank stock with logo and signature
- Fill in data on pre-printed checks
- Print blank checks to fill in later
- QB virtual printer for QuickBooks/Quicken(for Windows)
- Unlimited accounts and checks for Windows and Mac.

Try ezCheckPrinting free demo version with no obligation and no credit card needed.


---
Related Links: