ezACH Software: Register License
1. Register Key
1. Register Key
1.1 Launch ezACH
Once you installed ezACH, you will see the ezACH shortcut on desktop. You can double click it to run ezACH software.

1.2. Register license: copy and paste the key code including dashes ("-")
- You will see the key code pop up message when you start ezACH software if you have not registered the key code.
- You can also click ezACH top menu "help" then "Input License" to register license.
How to copy and paste
Double-click on the text you want to copy, or highlight it. With the text highlighted, press Ctrl + C to copy. Move your cursor to the appropriate location and press Ctrl + V to paste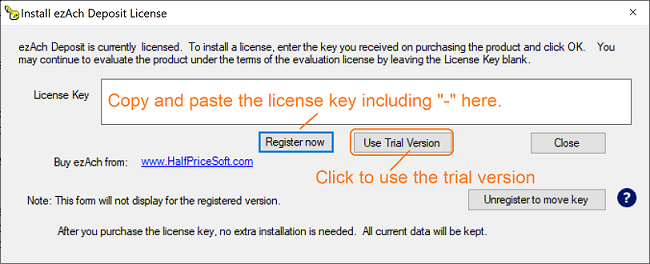 ---
2. Unregister Key
Start ezACH, click the top menu "help" then "Input License" to view the license screen.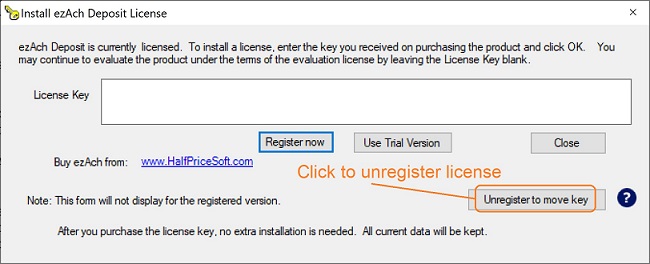 ---
ezACH can generate the ACH file that you can upload to your account for electronic fund tranfers. If you have not installed this ACH generator, you can download and try it free for 14 days with no obligation and no credit card needed.

ezACH software is compatible with Windows 10, 8.1, 8, 7, Vista, 2012, 2003 and other Windows PC.


---
Related Links:
ACH Direct Deposit Quick Start Guide